Yes..he's still drooling heaps! *sigh*

claudiacheng, thanks for buying the Nike shoes for him. Cool eh!!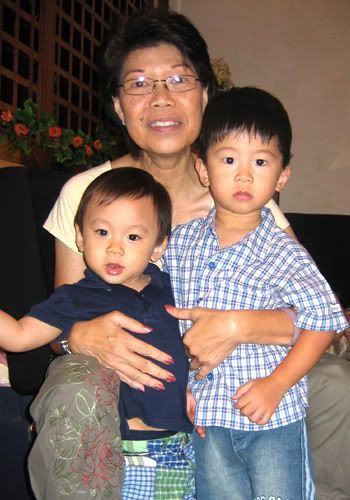 Mom-in-law at her happiest..with her 2 grandsons.
Hmm..the 2 boys don't really look alike eh :P..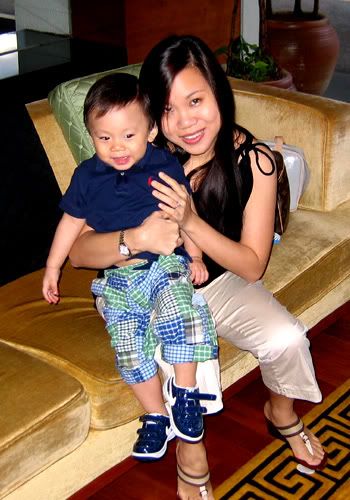 See the cheeky look on Aidan's face....



It's great to see Aidan well again. He was sick for almost 3+ weeks..It took a while for his cough to be completely cleared and it was only when he'd almost finished the entire bottle of antibiotics that it finally stopped and we could tell that his lungs were clear. The only unfortunate part was that the meds made him puke (intentionally) as a way to clear his phlegm and he was also having really loose stools (also an effect of the meds) which led him to getting bad diaper rash. Fortunately, the creams given by the doc worked wonderfully and the rashes subsided alot in just one night.

Really..I am truly thankful that Aidan is such an easy child to tend to even when he's sick...My maid was marvelling at how easy it was to give medicine to Aidan. He had a total of 5 different meds to take and she was able to feed him with ease even though they didn't smell nice and I'm sure they tasted awful. And I think he gained weight during his illness coz he seemed to be eating more. He's now abt 84cm and 11.5kg..which is considered average weight for his age. He turned 19 months old on my birthday :)

For a while, Aidan was getting more food than his usual 'coz blur mommy of his forgot to inform mom-in-law & Nenita that he gets food @ his playschool. Before he leaves for school, he has 240ml of milk and usually some cereals for breakfast..When he gets to school, he gets another round of breakfast with milo. And at about 11am, he eats lunch there and when he gets home abt 1pm, my maid will feed him about 2 bowls of porridge + fruits which he will devour to the last morsel. After I'd finally informed mom-in-law about it, she thought that the school was probably not feeding Aidan enough since he does still seem quite hungry when he comes back. But when she checked with the principal, it seems that Aidan eats more than the other kids there. Most kids are usually satisfied with just one serving but my Aidan..he will 'complain' when it finishes and usually, the teacher will feed him another bowl or 2. Same for the desert portions :P...Not sure whether the school's gonna charge me more next month for the extra portions of food!


**************************


Gonna be taking this Friday off. Apparently, I have 3 off days to clear even though I'm not even on the job for one month yet. The financial year ends in Aug so everyone is supposed to clear their leave or else it gets forfeited! So, gonna have some moms over with their kids to swim over at my place :D~I havent gotten down to inviting pple yet..only some whom i've replied via LJ tru their comments. So far, it's
meganmacy,
bbhome,
auntyadele who has confirmed. Any other moms wanna join in, feel free to :) Hmm..am so tempted to order Lana's cake *slurp*..