Was on leave today :)

Decided to let Aidan ponteng playschool and we chose to go Little Gym instead since June
bbhome invited me as it was a 'bring a friend' session today. Thought that Aidan would enjoy it. However, Aidan stuck to me like superglue and didn't want to join the rest of the kiddos. He simply refused to leave my side and would whimper whenever I tried to let him join in the activities. He's usually not like that, even when he was just a few months old. I guess it was because he realised that this was one of the rare occasions that his mommy would be with him during a weekday and so he didn't want me to let me outta his sight..It was only when the teacher brought out the balls that he decided to play since he couldn't resist them at all. :P

Later in the afternoon, some of the mommies (and one daddy) came over with their kids for lunch & play. Nenita cooked a huge pot of curry chicken, fried calarmari & prawns + beehoon..Initially, I thought that the food was probably too much but in the end, almost everything cept for the beehoon was walloped. Fwah! They sure can eat hehe.. Shucks..I still thought I would have some curry chicken left to dip with loh-ti tomorrow morning :P

Hmm..I had like so many comments about how neat my place was! June thought I'd renovated my living room coz it looked so spacious..Mong said she'd never seen my place so clean before...Bleah. Was my apartment that messy when I was a sahm??!!! Oh.. just as well...I acknowledge I was never good with household chores and cleaning the house was never one of my fave activity :P

Aidan definitely had a good time today The li' one refused to nap in the afternoon.Usually, he would doosh after his lunch but today, he kept on running out of the room each time I tried to put him to bed. Guess he wanted to be with his friends :) In the end, I decided to bring him down to swim and not surprisingly, he fell asleep easily after his swim. Anyway, I had fun too . I really do enjoy holding such gatherings and catching up with friends. At least this time round, I didn't need to worry so much abt having to clean up the mess :P Thanks to all who came..:)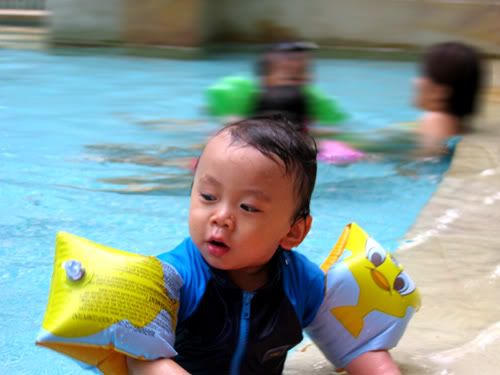 Most of the pool pics were taken by
joeaugustin
..coz we were too busy tending to our kids.
Thanks Joe!! :)
It's been a while since Aidan went to the pool and he really missed it. Thanks to Adele's armfloats, he was able to 'swim' a little today and that garang boy really enjoyed himself tremendously..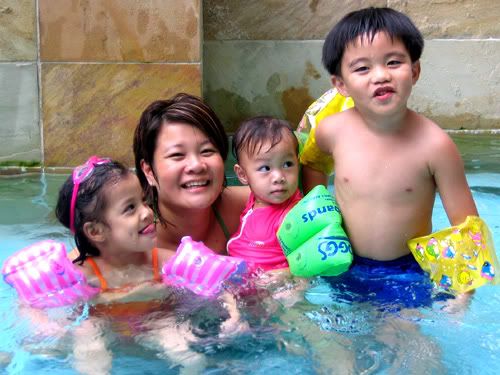 Hmm..looks like Megan & Macy were oogling at Jordan..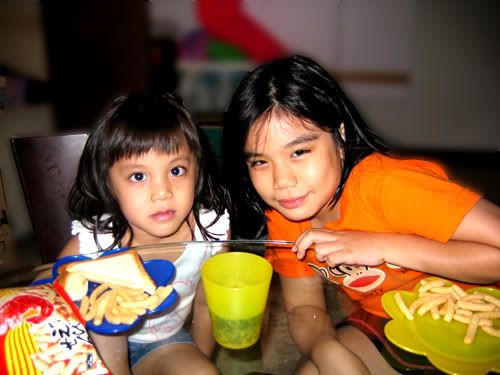 The 2 Megans finally meet..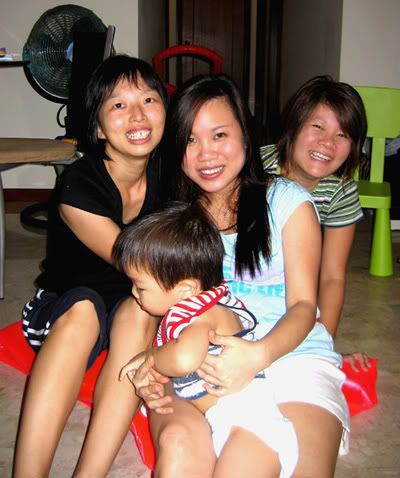 Doing the Angels pose here..That's Charlie on my lap :P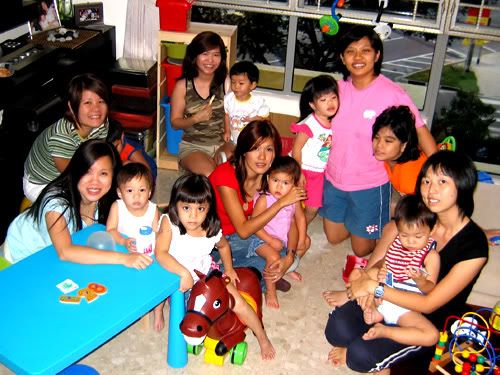 The standard group pic taken by Joe :)
Left : Mong
meganmacy
& Jordan (partially hidden), moi [Aidan was zzzg], Macy & Megan, Rachel
sonday
& Ryan, Lina
manichon
and Chloe, Adele
auntyadele
with Tasmin & Megan and June
bbhome
& Ryan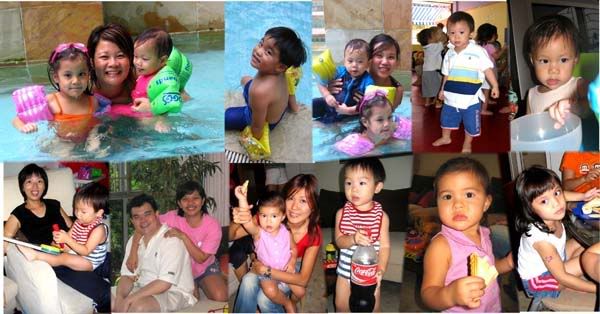 :)

****************************************


Watched Michael Chiang's Private Parts with
oiseauxbleu on it's premiere night on Wednesday..Thought it was quite good though the sets looked cheap. Kevin Murphy and Christian Lee were solid as Lavinia & Mirabella and the Yann Yann who played Edward was just as impressive [ok ok, i can't do reviews]..Am still wondering who was the actress who played the editor/producer of the talkshow.. But..the best actor I must say is the one that acted/spoke as a minister in a CNA news snippet!

Found it a tad ironic that Timothy Nga is acting in a Ch i local drama but in this play, he's supposed to be this mega popular Star Search winner/hunk turned current affairs host from Mediacorp TV. I kept on thinking that the play itself was almost like an audition for him since most of the MCS bigwigs were in the audience. The 'dreamgirls' weren't very dreamy though. They were imo, the weakest link.Was wondering why they couldn't get better [looking] actors/dancers.

Saw many of my ex-colleagues there..not surprising since the channel is the official media.Met Jacke who heads the promo team and he promised me tickets for the Singapore Idol. He said that they should be out in 2 weeks time.
kodomo..heard that!? :) Hm..anyone else interested in going? Not sure how many tiks i can get from him though...