It's been a while since we brought Aidan out to enjoy himself..reason being, he's been sick for the past week again *sigh*..After his bout of bronchitis, he was only well for a week and he was started having runny nose..that took abt a week to stop and just a few days later, he was stricken with stomach flu. It was quite bad because the poor boy lost his appetite and didn't want to eat his meals nor drink much of his milk..What made it worse was that he was having diarrhea and was throwing up often too. And because of his stomach flu, we had to let him drink soy milk instead and he abhorred it! He didn't have much energy and inclination to play and constantly wanted to be carried and hugged. He woke up in the middle of the night whining and tossed and turned in his sleep. It was the first time since he was born that he was ever so sick and we were all worried about him. He lost quite a bit of weight too. Though it took a while for the meds to work, he finally recovered and his appetite returned a few days back to our relief.
It really makes me question whether putting him in the playschool was a good idea afterall. His immune system seems to be really weak, falling ill so often since he's started..which was just abt 1 1/2 months ago. Friends have consoled and assured me that it's common for a kid who's been exposed to lotsa kids to fall ill often.. I'll probably let him recover at home for a while first before letting him return to playschool and in the meantime, we'll give him vits to build up his immunity system..Not sure what else I should do..
************************************************************
Okay.. it's 3 months maternity leave instead! Hmm..not too bad I guess..What else? Baby bonus extended to the 1st kid & 4th kid, subsidies for infant care, more maid levy for familes with kids below 7.Not sure what he said abt grandparents and all..tax reliefs? 2 days child sick leave for parents with kids 12 and below per year..5 days workweek for public sectors including army n school. Hmm..anything else I missed out..
Oh well, actually with or without the above, the plan had always been to have a number 2..just not now. I probably will wait till I get confirmed in this job (not even sure this job will be ard for long with so much talk abt mergers etc)..and we'll plan for #2 :)
************************************************************
It was picnic day today as we all headed down to Pierce Reservior early in the morning (abt 9am)..Thankfully, it was a beautiful morning ..quite nice and cool too. Saw lotsa little monkeys scampering ard the roads.
Let the pics tell the story instead :)

Dad-in-law brought Aidan to the malay barber to get a haircut..
That's why he's spotting this bowlshape hairdo :P~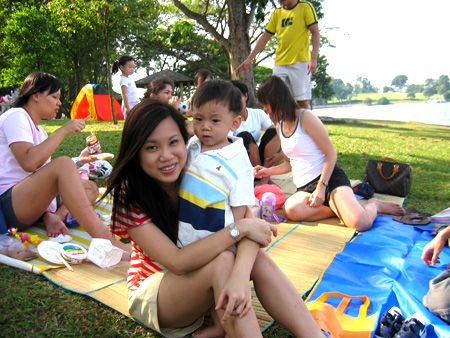 Aidan wasn't too happy because he wanted to be carried..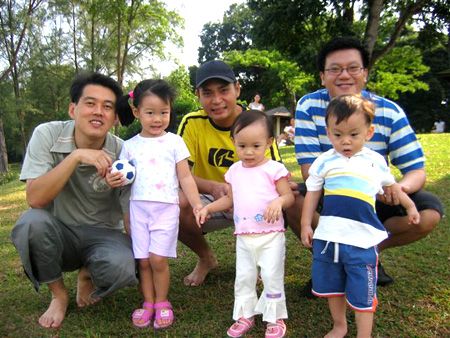 Hmm..why do the kids resemble the daddies more..*sigh*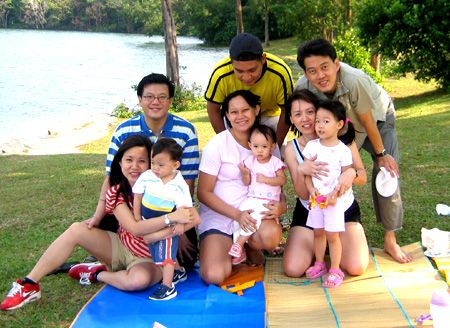 ze mommies, daddies and kiddos :)
Hubby, Aidan & moi, Trevor, Renee & Bibi (who's preggy with her 2nd daughter), Darren, Chloe & Corrina..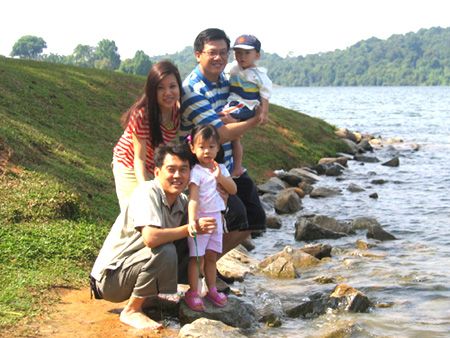 :)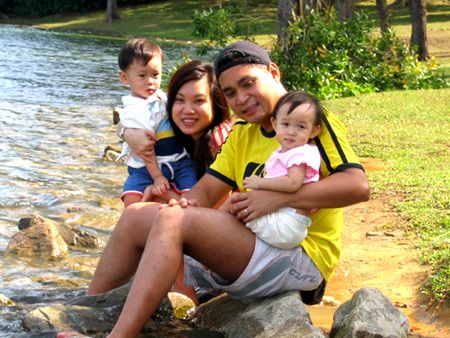 Hubby says that what it's gonna look like if we have a family of 4 although that's not hubby next to me :P..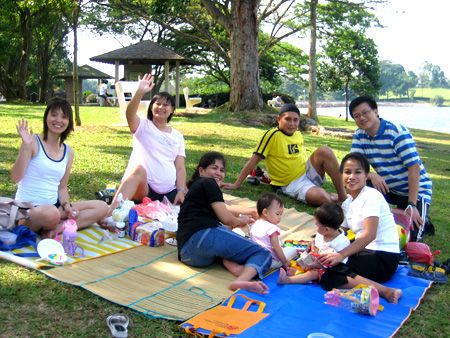 Happy picnickers :) That's Nenita on the right with Aidan..
Current Mood:

calm