Came home early today so that I could bring the not-so-wee one downstairs to walk around with his lantern. Mom-in-law was the one who bought him the spiderman lantern...it came with the awful cheena music of coz! Gave up figuring how to mute it..Thought I could endure it for just one day! Aidan didn't seem to like the lantern much though..he was dragging it on the floor and most of the time, he tried to chuck it in a corner when we weren't looking :P
Arranged to meet Rachel
sonday
& Ryan downstairs. The management of the condo had decorated the swimming pool area with pretty little lanterns and it looked quite nice. There were many other parents and kids with their battery operated [awful] music lanterns..Was kinda noisy with all the different music playing at the same time. Ryan was carrying this cute li' doggy lantern and Aidan was immediately attracted to it. He kept on pointing at it and was quite happy when Rachel let Ryan carry those traditional candle lantern coz it meant he could pounce on the doggy lantern. The li' bugger was also intrigued by the paper lanterns and kept on wanting to touch the source of light..Couldn't let him carry them because he'll definitely end up burning himself, knowing how inquistive he is..
Here's some pics :)
Aidan walking Spidey..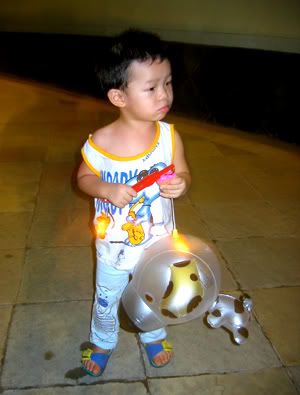 Ryan and his doggy lantern..


The 2 boys with their lanterns :)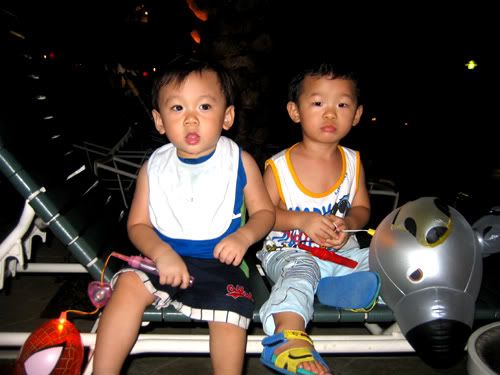 Another one with flash this time..


Mommies and our kiddos


:)
Hmm..i forgot..why do people carry lanterns during the mooncake festival? Wanted to tell Aidan the story and realised that I have no freaking idea..gah!
Anyway, I don't eat mooncake. I've never eaten one in my life...ever! Just as I've never drunk coffee before too...Everyone keeps on telling me that I don't know what I've been missing but oh well, it's fine with me :P
Current Mood:

cheerful