Decided to go back to my office on the eve of New Year's Day..
I haven't been back at the office for the past few days because I was at SPH for orientation..The moving guys had already came in and shifted most of the furnitures and equipment over to Mediacorp and so, the entire area where my department was is now a big empty space..Just couldn't help tearing when I saw the state of the office - this was the place where i'd spent the past few months at, good times with [ex] colleagues and celebratory moments when deals were closed or when we'd achieved good ratings...
Over at the studio, most of the production guys and artistes were there viewing the last few hours of Ch I & Ch U programming. The mood was poignant with most people remininising on how the tv station was started with so much expectations and hope. The tsunami disaster was not forgotten either as a box was passed around for the collection of donations for the victims. I didn't choose to stay on till the New Year as I wanted to spend that time with my family..I just wasn't in the mood to celebrate..
Reached home abt 11plus..waited for midnight and we all gathered at Aidan's bedside & kissed him Happy New Year and watched him sleep..My wish for the New Year is simple..for the year ahead to be a peaceful one.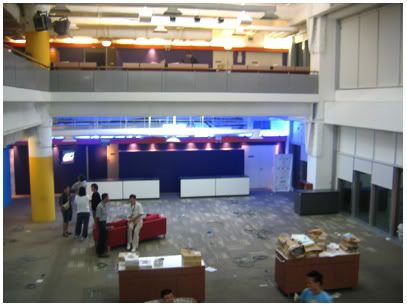 The empty space where our cubicles used to be..
(
Collapse
)