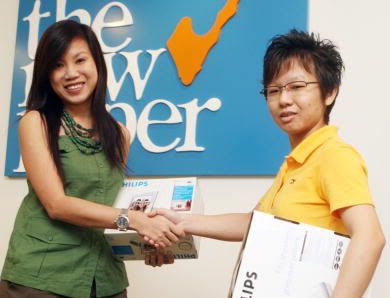 Even though I knew this pic could be used (the layout artist has the final say on the choice of using either the 'congratulatory pic' or the one with the winner alone with her prizes), I was still unprepared to see myself, in full color - in the papers, even if it's for official purposes.
As I was on mc yesterday, my colleague smsed me about it and teased me saying that I looked as if I was the winner! I think the caption is totally salah. They wrote that the winner was all smiles after receiving the prize. But she seems to be grimacing and I look like I'm high on drugs (which I was actually..). And I had family members and friends smsing me, asking me
what I was doing in the sports page
(alamak, don't they read?!). My dad-in-law was the best..he called me and said excitedly
"Hey..you are in The New Paper! How may copies do you want me to buy?!
" I was like
"Erm, dad..I work at SPH you know!"
..And I wasn't even the prize winner :P
valska
, there's something I gotta ask u. Why do most (TNP) photogs like to take pics from a lower angle..It makes their subjects look fatter leh :P