Heh..as usual, I'm procrastinating.. Yeah, I should be heading for the airport in about 3 hours time and I'm still not finished packing yet *arghh*! I think I'll probably start panicking at about 5pm :P..

Well, will be gone for a week! Looking forward to Goldcoast and I'll definitely be taking loads of pics..In the meantime, here's several pics of the li' monkey...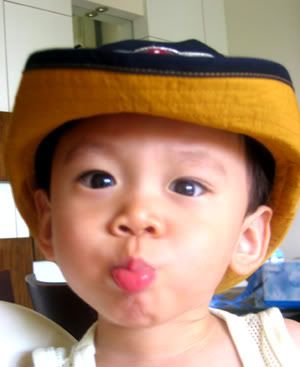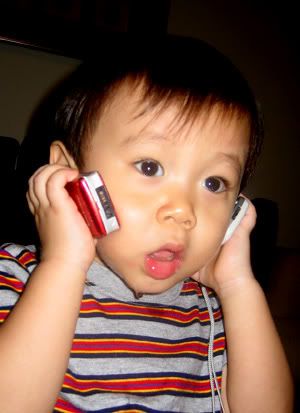 act cute face :P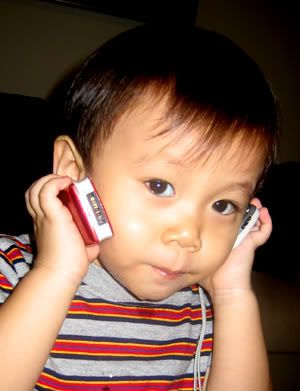 Future stockbroker in action...:)

***********************************


Out of the 8 women in the Straits Times 50 Singaporeans to Watch List, 2 were from my secondary school. One of them is the same age as me and the other, 2 years younger. The former's a doctor and the latter, an economist. Both were outstanding students...not only in their studies but in their ECAs too. They excelled in netball, track & field and was also in the school military band. Come to think of it, I was also in school team for netball + track & field and in the school millitary band as well but academically wise *cough*

I've always admired capable & intelligent women.. especially those who are well-rounded, sociable and smart and didn't really need to study much but still achieved fantastic grades. I've always wondered what it's like to be able to excel in everything. I hated to study..I only enjoyed subjects like English and Literature where I didn't need to put in any work and still did well but when it comes to sub,jects that require memory work and application like Science & Maths, I was a dunce.. I enjoyed school only because of the ECAs I was in..I was in netball, track & field, badminton, table tennis and the school band.. It came to the point that in Sec 3, my mom went to school and instructed the principal to restrict me to just one sport..and I threw a mega tantrum so that she'll still allow me to be in the school band. Couldn't blame mom though..I wasn't exactly at the bottom of the class but I probably would have come close if I'd continued my ways [I think I was always ranked between 18-20++ out of 30+ students] and for a while, I'd also been forging my parents signatures on my test papers till they found out :P I was the sort of student who had to resort to cheating during 'ting xies' and I could remember the countless visits to the principal's office and my poor sister (she was unfortunate enough to be in the same school as I) had to bail me out many times. My form teachers never failed to lament that I was so different from my sister (
evonnetay who was much more studious and well-behaved and that I should try to be like her instead. I think I rebelled even more then. Surprisingly, I still managed to scrape tru my Os and entered JC..It was a fluke I believe..

I can still remember that we had an inter-class debate in Sec 3 and we were against the Science Class which of coz had all the smart students. One of the 2 ladies I mentioned above were in the other team... I was one of the 4 speakers to represent my class (Arts). The topic interestingly was something about women's place in the society and home. We were on the opposing side - in that we were arguing that women were better off staying home as mothers and carers for their children and being good wives to their husbands Not surprisingly, we lost the debate..But honestly, even at that time, I didn't believe in what I was arguing for. I felt strongly then already that a woman's place shouldn't be at home and that the glass ceiling would be shattered with women finding equal opportunities in the working and political arena..

So here I am, in my mid 30s..neither here nor there. I can't say that I'm a successful working woman..especially since I could be jobless soon. Most of my peers are probably more highly paid and have moved up the ladder faster.. And those who've decided to be a full-time mothers have decided to dedicate themselves to their kids and families..I can't see myself doing the latter especially having been a SAHM for abt 1 1/2 years. I think if I do become a full-time housewife, I'll probably go crazy..What do I really want? I don't know really. I admit at times, I wish that I was more successful in my career..and better off financially.. And loads of times, I always think that if I could turn back time, I probably would have done things differently..

Am I happy now? Yeah i reckon... I consider myself quite blessed to have a loving husband and li' boy who drives me bonkers at times. My relationship with my siblings have improved ever since we have our own families and lives and I know I can already count on them in times of trouble..blood is definitely thicker than water in our case. My parents though divorced are still on good terms and I know I don't see them as much as I should so I should definitely start making a point to be more filial and let them enjoy the company of their grandchild more...And maybe, by next year if everything's fine, we can start thinking of a li' bro or sister for Aidan....:)


**************************************


Do a 'google' on the name Junior Tay.

That's my brother. He's acknowledged to be the brightest and smartest in our family. Mom used to have such high hopes on him. When given the opportunity to do his undergraduate studies overseas, he turned it down to be with his then- girlfriend/now wife and decided to study to be a teacher instead, to the huge disappointment of my mom. Mom had always lamented that he could have done so much more with his life and would be better off if he'd done so. He's presently teaching at a primary school with his teacher wife and they have a lovable jack russell - Scotty.

But..she's never realises that he is probably very happy with his life right now. Since young, he'd always loved chess and till now, his passion for the game is still strong. He married a lovely lady who also enjoys the game as much as he. She used to be Singapore no.1 top female chess player. They spend many of their free time taking part in competitions and analysing their games. They both love nature and animals and travel quite abit. He also organises chess events for his school, writes and conducts plays and is the author of many chess articles..

I am very proud of him and his achievements. And I hope mom will be too even though he's not gone the route that she'd wanted..