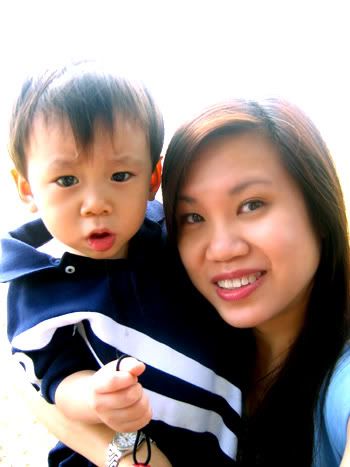 Back at last...
I guess its safe to say that Aidan enjoyed himself tremendously..He loved the animals at the farm visits and he couldn't get enough of the rides at theme parks..We had to literally pry him away from each ride till he realised that there are actually 'more stuff' for him to do...Aidan is a fantastic traveller! The eight hours flight to and fro each way was such a breeze. Each time, he would sleep tru out the journey after he had his meal and even when the ear pressure was getting to him, all he did was to use his fingers to jab his ears..not a single whimper. The bus rides weren't a problem either..I guess for our next holiday, we can consider going further distances like Canada :)
We had really bad weather for the first 3 days of holiday..it poured heaps and we read that in other parts of Brisbane, it even hailed and many homes and shops were destroyed by the flooding. We were at Tangalooma Resort then and boy, was it cold and wet. We didn't even wanna feed the dolphin coz it meant we would get even more wet (and Aidan's nose was starting to run then too)..
Also, we were quite irked by the staff at the resort. They had a children's play area and the kids were all playing with hula hoops and having a good time. Unfortunately, they only had 4 hoops so the kids had to take turns. The lady in-charge only went to the whites and asked whether their kids wanted to join in the fun and she snubbed us (and another Singaporean family with 2 kids) totally.. When one of the white kid gave up his hoop and moved on to something else, Aidan who was dying to get into the action quickly took over the hoop and started playing wit it. And well, kids as u know tend to get quite rough and so Aidan was accidentally hit by another kid's hoop and the side of his face (near the eyes) actually had a small welt..and he started crying coz of the pain. The lady i/c didn't even bother to check if he was fine and continued to ignore us and keeping an eye only on the white kids..Even the parent of that child whose hoop had hit Aidan was mortified by her behavior. Mom-in-law was so mad that she wanted to lodge a complaint but we persuaded her not to in the end. And there were also other occasions where we felt that we were overlooked (service and treatment wise) merely because we weren't white..Bleah. Sorta my first time experiencing such blatant racism..
The rest of the holiday was okay though it was somewhat marred by the sub-standard service we received.I honestly don't think I'm being fussy coz most of u should know that I don't really have high expectations on service and food..but oh man, if u think Singapore is bad, Goldcoast is much worse! Our drinks took ages to come even though we'd requested so many times. When we called for a waitress, she looked at us and merely pointed to the another waitress (who was quite a distance away) who was in charge of our station and walked away. I mean..the least she could do was to at least tell that waitress (who wasn't busy by the way) that we needed her. We didn't experience such horrible service when we were at Melbourne & Perth last year though..
Didn't shop much either coz the stuff weren't that cheap too (even at the factory outlets)..Ended up buying more stuff for the li' one..was only pleased with this one buy - a bomber jacket for Aidan (which he's wearing at the last pic) which was only abt 30 bucks after discount :)
Am sorta glad to be back..Without being asked, Nenita set up & decorated the X'mas tree while we were away and it was a pleasant surprise to come home to a 'colorful' living room. Had a few missed calls and they were apparently from employment agencies trying to arrange for interviews. Had a missed call from SPH Magazines too. Wondering whether it's for an interview also..Keeping my fingers crossed. Will see on Tuesday :)
@At Tangalooma Beach Resort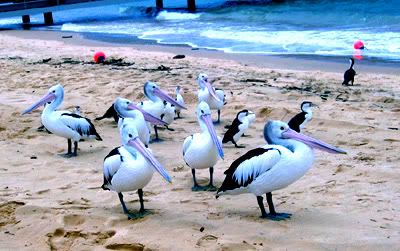 the pelicans@the beach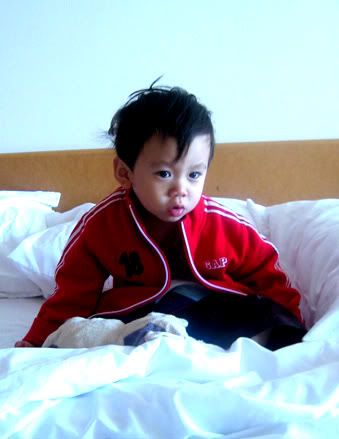 just woke up..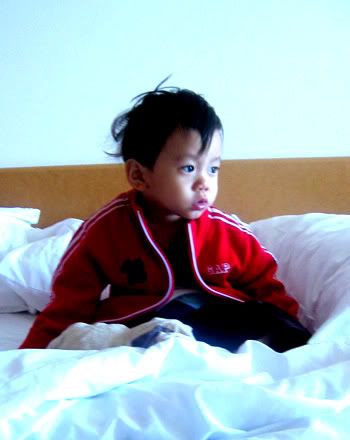 looking blur and groggy~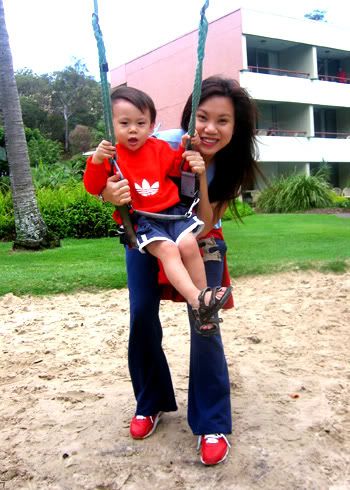 Enjoying the swing :)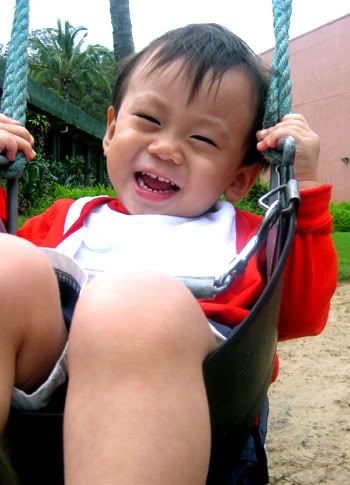 Look at his wide smile..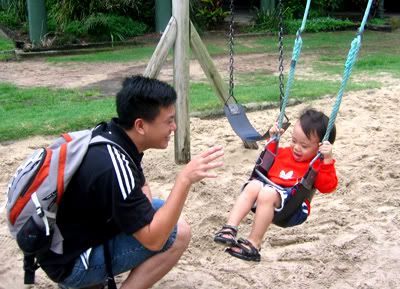 With daddy now..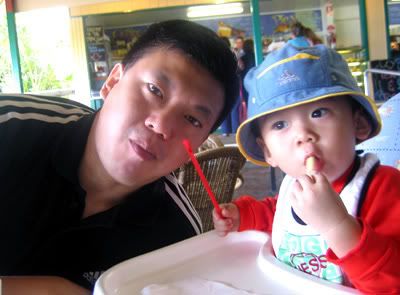 Clowning ard with daddy during lunch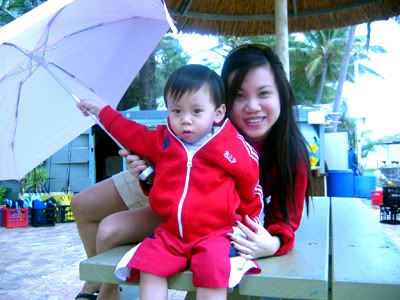 Wet wet day..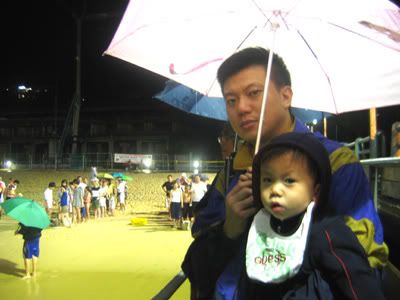 Looking at the dolphins being fed..
@the Farm Visit...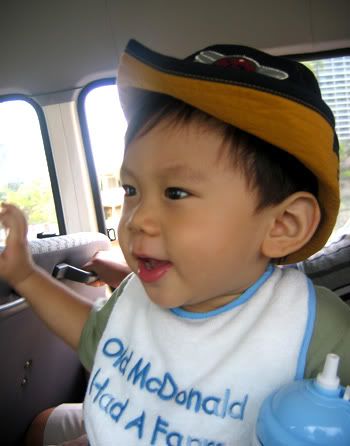 The cowboy :)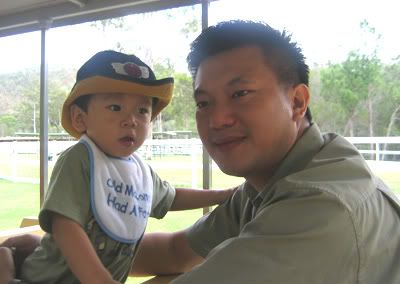 Don't they look alike..right down to the color of their tops :)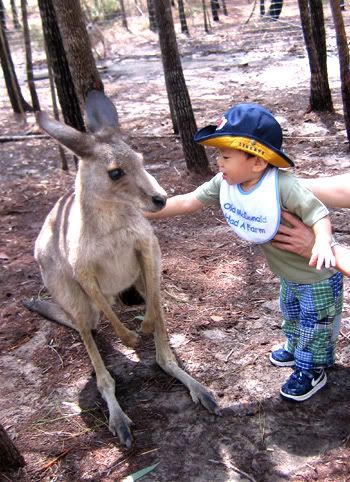 Aidan squealed with joy whenever he had the
opportunity to go near an animal..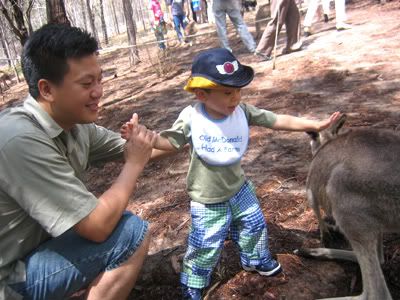 The bugger trying to pat the kangaroo..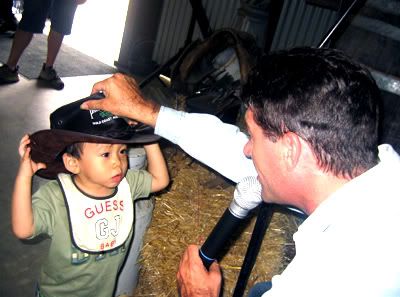 Getting to wear a real cowboy hat :)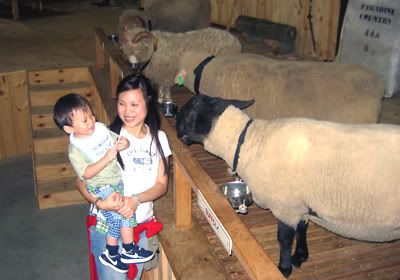 meh-ing at the sheeps..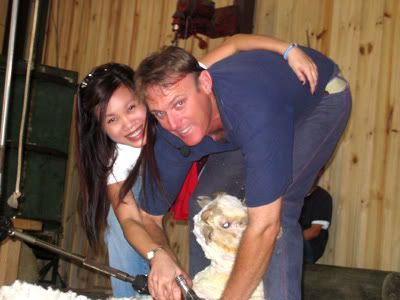 Kena arrowed to shear the sheep's wool..
(and no, i wasn't trying to feel his ass)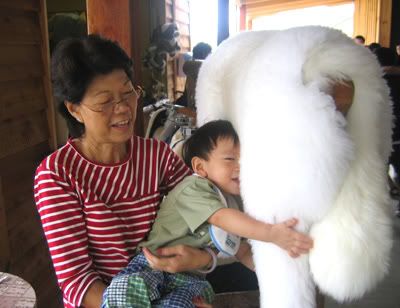 Aidan enjoying the soft feel of the wool..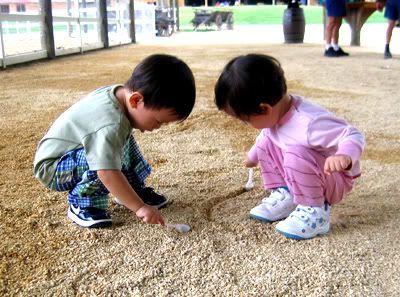 He found a li' girl to play with there too :)
@the Hotel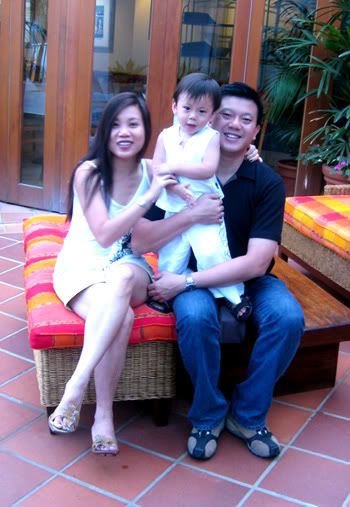 A family pic :)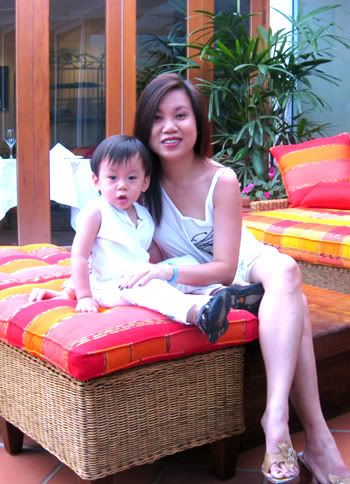 :D
@Seaworld & Movieworld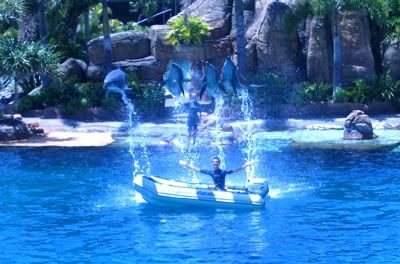 Dolphins at Seaworld...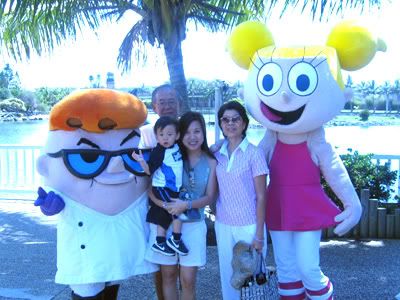 Posing with cartoon network characters..
(I have no idea who they are!)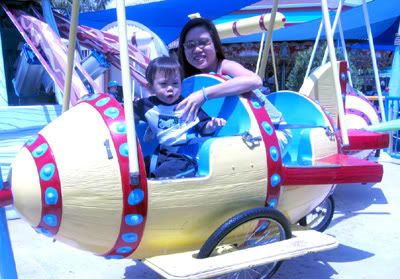 On one of the many rides..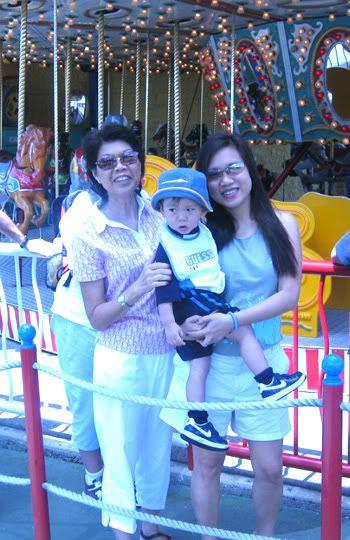 Getting impatient coz he badly wanted to get on the carousel..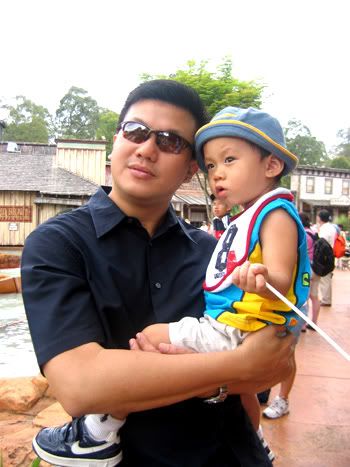 Aidan was tickled watching people splash into water in one of the rides..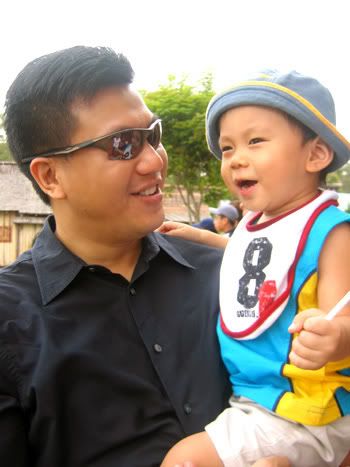 :D
On the plane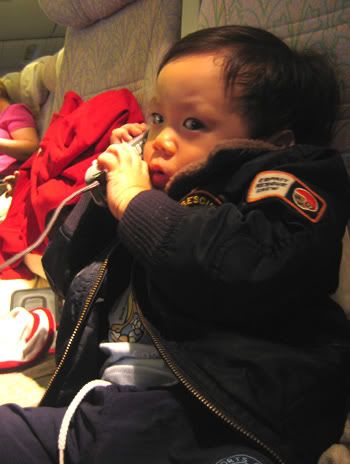 Finding ways to amuse himself on the plane..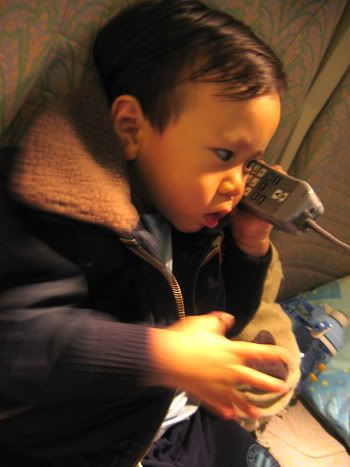 Looking so serious...
Current Mood:

exhausted