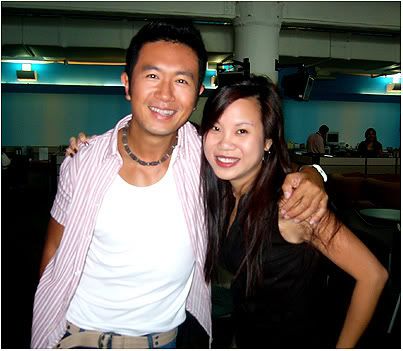 Hee..Adrian Pang's my fave local actor..When he was lounging ard at the lobby this morning, some of us took the opportunity to take some pics with him..He's such an easy-going fella and a family man :) We were at a press conference recently and Adrian was in the middle of giving an interview, we heard a loud child's voice out of nowhere...Everyone kept quiet to listen and what we heard sounded like "Daddy.. Your phone is ringing! Daddy..your phone is ringing!" Adrian started running to where he chucked his bag and in quickly grabbed his phone..turned to us and said "That's my kid's voice! I use it as a ringtone coz I react to his voice faster than the usual phone tone u see!" he explained as his face turned red and he quickly took the call..

We'll probably take the opportunity to take more pics with the artistes when we have our [final] gala dinner that is held especially for the staff of Mediaworks in the mid of this month.

Try to catch 6 Weeks on Ch i every Sunday at 10pm. It's really a good local production..solid acting by Adrian and (surprisingly) Stef Song.. Most of my friends who'd caught it had nothing but praises for it It is really a pity that this is the swansong drama for Ch i...but at least the channel will end gracefully..


***********************************************


We had a great time at the indoor stadium watching the grand finale of Singapore Idol. It was a fantastic production and I'm so glad we managed to get tickets that last minute..(nope, we didn't pay for it). Believe it or not..both Taufik and Sylvester sounded great 'live'. I know Sly was off-key on tv [I received tons of smses complaining how bad he was..] but he really wasn't that awful when we heard him at the stadium. But Taufik was obviously the better singer and he really won the crowd with Me & Mrs Jones.. Sylvester's version of I Dream was quite impressive though [imo].. The atmosphere at the stadium was electrifying! Everyone was cheering and screaming for both finalists! Actually, there was one part that was quite funny. When the clips of the red carpet was shown, the crowd/fans roared and clapped when the 12 Idol finalists were announced one by one but the minute they showed a Mediacorp artiste, everyone simply stopped clapping/cheering. Quite embarrassing... The MCS artistes were all decked to the nines in their gowns and suits..a li' out of place actually since everyone was so casually dressed. I thought they would have reserved good seats for them but they were seated at the Terrace..near when we were sitting.

The best looking celebrity (if u consider her one) was Glenda Chong. She looked gorgeous in her low-cut peach gown! And that Straits Times journalist who wrote that she didn't stay on for the show should be shot! She stayed on till the very end and did a segment with Dominic on CNA to talk about the atmosphere at the stadium and announce the winner of Singapore Idol, I believe..aiyoh, anyhow write one!

Anyway, we screamed and cheered till our throats became sore and our voices were hoarse..and towards the end, we were just dancing and swaying to the music..man, we felt/behaved like teenagers. It was awesome! I know most people who were there had a great time too! Couldn't take much pics tho coz we weren't supposed to bring our cams in and I was caught by security once so I couldnt take the pics too blatantly. Anyway, our seats werent that near the stage so the pics didn't come out that clear anyway.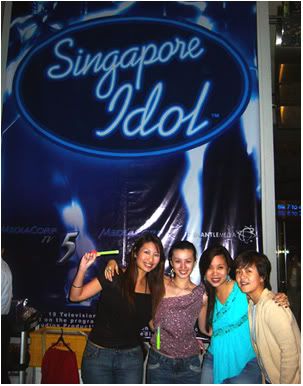 We were at the first Singapore Idol finals :)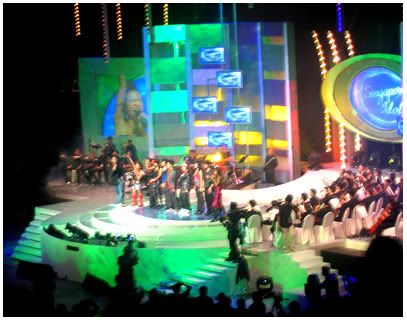 Some idol action on stage..blur though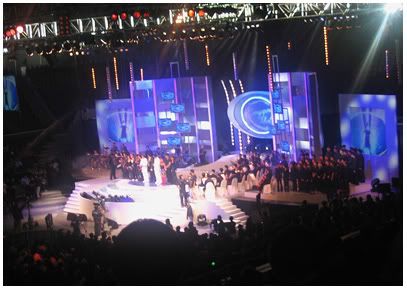 ******************************
Heh...some doggy pics!!! Am seriously thinking whether to get a dog for Aidan though my friends said it may be a better idea to wait till he's older..like about 3 - 4 years old when he's able to learn more abt responsibility n all..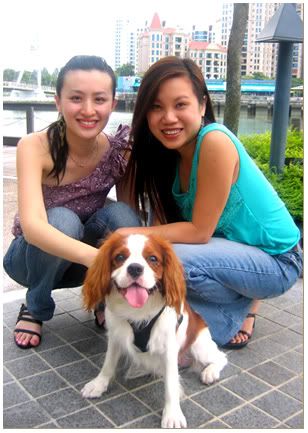 That's me with my colleague, Ginger with Jasper!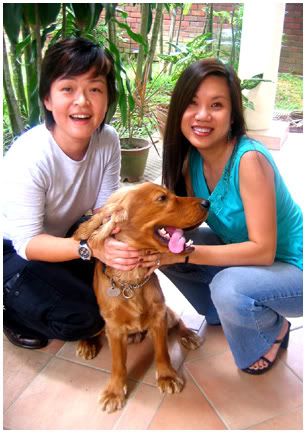 & Suming and her dog Sandy :)