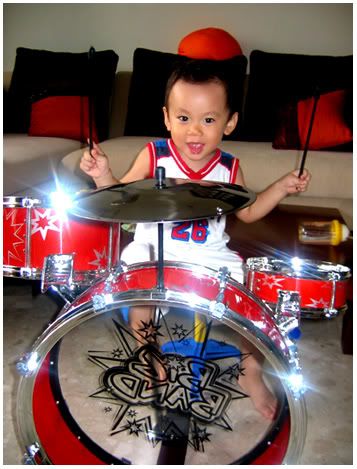 Yeah..I'm probably a masochist! Even though my mind [and my eardrums] tells me not to, I still went ahead and bought this drumset for the li' bugger coz I knew that the he would ♥ it! And he did! You should see the joy on his face when we were installing the set for him and that look of glee as he was drumming away! Even when it's time for his nap, he was so reluctant to part with it. He climbed out of the bed and carried the drumset to the room on his own, placed it beside the bed, jumped back in and slept happily knowing that the drumset is just next to him when he wakes up..

I think hubby's gonna kill me when he finds out :P He's away in Vietnam for a company trip and won't be back till Monday..But aiyah, I just couldn't resist getting it. So cool looking eh! Oh man, I really do spoil him so....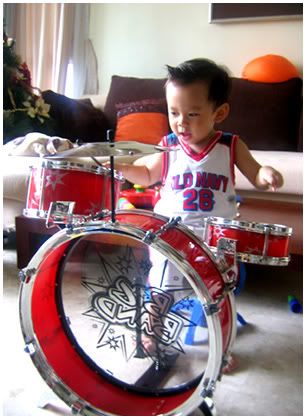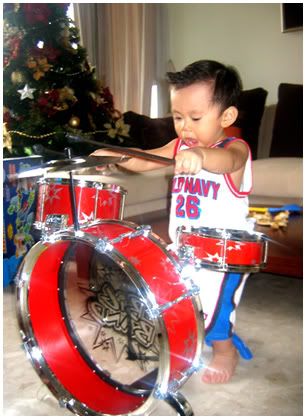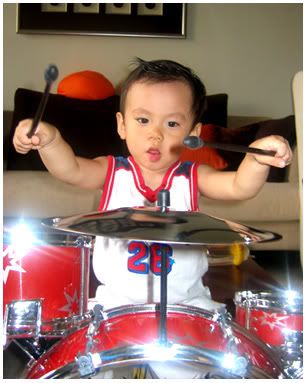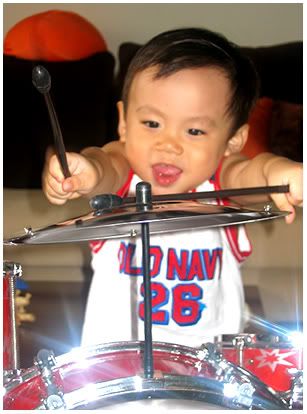 ****************************************

*********


Will be bringing Aidan to watch Aladdin tonight and before the show, dinner at the much raved about Italian restaurant Menotti with
e_rambler and
oiseauxbleu who are attending the musical too. Looking so forward to it and I'm sure it's gonna be a blast. Hope the li' one will enjoy it too!



From sistic.com.sg :-
Written by Selena Tan
Music Director and Additional Music by Elaine Chan
Directed by Glen Goei
Starring Robin Goh, Karen Tan, Emma Yong, Chua Enlai, Jonathan Lim, Adrian Lim, Denise Tan, Chermaine Ang, Juwanda Hassim, Gordon Choy & The W!LD KIDS

Are 3 wishes enough to make all 5 C's come true? Find out in Aladdin, as this much-loved fairy tale is given a hilarious and spirited W!LD RICE Singapura-Pantomime Remix!

Following the runaway success of last Christmas's Cinderel-LAH!, Aladdin is set to be the "die-die-must-see" family blockbuster of the holiday season! Selena Tan, Elaine Chan, Glen Goei (The Revenge of the Dim Sum Dollies team!) and an all-singing-and-dancing cast have come together to create a magic carpet ride of surprising visual treats, boisterous stage gags, and catchy, feel-good tunes!

In this flamboyant retelling, Aladdin (Robin Goh) is a Far East Plaza street kid who is entrapped by the Wicked Wizard Abrabanana (Karen Tan) in the Batu Caves. And Princess Jasmine (Emma Yong) is an heiress who is locked up by her protective father, Sultan Mustacha (Chua Enlai), in the Mustacha Centre. How will true love between these two prevail? What will Widow Wonky (Jonathan Lim) have to say about her son Aladdin's choice? And what evils will the Wicked Wizard Abrabanana unleash if he gets his hands on the Magic Lamp?

Sounds like fun? It is! Especially as you'll get to participate in the unfolding of this rollicking drama! Boo off the dastardly villain! Cheer on our intrepid heroes! W!LD RICE's Aladdin promises to be an entertainment of genie-enormous proportions! So catch it before it vanishes in a magic puff!