I enjoy having family dinners coz it gives me the opportunity to take loads of pictures of my loved ones with the li' bugger! Went to Spring Court which had shifted to Upper Cross Street for dinner yesterday and food was fab as expected especially the Sri Lankan chilli crabs. Tasted even better than Jumbo's chilli crab! Actually, I suggested that restaurant mainly coz of a food review in last week's 8 Days..There were pics of of their dimsum shaped as little animals - eg. teeny bears, sparrows. But unfortunately, the dimsum was only served during lunch so we couldn't order any....Oh well, it gives me an excuse to go back there again for lunch!


Aidan ♥ my sis-in-law Jen..
He was chasing her around, giggling like some love-sick pup and kept on asking her to carry him..


My bro Stephen with Jen & the li' bugger..
Everyone was asking them to have a kid especially since they were so good with Aidan :)


Family pic:)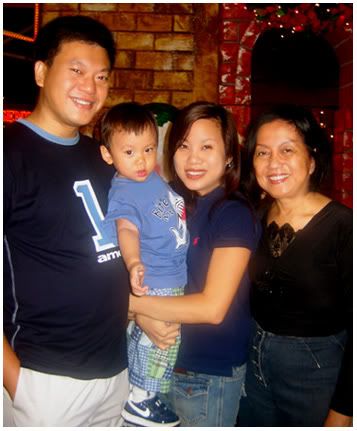 Mom to my left..Everyone says that my sis looks more like her..


Home at last..watching the Star Awards...
****************************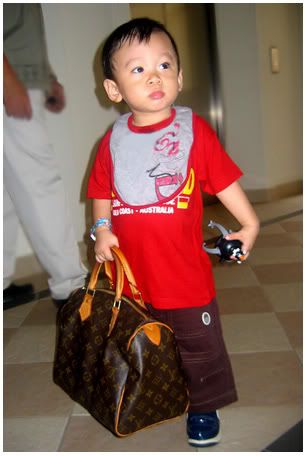 Aidan is always raring to go out. Whenever we put on his shoes for him, he'll get really excited and will immediately run to the door waiting for us to open it..Sometimes, he'll even grab my bag and carry it, urging me to hurry up..Hubby always says..aiyoh, how can u let your boy carry your chabor bag. So unmanly!!! [u'll never catch my ahbang carrying any of my bags for me]
Must try to teach the boy the meaning of patience soon...

Taking a pic at Hilton Hotel's main lobby X'mas tree with Rachel and Ryan whom Aidan will be combining his 2nd birthday party with [again] :)

***********************************


Man..I dread going to Orchard. It is so congested..even when lunch time is over. Everyone seems to be on leave as the malls are jam-packed with people. Unfortunately, I have no choice but to be there as I had to reccee for stuff for Aidan's birthday party and also to buy X'mas gifts *headache*..

Thankfully for this year, most of the planning was done by Rachel
sonday [thanks babe!!] as I couldn't really do much since I'm working. We'd managed to get most of the items for the party packs last weekend so she's helping to finalise the catering and the activities at the party. I'm in charge of the deco though. Unfortunately, I'm still at my wits ends for the banner for Aidan's birthday! Creatively wise, I'm a real dud at doing stuff like banner and pomspoms..Will probably try to buy some vanguard sheets home and figure out what I can do..or if anyone has a colored printer to spare and loads of talent, pls assist me :P..Consider it mine & Aidan's birthday/X'mas present (heh, very baar hor)..

Oh..and Aidan won't be having any Lana cake for his birthday anymore 'coz Lana doesn't open nor deliver on Sunday (which is when Aidan's birthday party falls on) and even when I said I wanted it on the 23rd (his actual birthday), they said that they are jammed packed with orders so they won't be making any birthday cakes at all for the last 2 weeks before X'mas *sighhhhh*..

Decided to try out Awfully Chocolate instead since it came so highly recommended by many..The shop doesn't carry many designs for kids birthday but I'm fine with it. I just want the cakes to be really yummy :D~~ Ended up picking the Dog in House design for the party and a simpler design cake for his playschool..Man, I'm gonna overdose on chocolate fudge!