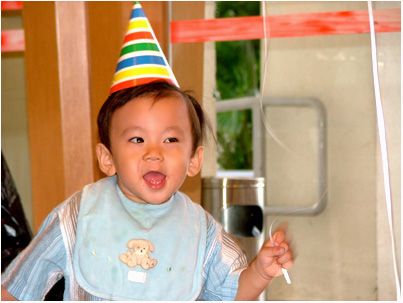 (tons of pics)



As we were leaving the function room after cleaning it up late evening yesterday, hubby remarked that he recalled the year before that as we were doing the same thing after Aidan's 1 year old party, we'd sworn not to have a big party anymore and that we would make do with a small one together with close friends for the year to come. Obviously, we did not keep to our resolution!

It wasn't meant to be a 'big' party initially as I had wanted to do it in my apartment with a much smaller invite list. But when Rachel offered to share the function room with me since she had already booked it for her boy's bday party, I simply couldn't resist and the rest is history :P Even though we'd invited lesser guests, it was definitely more chaotic & somewhat messier this year! I guess its mainly because the year before, most of our kids were still babies and many could only crawl unlike this year where there were tons of mobile kids running around, having fun and having a go at all the toys! I just remember that it was really really loud especially since most of the kids were taking turns with the drumset and the parents thinking to themselves that that was the last present on earth they would buy for their kids. Hubby and I tried offering dough to any parent who would take the drumset back with them but we failed miserably...

I think the best part of the party for me was seeing how much Aidan enjoyed himself. (I recall last year, he slept right after the cutting of his cake :P) The boy had this look of glee on his face as he went about playing with the toys, running around with the balloons and chasing his li' friends about & playing with them..Even after the party was over, he was still so hyper and happy, as he continued to play with the balloons and peering at the huge heap of presents he'd received which I'd placed under the X'mas tree..Am gonna let him open a few presents at a time each day so it will be till the end of the year when he'll unwrap all the presents!

Thanks to my hubby for being so patient and understanding even though a big party was the last thing he wanted. But I know he was glad to see his li' boy enjoying himself so much! Next year, I promise we'll make it a teeny weeny celebration :P (let's see if I'll keep to it).. To my parents-in-law who came early to help out and Nenita helped with the cleaning up/deco and ensuring Aidan's fine during the party. To everyone who'd came ..& for ur wonderful pressies. I hope you guys' eardrums are still fine! The drumset is still available if you are interested..To Lily
happyqile and Anny
daynemafor loaning us the slide, kids table and the ball tent! To Sam
ikepod for the beautiful, big banner u did for us! I owe u big time man..(and u still bought a pressie for Aidan *bish*) And Richard
issyleus for helping me with retrieving the most of the 'deleted pictures' or else I would have nothing in this journal entry..And especially to Rachel
sonday and Tenny, for everything..I know it wasn't easy for her, planning this party especially since I was at work and all and u'd to take over the catering and games planning part! I hope you and Ryan had fun too!

My boy officially turns two on Thursday, the 23rd Dec..He's such a big boy now..I've so much things to say about him which I probably have to leave for later entry or this blog will never get finished :P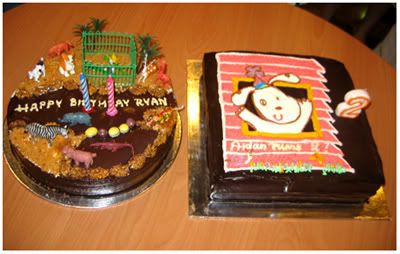 The Birthday Cakes!!
Aidan's Awfully Chocolate cake is the one on the right.
Heh, their last year's cake was so much bigger!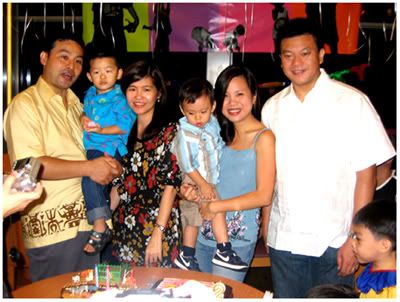 Check out the direction of Aidan's eyeballs..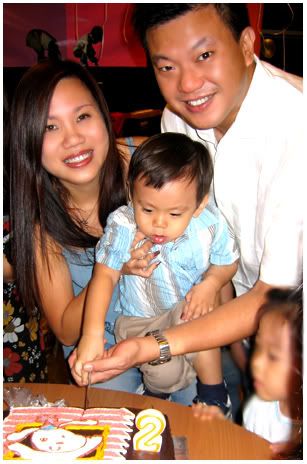 I think he must have been really hungry..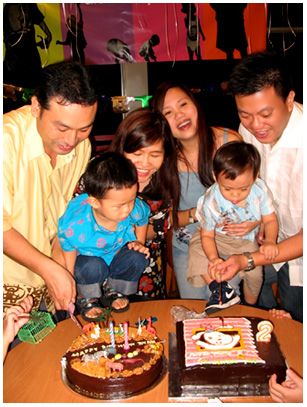 Cutting of the bday cakes..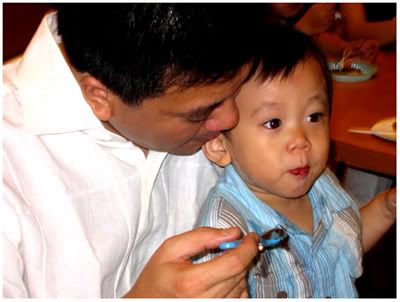 *yum yum* chocolate fudge cake!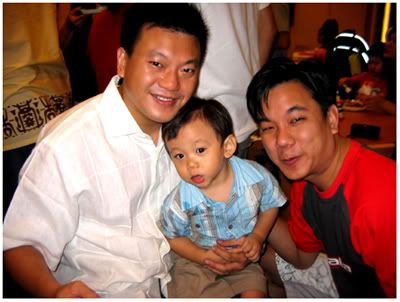 With my bro Stephen..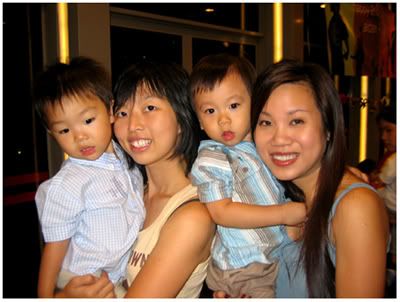 June
bbhome and Ryan..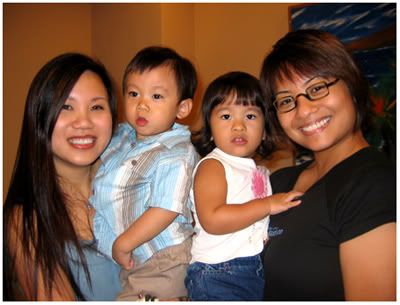 With Jean
alisonrae and li' Aly..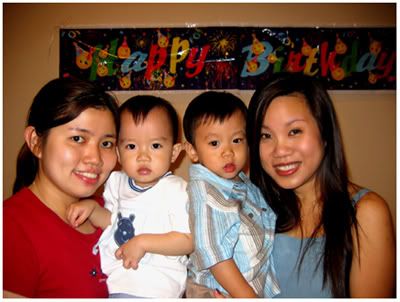 Laura
laurapoon and Caleb..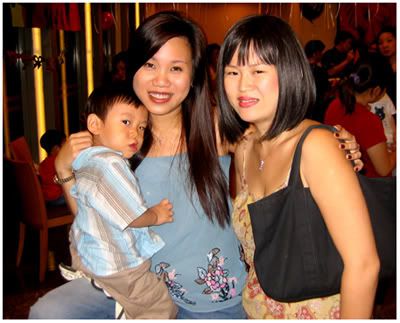 A glowing Trish
flipover who is gonna have a baby next year!


Us with Linda, Char, Laine, the Augustins with Tasmin & Jordan :)


Group pic (tho not many were ard then to take the pics :P)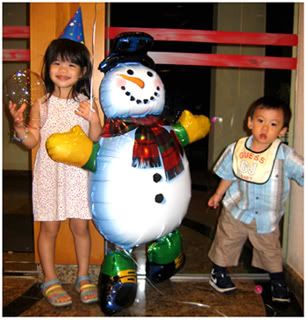 Li' Tasmin and the snowman plus my li' bugger..

I absolutely adore these set of pics which Peter had taken of Aidan playing/interacting with his friends at the party..:)There are more pics at Peter's sonEthan's website.


The 2 bday boys, Ryan & Aidan being so much more hyper than their guests, Jospin & Ethan..


Aidan laughing merrily as he let go a bunch of helium balloons as Jospin & Ethan poses for the cam..


Li' Ethan offering to share his bubble with Aidan..


so sweet eh :)

More pics
Aidan having fun :)
He was so cute..especially when he was wearing the party hat and holding tightly to a balloon while running about. He even managed to climb up and down the slide while clutching onto the balloon :)


Decoration of the function room...was quite pleased at how the room turned out :)


Check out how popular the drumset was...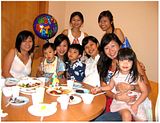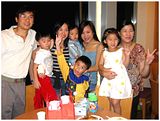 Also check out Peter's , Jinnny's
jinsiew and Laura's
laurapoon journals for more pictures of the bday party!