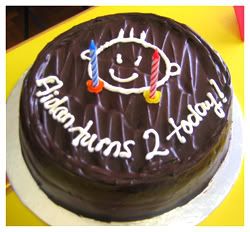 Celebrated Aidan's actual birthday at his playschool today! He turns 2 finally :)

Was kinda fun to see him together with his playschool pals.When they knew it was his birthday, they all lined up and wished him 'Happy Birthday'..some giving him pecks on his cheeks or formally shaking his hands. Very cute lah!

Had some fun playing with the kids and Aidan wasn't even possessive..he decided that watching tv was more fun than playing with his mommy :( One li' girl Enya kept on wanting to sit on my lap to watch tv and when finally, when I had to leave (I was on half day work today), she burst into tears and asked me not to go..and pretty soon, a few other kids also followed suit and began to wail, saying "aunty don't go..".Aiyoh! The only child who didn't seem to care whether I go or not was my own kid. The teachers told me that Enya's mom had long straight hair like mine so that could be the reason why she was so drawn to me ..:)

Li' bugger had loads to eat today..He wanted cake the minute we'd cut it, and after finishing a big slice of it, he had his beehoon lunch, followed by fruits and another slice of cake.. His appetite is actually increasing..if that's even possible.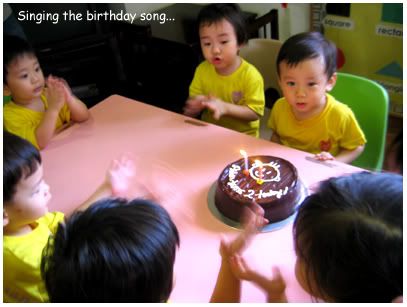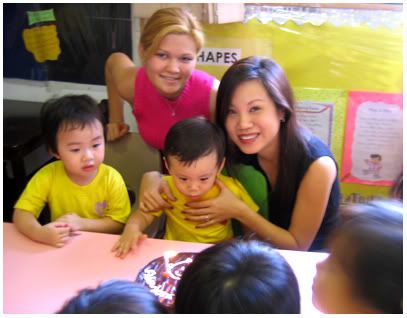 That's Heather, his playgroup teacher. She's an Aussie..
Aidan as usual is staring intently at the cake..
(hmm..I look like I'm strangling him in this pic :P)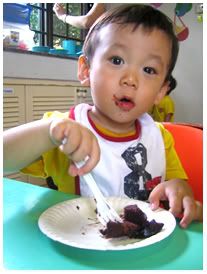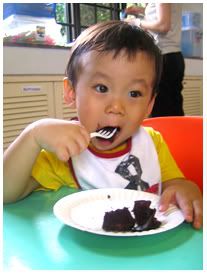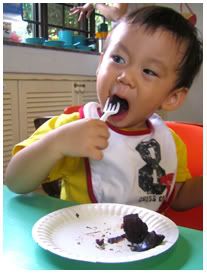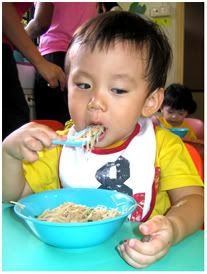 Aidan's fave activity...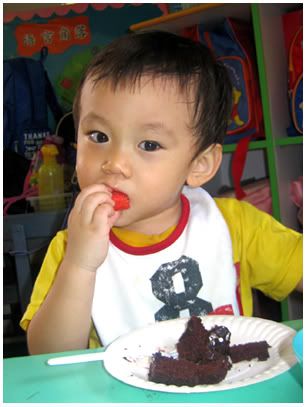 Some watermelon before cake..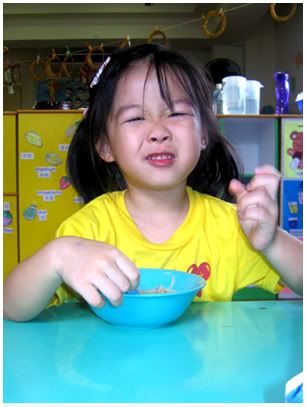 Li' Chloe having her lunch too :)

***************************************


Had dinner with Irene
moonberry and her bf Eric who was in Singapore for a stopover before she flies to Indonesia for her sis's wedding. It was great catching up with her especially since the last time I met her was during our holiday in New York..Brought her for seafood at Jumbo@ East Coast 'coz Eric wanted to see how the pepper crabs Irene has been cooking compares with the 'real thing'..

It was the first time Aidan met the couple and he really liked them, especially Eric. Aidan doesn't always let people carry him and he's usually quite selective. For example, he refuses to let my mom carries him (which hurt her quite abit)..But he was okay when Eric placed him in his arms..and then, he absolutely refused to let go of Eric, clinging to him like a koala! Even when YC and I tried to take over, Aidan pushed our hands away and kept saying "no no no" and held on tighter to him *headache*. Poor Eric had that 'oh no, what have I gotten myself into' look on his face. We were all commenting that it was a sure sign that Eric will make a good father and Irene was beaming away :D... And it was only finally after Irene tried to carry Aidan that he agreed to let go of his new found friend and was happily nestling himself against her. After that, he kept on running after Eric with open arms..

We were all wondering why Aidan was so attached to Eric and Irene said it was most likely coz Eric had a li' belly which allowed Aidan to comfortably 'sit' against him..She said that it was the same for her cat Melody who loves to cuddle against Eric..:)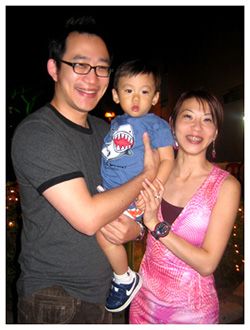 Irene, Eric with my boy :)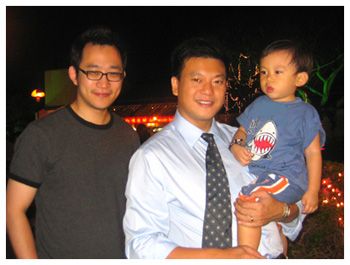 2 man and a li' boy..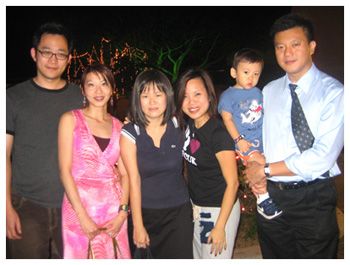 grp pic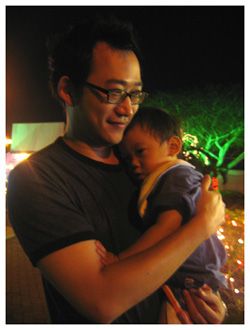 See how comfy Aidan was with Eric
He was almost falling asleep in his arms..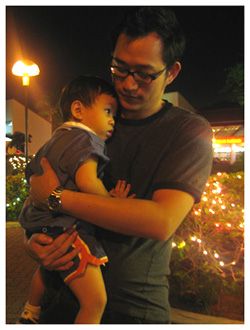 </center>