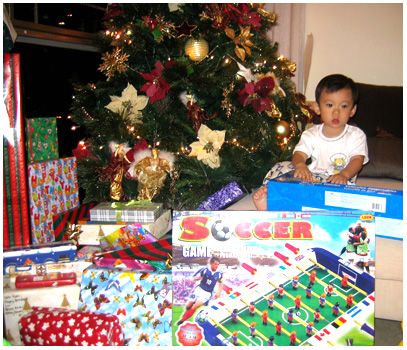 Mine wasn't..Spent the whole of X'mas day in bed.

Had woken up on X'mas eve feeling rather crummy, my body was aching and I had a heavy head plus sore throat..I knew I was coming down with something but was hoping that it would go away..Managed to tahan for the day but by night time, I was in quite a bad shape.. I didn't even send a single sms X'mas greeting response 'coz I was just not feeling very merry. And so I spent the whole of Xmas day recuperating.Woke up in the evening feeling much better..


*************************************


Brought the li' one to my office on X'mas eve where we were having a mini Xmas celebration amongst ourselves..The li' boy had a whale of a time exploring the office and of coz he had loads to eat again, especially the chocolate banana fudge cake that my colleague bought from Awfully Chocolate. Oh man, i think i've overdosed on chocolate just this week alone..

Some of my colleagues even bought Aidan X'mas presents even though it was their first time seeing him that day..So sweet of them.:)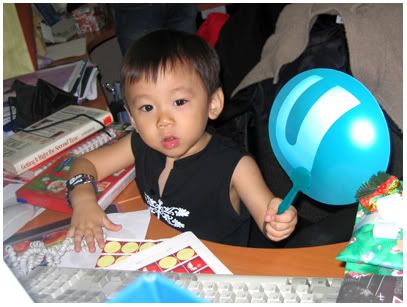 Sitting at my untidy cubicle..
His left eye is still kinda swollen as u can tell from the pic..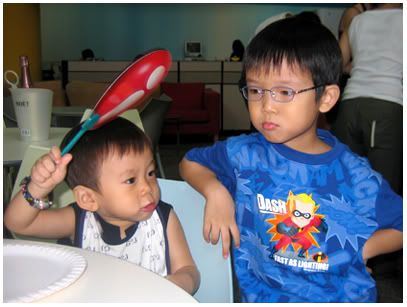 Aidan with Gabriel, my colleague Wendy's son..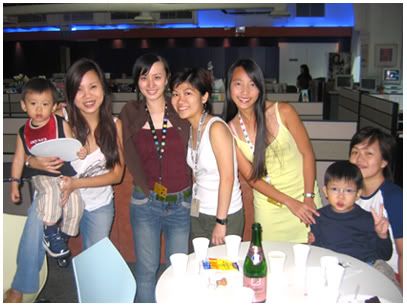 with Ginger, Cheryl, Rebecca, Su Ming and Gabriel on her lap..
See that bottle of non-alchoholic grape wine on the table,
Aidan drank 3 cups of it..he loved it so much that he just gulped it down like that..scary man.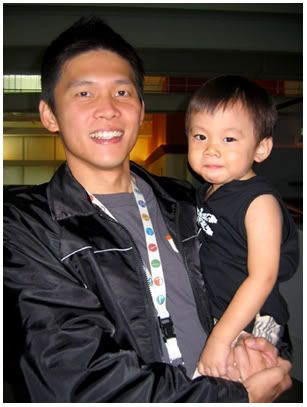 Nixon, who's wife is expecting their first kid next year..was playing with Aidan and the li' bugger liked him alot!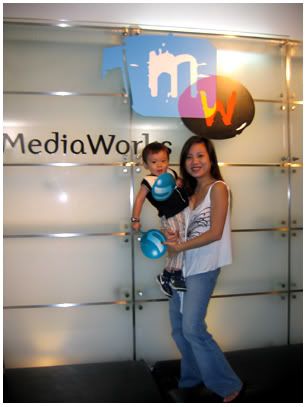 :)
***************************************


Spent X'mas eve at Lina's house where she was having an intimate X'mas dinner..the guests (which wasnt many) made up mainly of her family members but they made us feel really welcome...Her apartment was decorated beautifully with X'mas decor and litted-candles everywhere. Was thankful that Aidan didn't even bother to go near those candles..even the ones on the floor! The dinner spread was fabulous.. with smoked salmon, salmon-filled brioche,broiled lobster and baked turkey..I couldn't really eat to my heart's content 'coz I wasn't feeling well and by the 3rd course, my tummy was quite filled which made me feel more drowsy... fortunately, my hubby had a good appetite so he ensured the good food didn't go to waste :P When I was putting Aidan to zz in one of the rooms, I ended up sleeping together with him and it was only when it was midnight that hubby woke me up so that I could enjoy the festivities..Franck, Lina's hubby was dressed up in a Santa's suit and it was so funny! And he then gave up all the pressies which we'd placed under the tree..Too bad i was still kinda groggy then so I didn't take any pics..

Aidan had loads of fun at Lina's place..especially with the pool table..He kept on taking the balls and dropping them into the pockets and that kept him occupied for a while..and later, when Ashley's hubby was 'instructing' him how to shoot with the cue, the bugger was so into it that when it was time for the kids to go downstairs for more fun at the playground, he refused to go and made such a fuss..but he stopped the minute he saw the playground and continued to play to his heart's content..

Will be having another Xmas gathering with my good pals, Darren, Corrina, Bibi, Trevor and their kiddos tomorrow at my place..Hope I'll be okay by then..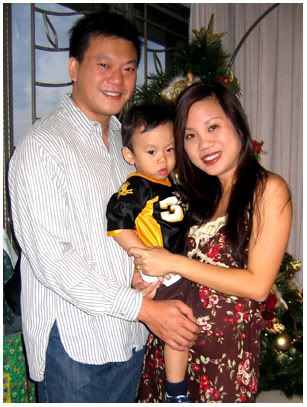 A family pic before leaving for dinner..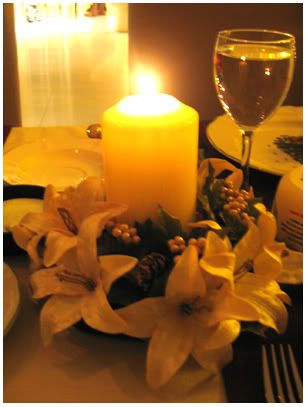 The gorgeous table set-up and centerpieces..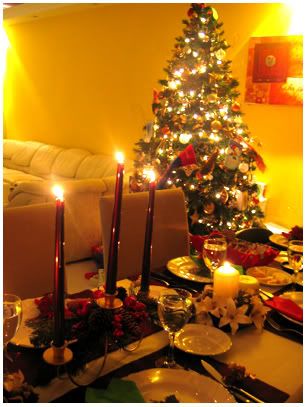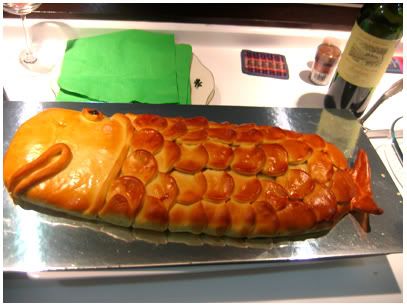 the cute looking & yummy salmon brioche..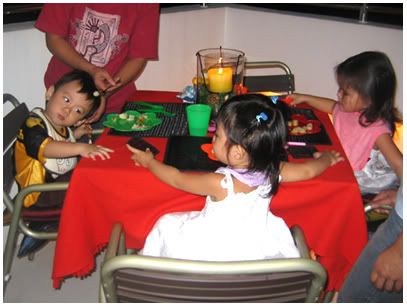 the kiddos' table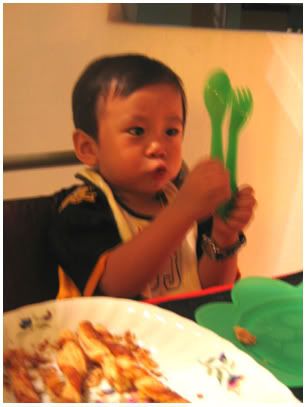 Aidan agonising over which utensils to use :P
angels on xmas day hehe..
with Ashley & Lina..
Aidan trying his hand at pool..

***************************************


Aidan received tons of toys and clothes for his birthday and X'mas this year...and I don't mean to be rude or anything to those who'd given him all these fabulous pressies..but I was thinking of donating some of them (together with a few of Aidan's 'used' toys which is still quite new since he hardly touches them) to some organisation for kids who will enjoy these toys as much as him. Those who'd come to my house before will know that Aidan has lotsa toys already..the living room has become his territory where his fave toys, like the red fire engine (my birthday present to him which was a hit on his bday party too) and the drumset takes centre stage..And in his room, there's another stack of toys kept away which once in a while, he'll ask to play with them.

I'm not in the habit of recycling gifts so I thought maybe I could give let some other kids enjoy it more. Any idea how or where I should start? Hubby was saying why not the Salvation Army but i was thinking more of a kids charity like maybe CCF..but am wondering whether they accept toy-gifts..Should probably check with them on Monday. Just wondering too whether any of the other mommies who may be in the same 'situation' as me would also like to donate their toys too :)





</center>