I used to enjoy orientation coz it meant that us newbies haven't officially start work yet..Well, it's not the same here coz this time round, we are actually gonna be tested on stuff that we were 'taught' during orientation. No joke man! It was a first actually seeing people during orientation enthusiastically scribbling down stuff and asking questions with hardly anyone nodding off or sneaking out for toilet/smoke breaks in case they miss any salient points that may be asked during the test..

Man..I've forgotten how to study already! The course co-ordinator said that the ones that usually score fantastically well for the tests are those scholar types that just graduated from school (and there are many of these type in SPH :P) . Of coz lah, what do they expect? Us old foggies who havent accessed our brain power for ages are most likely gonna fail man. How am I gonna remember all the circulation and readership numbers for Straits Times, Sunday Times, The New Paper, Lian HZB, LianHWB, Shin Min, Tamil Murasu, Berita Harian & Minggu (I only found out few days ago the difference btwn these 2 papers :P), Friday Weekly and Thumbs Up (huh? just found out recently abt the existence of these 2 papers) plus all their product distinction and their different focuses ..and this is just a li' of the stuff that's supposed to be tested on. Haven't even started on the media scene yet - the strength and weaknesses of newspapers, tv and all other competitive media. *argh* I miss being in TV already :P I feel like I'm still in school doing my communication studies - and the last time I studied was more than a decade ago! Plus after giving birth, I think I lost abt 90% of my brain cells already..bleah.



********************************************


Looking at these pics taken at Caleb (son of
laurapoon)'s birthday on Sunday brought a smile to my face. Aidan has been going for soooo many parties recently and he always enjoys them so...

He's grown so much already and i know i've said this so many times, but I really miss the 'baby' I used to have yet I am enjoying this li' active boy I have here who never fails to bring a silly grin to my face and lights up my spirits no matter how down I feel. His energy level amazes me at times and sometimes, I wonder whether I should have another kid so that he'll have company at home and someone other than us boring ol' farts to play with..

I really ♥ him so and he's been such a joy to us this past 2 years :) But I see what's happening around us & wonder to myself what kind of world I've brought him into..I admit, I fear for the future and so want to protect him..but I tell myself that I'll try my best in my ability to let him have a good life , not necessary material- wise but for him to be brought up with as much love and support from us :) [ & I will try not to spoil him and prevent him from becoming a brat!!] ..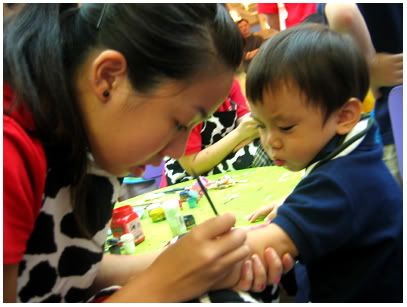 Patiently letting the jiejie draw on his hand..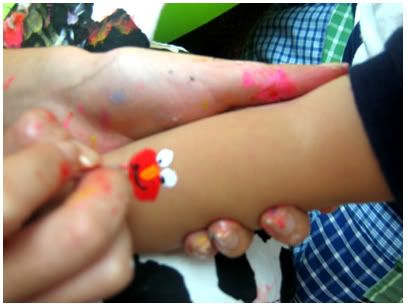 Elmo :)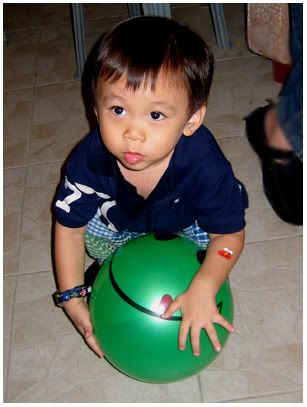 So serious..
With Laura & Caleb..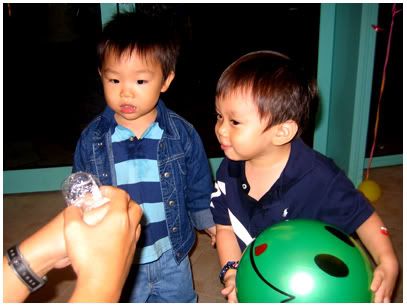 Monkeying ard with Ryan..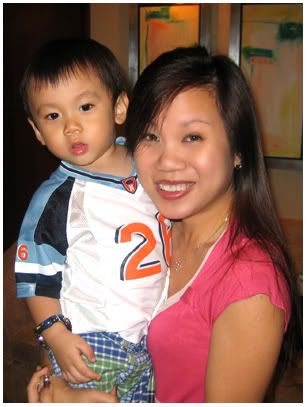 my baby :)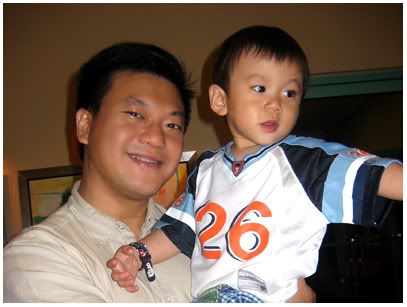 Daddy's boy!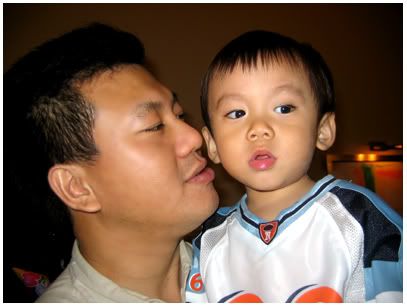 moochie mooch~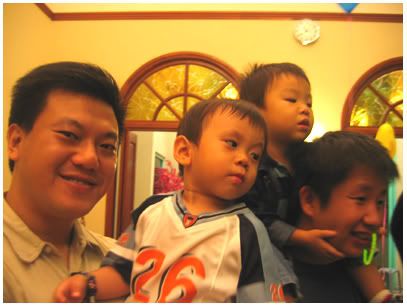 the boys eyeing the cake..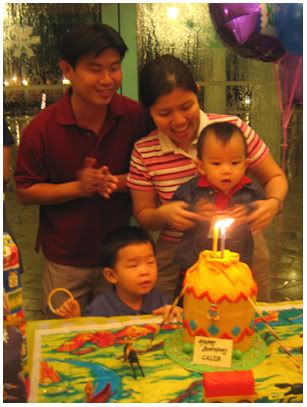 singing of the bday song..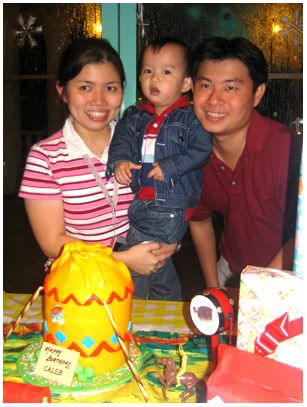 Birthday boy and his proud parents + beautiful cake..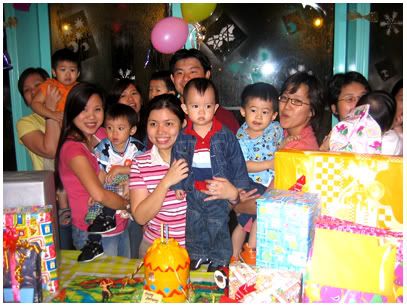 Grp pic :)
</b>