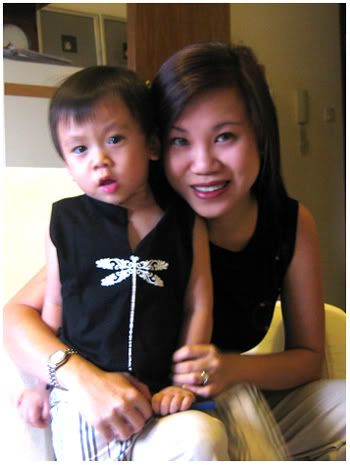 Been a while since I last blogged. Been kinda bogged down with work and plus that I didn't have much 'inspiration' to do so. Also realised that my digicam has been quite ignored for the past weeks so yesterday, I took the opportunity to take as many pics as possible when we went down to my sis's
evonnetay newly-opened restaurant at China Square yesterday.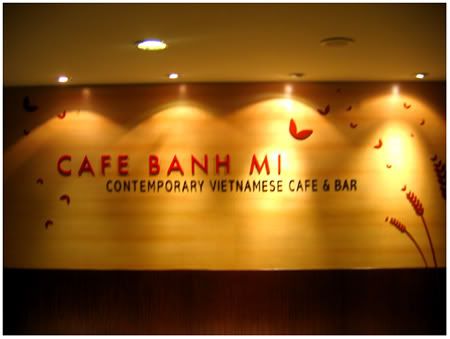 The name of the restaurant as you can tell is Cafe Banh Mi and for those familiar with Viet cusine, the Vietnamese style Sandwich is what she's gonna be specialising in. I'm not sure how to describe the difference between a Vietnamese style sandwich and that of the subway sort but I'll try...The roll of the Banh Mi (the literal translation is French Sandwich) is a traditional french baguette which had a light and tender texture and a crispy crust which goes very well with the fillings. One can have a choice of various type of meat (eg. mushroom ham, grilled chicken, honey pork etc) or seafood..Added with sweet carrots, icy cucumbers, fresh cilantro, the taste of the sandwich is really quite good..something different from the usual sandwich we are used to. I have to say the sandwich itself seems to be a mix of French style with Chinese ingredients done the Vietnamese way. My personal fave is the mushroom ham! Anyway, do come by my sis's cafe when you are around China Square area. The location could be better i thought..It's tucked inside one of the food area..sandwiched between Sushi Tei and Scoops. The location is right opposite O'Brien's. She hasn't really officially launched the deli yet..it's just been 'soft-launched'. She's still finalising on the decor plus some other issues..Will update on when the actual opening but she's already open for business :)



Here's some pics of the banh-mi :)
The address of the cafe are as follows :-


If any of you are planning to try out the banh-mi, remember to quote my journal or my name. Ask for my sis..and tell her my blog or my name. She'll give u guys a 10% discount! [with effective from this Friday].

I was actually introduced to banh-mi by Irene
moonberrywhen I was in New York abt 1 year ago. She'd packed for us 2 of the sandwiches for our breakfast/brunch as we were flying off to Las Vegas in the early morning. I remembered that it tasted great especially since we were really hungry plus that the portions were huge and that I was so full after I had that one sandwich. Interestingly, even though I'd spent quite a fair bit of time in Vietnam in one of my earliest job, I never had a Banh Mi there..probably coz I was more interested in sampling mainly the phos :P


****************************************

******

Us at China Square yesterday :)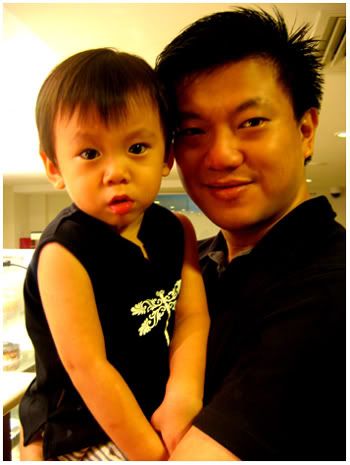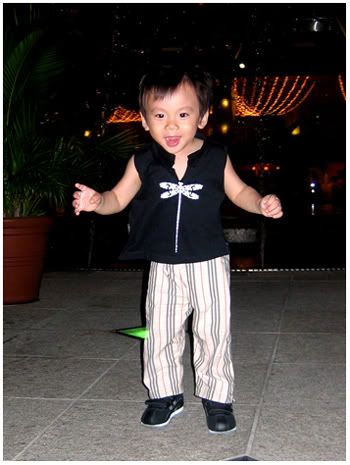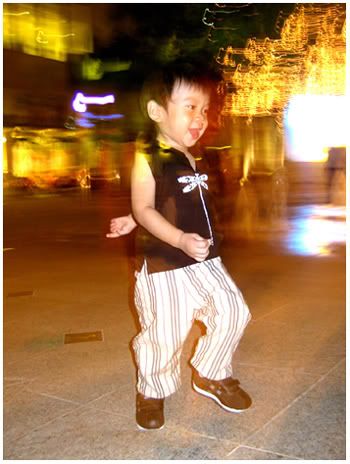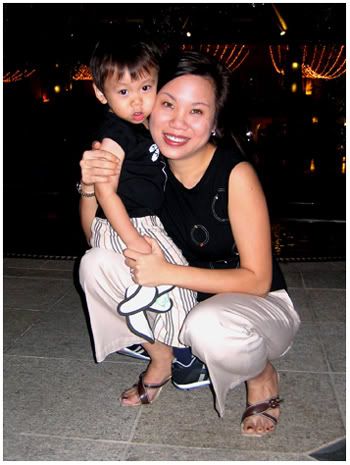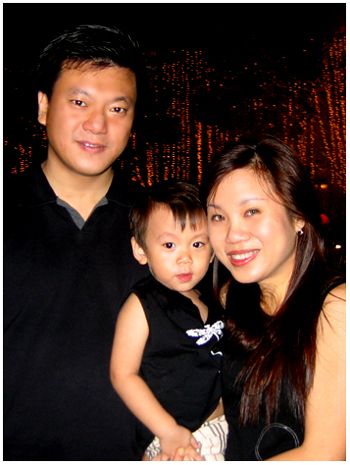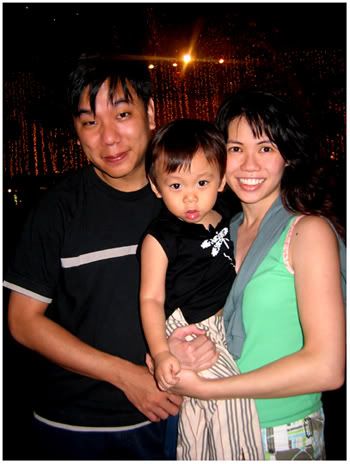 ****************************************
*****
Grouchy Aidan early this morning..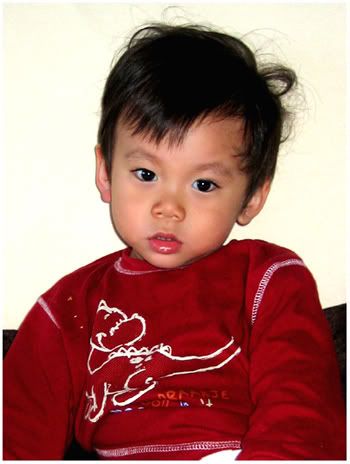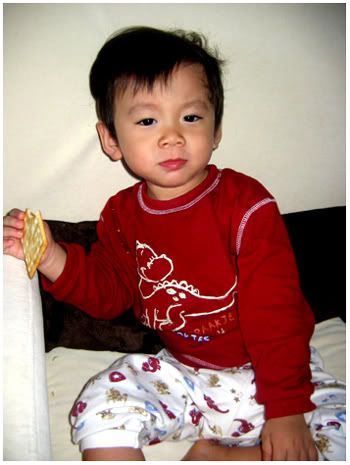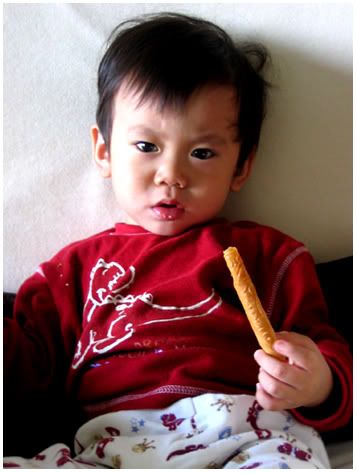 ****************************************

****


Argh..don't mean to sound like a grouch but one thing I really hate abt this festive period is the chinese new year songs. Ever mall I enter, my eardrums will inundated by the loud blare of such songs...and the music just won't quit even after I'd left the malls.

Just last week, when we went to Hougang Mall to have our dinner, there was some event where some singers were on stage singing those dreaded songs. The first singer was some male dude who wasn't having much success with the predominantly ah-pei/li' kids crowd as he tried to get them to clap their hands with him while he serenaded to them. To be fair, he did have a good singing voice but he simply had no stage charisma. After our dinner, Aidan who was originally looking at a High-5 video at a video-shop suddenly rushed to the side of the railing and peered down at the stage..He started pulling our hands, indicating that he wanted to see the singers. So I carried him and that bugger was obviously entranced by the songs/singers and he started swaying to the music, bobbing his head as he 'danced'...Bopienz, I then decided to bring him down to the first floor where the stage was. On stage were 2 nubile young girls, dressed in really tight red outfits with short skirt hems. I gathered that the name of thise girl group was the CT girls, from the poster and cd albums that were being sold. They were apparently a twin girls group from Malaysia. And this time round, the crowd response to them was fantastic. The ah-peis were so close to the stage, waving and winking at them, the ah-sohs were also rushing up front, trying to collect whatever items they were dishing out to the crowd, and the li' urns there, like Aidan were simply captivated by this 2 singing lassies. Oh man...am quite worried about my boy's taste in music (and girls). And after they'd finished their performance, they invited a trio up on stage..which comprised of this 3 really young girls (probably abt 8-10 years old), dressed in those traditional kiddy chinese outfit..The name of their group - 'Xiao Tian Tian' *awk!. For a moment, I thought I was watching PSC Nite on Ch 8 where they always showcase those li' kids singing and acting like adults..Anywa, all of them started singing even more chinese new year songs together. You should see how Aidan's face lighted up when he saw those 3 girls..He had a broad smile and started gyrating in my arms. Can die man..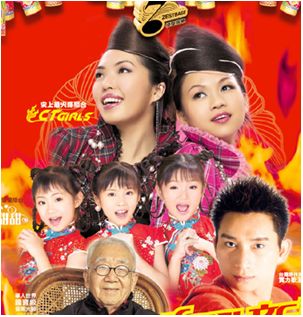 That's the CT girls right on top and the 3 li' girls at the bottom. The dude on the bottom right was the male singer that had no success with the crowd. Not sure who that old man in the poster is..:P
Oh man, just found out that the CT girls are actually quite popular *gag*.There's a site devoted to them and they have released countless Cds/VCDs..Found a thread devoted to them in spug too :P



</b>