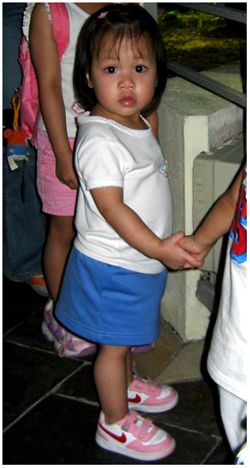 Aidan got to meet his 'betrothed' again after a long while. They
were still babies
when they first met over 1 1/2 years ago. And the last time 2 times they met was in
Hong Kong in May
and
in July last year
. At that time, Macy ignored poor Aidan, preferring to watch tv instead :P
But this time round, the 2 kiddos seemed to enjoy each other's company more..or rather, they were having fun making a helluva racket and dancing & prancing around the house! It was so cute to see them together! Macy is definitely the 'chilli-padi' that Mong
meganmacy
described her to be..and she's sooooo cute with her huge round eyes, that li' tumtum and rounded bottom..still kinda baby-like!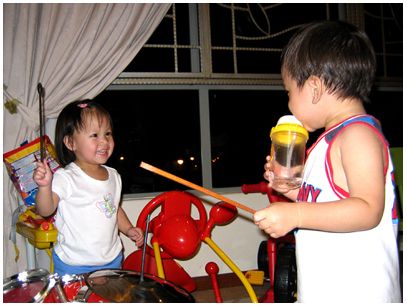 See that smile on Macy's face :)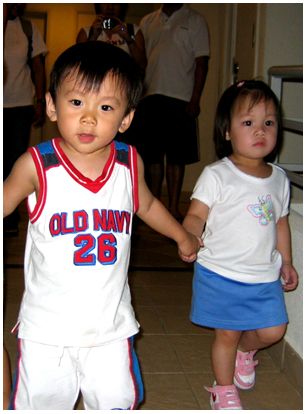 Going kai-kai..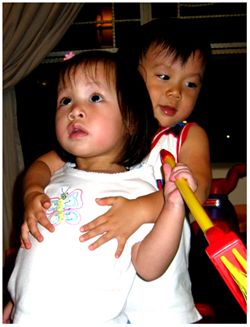 Erm..oops!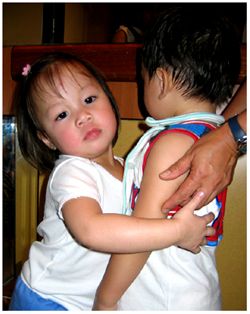 awww~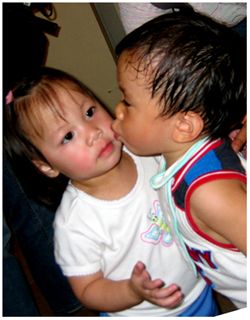 *mooch*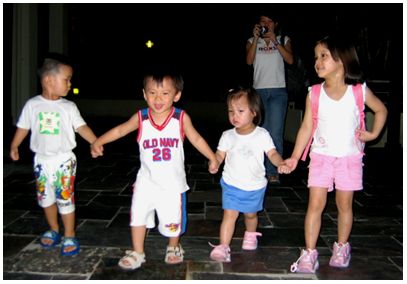 Aidan in a jolly good mood as he brought his guests around the estate!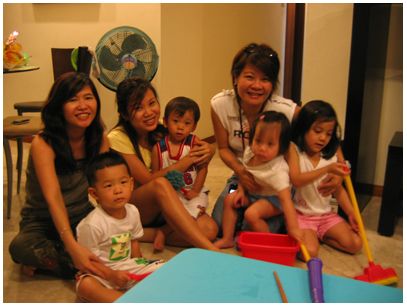 Group pic. Rachel
sonday
and Ryan came over too!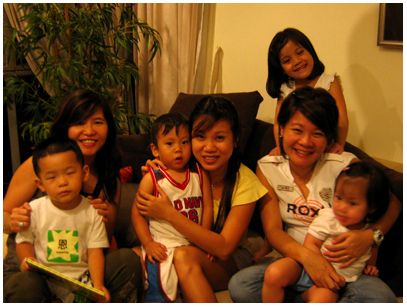 Some Videoclips :)
With Macy
First Dance with Macy :)
Having Fun :)
.
Cleaning the house
.
Totally O/T here. Can't really remember what Aidan did then but he was being quite naughty so we decided to punish him. His playschool teacher had told us that when he gets out of hand in school, she would ask him to go stand in the corner, and he'll happily oblige her (!)..So, we tried the method on him..
Clip of Aidan being punished...
Erm..not sure whether this is much of a punishment...

*edit : Hmm..I think some of u guys could be right! He may be saying 'cheese' in the pix since he was making the 'pic snapping' motion while saying it! Trust this blur mom not to catch that!
********************
Brought Aidan to the Underwater World at Sentosa yesterday coz we ran out of places to bring him to :P..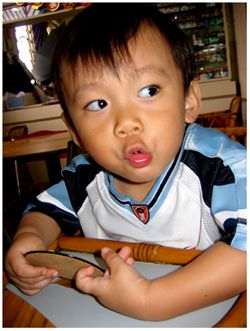 Aidan practising puckering up!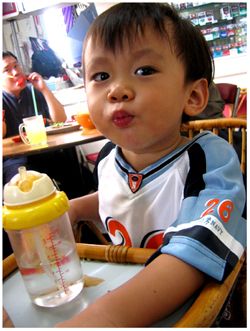 This was taken at the duck-rice store at Pasir Panjang..yumyum! One of the best boneless duck-rice ard!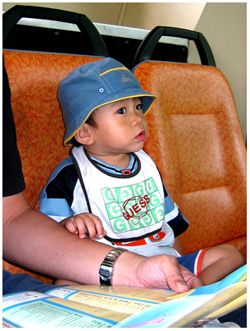 Sitting in the bus as it makes it way to Underwater World..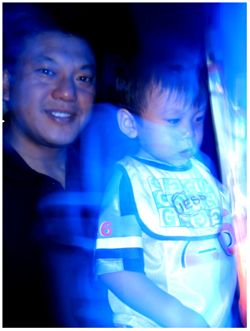 His fave 'fish' - Jelly~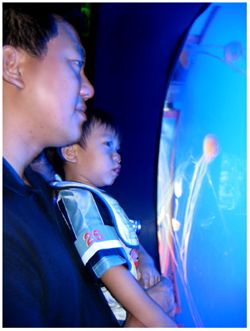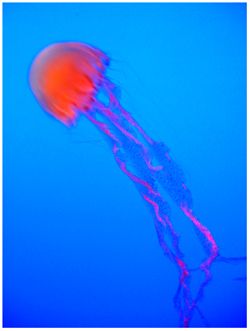 :)
</b>
Current Mood:

amused