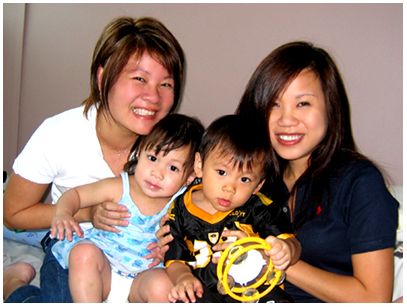 Li' bugger met with his sweetheart and mil-to-be on Sunday, just one day before they returned to Hongkong.
This was taken in July 2004..see how much they've grown/changed :)

Eh..I'm not wearing the same top ah!

Oi Mong..u've lost weight lah. See,your face is more

jiam

!



Anny
daynema had opened her house for a tea-party as a welcome/bye-bye thingy for Mong
meganmacy..Was late coz ah boy needed his beauty nap and we only reached her place at abt 4pm (he refused to get up!). Heard that most of the mummies had actually gone there at abt 2pm..Mong actually wanted to leave earlier but on knowing I was gonna be there soon, she waited for me *paiseh*..

This time, I left Aidan on his own to play with his li' friends there (instead of pushing him towards a certain someone) but in the end, I realised he'd actually spent most of his time playing with/around her :) Heee~~~(cheap thrill~)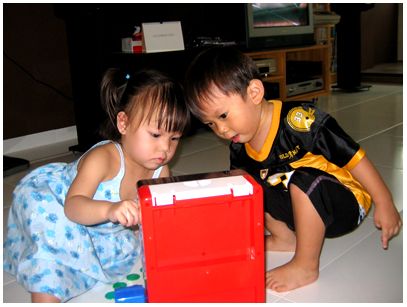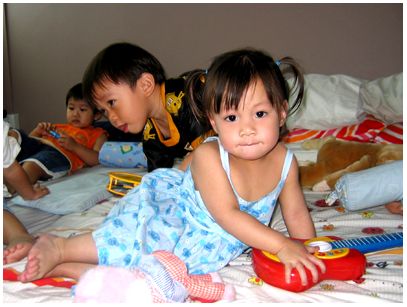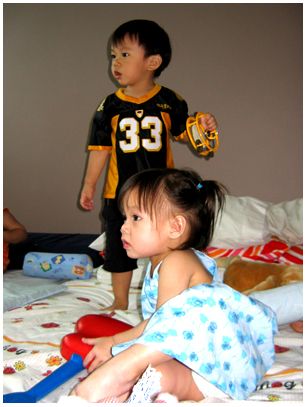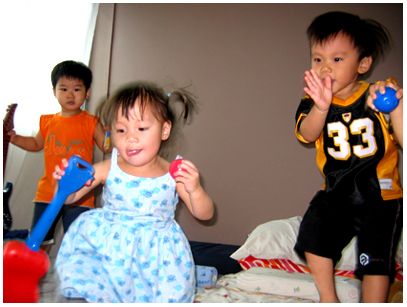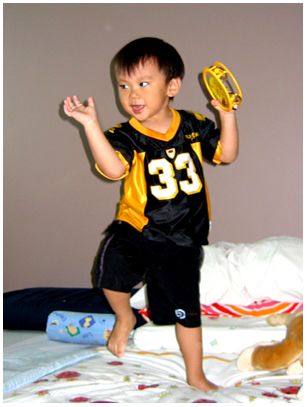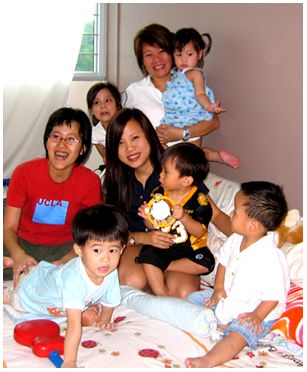 ****************************************

******


Not sure if any of you realised but The New Paper has revamped..on April's Fools Day - no joke! It wasn't a major exercise imo..especially if you compare it to Sunday Time's revamp. Just some attempts at making it less cluttered and 'Pmeb' friendly. I don't think the content has changed much though..still tabloid-y! Hmm..I don't think by having Clarence Chang reporting on politics and having more golf news would elevate the status of the paper much..but oh well, the makeover's been way overdue..But I do like the way the 'Guide' and 'Show' segments were done..At least the mobile chatlines ads do not overwhelm the entire paper as much as it used to...

But what I really don't understand is the 'revamp' of The New Paper site. I was looking at it the night before and have no ideal what they are trying to do! An online news article site which allows for comments from readers [disguised as a blog section] = an electronic blog!?? Duh! It's like they are just trying to jump on the blogging bandwagon and basically revamped the site based on the idea but they have no freaking clue what blogging actually means. Man..the next meeting I see the fella who's i/c of the site revamp, I'm gonna ask him where he got his inspiration from..Super malu man..

Today's got Mr Brown..The New Paper has Xiaxue. The print media's gonna be run by bloggers soon! Hmm., she's gonna be a colleague..(not same floor though)..Bet loads of my colleagues will be going up to the 6th floor just to check her out (since many of them read her blog)..Not sure whether a weekly columnist has a cubicle. Must go ask Edwin *kaypoh*..



**********************************************


My cousin, Terry has a blog of his motorcycle trip ard Asia.. He rode his bike from Singapore through Malaysia, Thailand and Laos.

We'll ride through Malaysia via the NS highway, enter Thailand and take a rest in Hatyai after which we'll then head north towards Bangkok.

From there, we'll head towards the border of Thailand and Laos crossing the Mekong into Vientiane, the capital of Laos via the Friendship Bridge.

In Laos, we'll investigate Lao culture, looking at monasteries, monuments, traditional costumes and surrounded by many types of nature's beauty.

After Laos will head back to Thailand and head up to the Chiang Mai Bike week, an annual Motorcycling festival like Stugis and Datona in the USA held in the northern Thai city of Chiang Mai. This festival will be the finale of the trip. The return trip will be by the historic cities of Ayuthaya and Phitsanulok.

Distance: approximately 8,000 km trip to and from Singapore

Cool eh! Check out the pictures of places he has visited..Here's some of one of his stops - the 'Long Neck' Village..

</b>