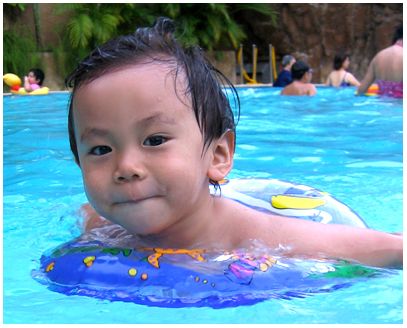 My boy is 28 months old!

Pics taken at Safra Yishun :)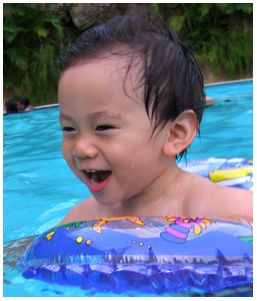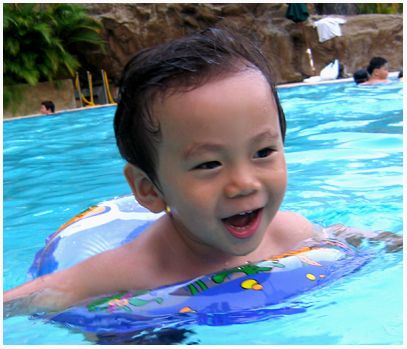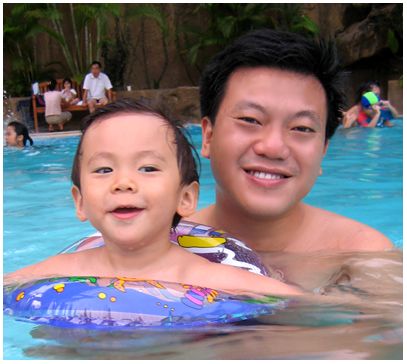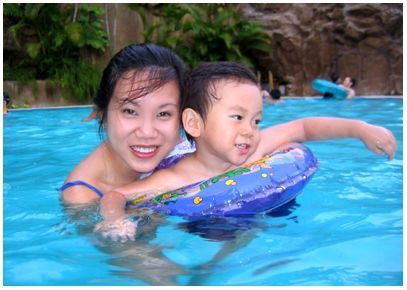 you probably can't tell but they were holding hands underwater :>
Been letting the boy swim regulary since he loves it so much. But we've been venturing out of our place as the pool water at our condo is usually freezing cold and sometimes, Aidan gets the sniffles a day or 2 after a swim. So, to make our weekends more interesting,,we'll try to bring him to different swimming places. Last weekend, it was at the Singapore Yacht Club and yesterday, we tried out the pool at Safra Yishun..
Was our first time there and I gotta admit, I'm quite impressed by the club's amenities . They have 3 large-size kids pools and what's even better is that the water is heated! We'll probably go check out the other Safra Clubs at Mt Faber and Tampines in the next few weeks. Good too lah..at least Hubby's Safra membership can come to good use since he's been lamenting before that it was a useless membership (oh btw, the food at the chinese restaurant - Imperial Gardens is good too. For the month of April, they are having a food promotion where you will get a 50% discount on your bill if you spend above $100)
I ♥ the weekends as it is our family time together and we get to be with Aidan the entire day. Have been working later than usual lately and by the time I get home, he'll be preparing for bedtime already. Sometimes, I do regret not being able to spend as much time with him as I used to..
******************************
Aidan knows the difference between weekdays and weekends. He's our alarm clock during the weekdays. Every weekday morning after he has finished his bottle of milk, he'll hop out of bed and head straight towards our room door, and start banging on it hard, calling out "mummy mummy, daddy daddy..wake up..!" and won't stop till one of us opens the door (most of the time, it's Daddy!). And then he'll pounce on whoever is on the bed still (usually moi :P ) and won't budge till I get out of bed. But during the weekends, he'll let us sleep till abt 10.30/11am and then he'll start pounding on the door. Maybe, he just wants to let us have some good rest so that we can bring him out later :)
******************************
Aidan was finally promoted to Playgroup 1 last week...
He's been in Playgroup 1 since he joined the school abt 10 months ago and most of the kids who are abt the same age as him has moved on to Playgroup 2 when they turned 2.
He had to stay on in Playgroup 1 even after his 2nd birthday (@4 months ago) as he was still quite behind in his speech then and wasn't able to articulate himself well. The teachings in Playgroup 2 is more advanced and the teachers fear that Aidan won't be able to understand or catch up. Also, Aidan couldn't properly control his bowels then and all the kids at Playgroup 2 had to be successfully toilet-trained.
I gotta admit, it was a little upsetting to know that your kid is slower in learning compared to his peers. We also heard from his teachers during the 'Meet the Parents session' that ever since his good friend, Branson was 'promoted' to Playgroup 2 a few months back, Aidan has been rather forlorn as Branson had been his partner-in-play since he joined the school. Most of the kids in Playgroup 1 are younger than him and like most chilren, he would rather play with kids his age or those older than him. Even though he probably wasn't too happy, he didn't show it to us. He still looks forward to going to school everyday. In fact, the teachers dubbed him the 'Happiest boy in School'..He's always so cheerful and chirpy in the morning and will greet everyone when we drop him off in school. Most of the time, the other kids are either still sleeping, crying or looking extremely grouchy. And he'll stay his happy and playful self throughout the morning and even when his ah-gong comes by to pick him up, he'll be so reluctant to leave his pals and teachers.
Anyway, when we heard that he was finally gonna be joining Playgroup 2, you can imagine how happy (& relieved) I was. (Man, I wonder what my nerves are gonna be like when he goes to Primary School!). His teacher and principal has informed us that he's adapting well so far and is glad that he's back with his usual kakis from Playgroup 1. He's vocalising more now too..Even though his vocabulory is not as prolific as his peers and that he isn't that capable of stringing many words together to form sentences, he does try to communicate to us with words, instead of grunting or his body language.
We are trying to toilet train him at home too. We adopt the same method as what the teachers have done in school..bringing him to the loo every 30 minutes or so to empty his bladder and so far, he's been very co-operative - no major water-spills yet *cross fingers*. In fact, he now prefers to go without diapers and will sometimes fuss when we make him wear one before he sleeps or when we go out. However, he doesn't let us know when he needs to go even though we are encouraging him to tell us whenever he needs to pee or poo. But he is able to hold his pee 'coz he's diaperless when we bring him down to the playground to play.
For those moms who are toilet-training ur kids, do you also let your kid sleep without diapers? How do you deal with it when they pee in their sleep? Do you have to wake up constantly to check? *blur*. I probably should go buy some books on toilet-training..
******************************
Oh..got a question!. I think my laptop is going bonkers soon coz of all the photos and videos in it. What would be the most efficient, quickest and safest way to store my pics and videos elsewhere so that I won't lose them all when my laptop dies on me..
And I'm so tempted to get
an iMac G5
although the last time I'd used a Mac was during my uni-days. Ive also been eyeing
this bag
for a while....temptations~
Current Mood:

pleased