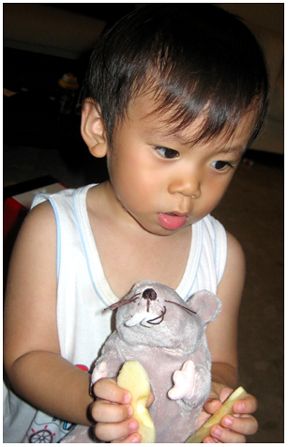 We didn't actually get him a pet of coz..just a new toy, a stuffed rodent to be exact. I'd bought it from Ikea this afternoon. It was real fugly looking mouse (rat?) and when I left it on my tabletop at work, some of my colleagues actually squealed thinking that it was real. Hiaks..
Gave it to the li' one when I reached home. He was having his apple and the first thing he did was to feed the mousey-one a slice of fruit. A while later, he decided that the rodent could be thirsty and let it have some of his water. Of coz we played along with him :)
It's always so amusing to see the antics of our little ones..:)
Oh, he brought his new pet to sleep with him together with his 2 piggies :)
Here's a Video of Aidan with li' mousey~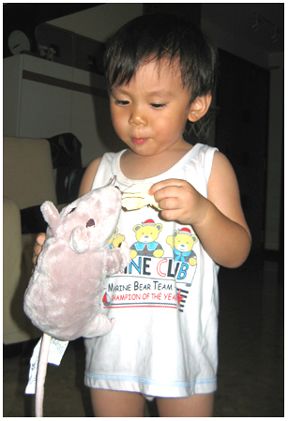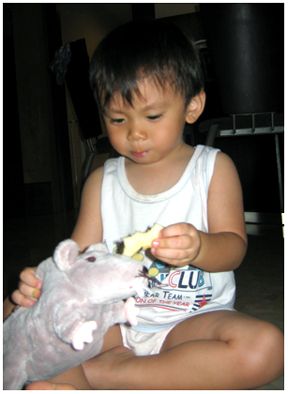 One slice for mousey~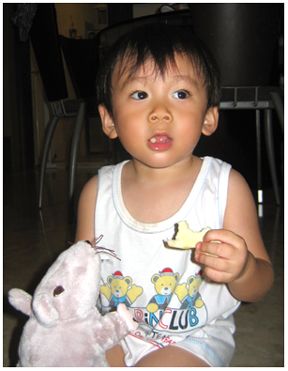 One slice for me *yumyum*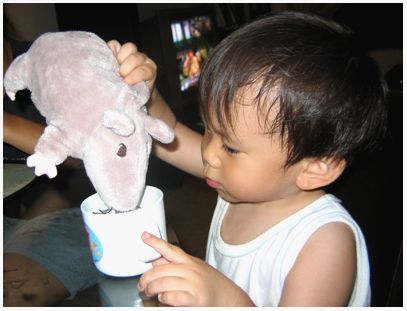 Drink up!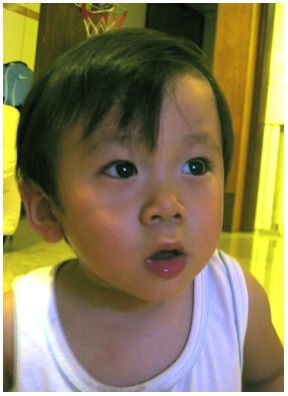 I had a few comments that Aidan's eyes seemed to be getting bigger! I don't know, it looks abt the same to me..actually, I thought they'd gotten smaller since he's grown :P
Anyway, I've always considered Aidan's eyes (together with his eyelashes) to be his best features. They are so bright and luminous (I'm biased ;P) His eyes are quite unlike mine or ahbang's..ours aren't that round and big..
Well, I've got something to confess. When I had Aidan and was still in the hospital, my group of pals, including Corrina visited us during X'mas Day (Aidan was born on the 23 of Dec). I had to stay on longer in the hospital coz Aidan had jaundice and needed to be hospitalised. I didn't wanna leave him even though they'd discharged me therefore I'd rented the studio aptment in the hospital so that I could be with him whenever he needed me plus that I was trying to fully breastfeed him then.
Anyway, Aidan@ a few days old naturally looked nothing like what he does now of coz . His eyes were small, squinty and looked like slits even though they were opened. While chatting with Corrina who had then given birth to her Chloe abt 6 months ago, she mentioned that there was a method to make our babies eyes' bigger. I was curious and eager to learn how it was done. She lowered her voice and whispered to me "Lick the eyelids of your baby!" She had to repeat it twice 'coz I wasn't sure I heard it right the first time. I was like "Eeeeeee! So grossss~!!!!" (yeah, typical reaction). She swore that it worked for her (Chloe), and her friend, and her mom's friend friend. And the trick is..that you gotta do it within the first few days after the child is born. "Sure or not" I thought to myself.."Errr..no way am I gonna do that!" I muttered!
That night, I gazed at the li' one sleeping soundly against my bosum after a feed and uttered to myself "Oh what small eyes you have, my baby.." And there and then, I made up my mind. What the heck!? No harm trying right..And the next moment, I was licking away. I actually licked each eyelid twice for insurance and hoped that the bugger won't get sore eyes as a result of my craziness.
Well, old wives tales or not..it worked. Well, maybe he was meant to have big eyes but we'll never know eh. I'd never thought of myself as someone who would act on superstition or old wives tales.. I showered and washed my hair on the very day I had Aidan and didn't take confinement food nor any of those
bu
stuff. I gave away all the Doms and birds nest pple gave me and snuck out of my house a week after the delivery to have my hair colored and styled. But just coz I wanted Aidan to have bigger eyes, I'd actually listened to the wise words of Corrina.....
So what do you think? Would you do what I did?
This is one of my fave pic of big-eyed Aidan
when he was 7 months old :)