The boy still has a hearty appetite (thankfully). At least he's eating much slower now. When he first started on solids, he used to gulp down his food in a hurry and his meal would be finished in mere minutes. I know it isn't encouraged but we deliberately let him watch tv and have his dinner because he eats slower as a result. When we're out for dinner, he's always the first to finish so we usually have to speed up our eating pace. It's really gratifying to see him enjoying his meal..he'll show his appreciation by going "mmmm, nice!". He loves rice and noodles..and sometimes, even a bowl of plain rice and soup would suffice and he'll usually have at least 2 bowls followed by fruits. Nenita has been great with him..she tries to cook as much variety for him everyday ensuring that it has all the basic food types. Like most kids, he doesn't really like his vegs cept for brocolli and spinach so she'll try to include them in his meals. I feel kinda guilty when I think back of the time when I was a SAHM and had to cook for him. He had fish & brocolli porridge almost everyday for a year and still wallop his food with gusto!
....but he is such a messy eater!!!!
Video :Long boring clip of Aidan having dinner~
(he's usually eats faster if Nenita feeds him but we prefer that he does it himself :) )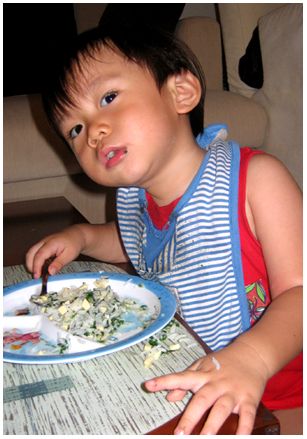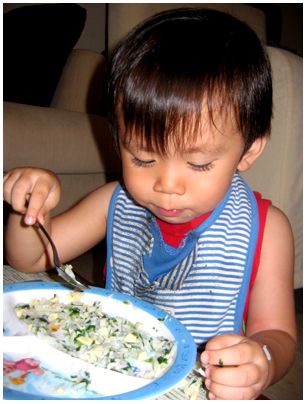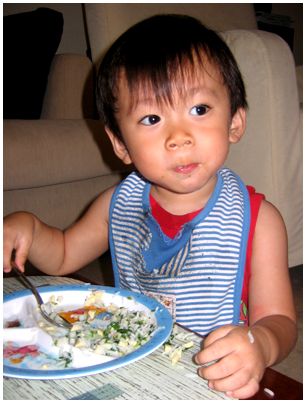 ****************************************
*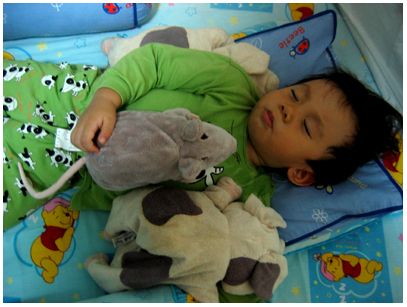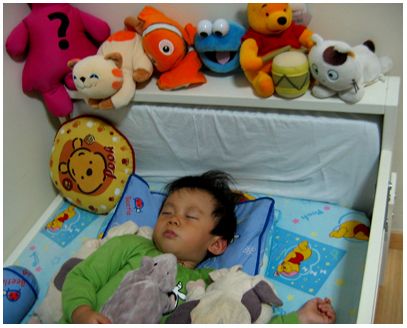 Here's Aidan sleeping with his 3 fave stuffed-toy :)
Since that day
, the li' mousey has been his regular sleeping companion together with his 2 piggies. Man, and I was planning to wean him off his comfort toys..! Looks like I gotta wait a while..
**************************************
My helper Nenita is a stanch Christian who goes to church on the Sunday that she's off. She tries to do her part by donating 10% of her salary every month but for the past 2 months or so, she wasn't able to as her family back in Philippines needed money urgently.
During her last visit to church, her pastor rounded up the Filipino congregation members and preached them on the importance of tithings*, adding that he'd noticed that some of them in the group has not been contributing to the tithes. By not doing so, he said, they are disobeying and 'robbing' God.
Nenita told me that the church has also been asking for donations for two other separate funds. The first one was a fund set up for visiting pastors from abroad who comes by every month to their church to preach. The money is supposedly meant for covering their accomodation and food cost while they are in Singapore. Part of it is also offset the cost of the catered food that is ordered for their tea sessions after the service where they get to mingle with the visiting pastor. They were instructed to offer $10 a month per member for this. The 2nd donation is called "faith promise".It is an act of faith that promises God to give a specific amount to world evangelism, in addition to the tithes through regular giving.
I asked whether it was compulsory to donate to these funds and she said that the way the pastor had put it, it seemed like it was a must. Furthermore, her cell group leader had been smsing her, reminding her to bring her donation envelopes the next time she goes to church. She, along with some of her Filipino friends had approached the pastor and explained that it could be tough for them to fork out that much money per month due to their monetary obligation to their family. The reply to her was this "Do not always worry about money. God will also provide." And he quoted this passage :
"For I testify that they gave as much as they were able, and even beyond their ability… And they did not do as we expected, but gave themselves first to the Lord and then to us in keeping with God's will" (2 Corinthians 8:3, 5, NIV).
An additional $10-20 a month may not seem like a lot to many but it is for her as majority of her salary goes to her family back in Philippines. She has a 6 year son and he is her main priority, so she has to ensure that her family have money for his upbringing and other misc items like school fees, clothes etc.
"Ma'am.."
she said,
"Being a Christian in Singapore is very expensive you know!"
(Please do not be mistaken that i'm criticising Christianity in my post)
* Tithes :
Catholic definition - "the tenth part of the increase arising from the profits of land and stock, allotted to the clergy for their support or devoted to religious or charitable uses". A more radical definition is "the tenth part of all fruits and profits justly acquired, owed to God in recognition of his supreme dominion over man, and to be paid to the ministers of the church".
Christian definition - Serves more as an external, material testimony that God owns both the material and spiritual things of a Christian's life. Giving of
tithes is an indicator of obedience to all of God's laws.
Current Mood:

contemplative