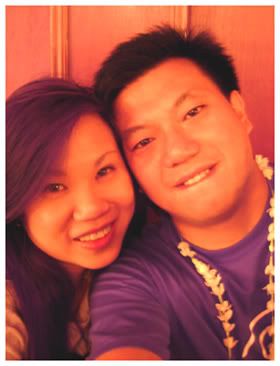 Was whisked away by hubby to an idyllic albeit brief weekend holiday at Chiang Mai. He knew I had been feeling rather stressed & decided that a getaway for both of us without the kiddo would be a good antidote. We haven't had much time to ourselves lately too. Work has kept us busy/apart most of the time and when we're home, Aidan comes first.

Said it was an advanced birthday treat too. Hmm, does that mean I ain't gonna get a present the actual day? *sob* [btw, my birthday is just *cough 23rd* ard the corner *hint hint* I accept cheques. My brother's bday is on 21 July so if you are feeling generous, you can add more zeros]

There was a new 6 star hotel, The Chedi, Chiang Mai that just opened (1st July) and he took advantage of the promotional package and booked it immediately. He'd only told me on the Friday afternoon of his plans although he'd asked me much earlier on to take the following Monday off (since I have so many leave days to clear).

We didn't manage to cover as many places as we'd originally planned. The intention wasn't to jam pack our schedules anyway. What we wanted to do was to relax and lepac so we booked spent most of our time getting massages, stuffing ourselves silly and enjoying each other's company. Shiokers :)

Shopping was fab! The stuff there are much cheaper than those in Bangkok (didn't think that was possible) and I discovered that hubby was much more skilled than me in bargaining! Here's an exchange I overheard..

Hubby : "250 batt?! So expensive, lower can? 150 batt!!"
Girl : "Sir, very cheap already. I don't make much profit!"
Hubby : "No, no, no, take it or leave it, 150batt!"
Girl : "Sir, 200 batt lowest! I promise, I won't suck you!"

I burst out laughing when I heard that but hubby still continued to bargain and didn't know why I was tickled silly..

Had a great time :). And no, Aidan's not having another sibling any time soon..

Didn't take many pictures..times like this, I wish I had better photography skills and am able to take solid scenery/people pics..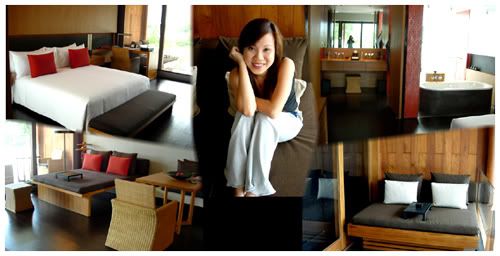 The room was great! We were upgraded to a suite! Love the decor..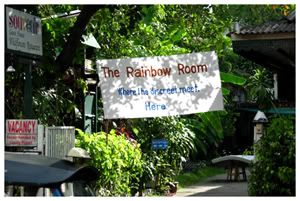 Saw this sign at a hostel/small hotel nearby..
'The Rainbow Room. Where the discreet meet..Here'
Hmmm....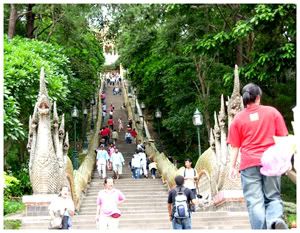 We at least made it to the top temple of mtn Soi Duthep..
Only 300+ steps to reach the temple..easy peasy :)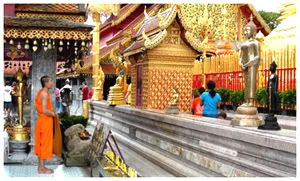 The Chedi of Wat Phra That Doi Suthep - this gold-plated temple is quite a sight to behold..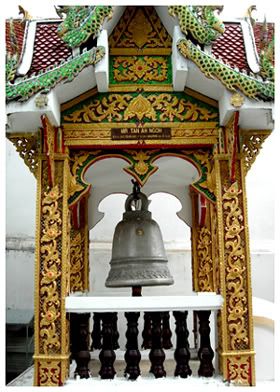 One of the (mini) bell towers there..something that caught by eye..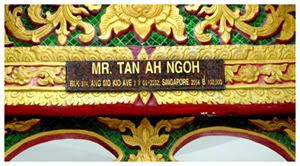 Mr Tan Ah Ngoh is a very generous man.He donated 200,000 batt (only SGD 8.3k) and in return,his name together with his full address was inscribed for all to see..
NKF should start calling him for donation...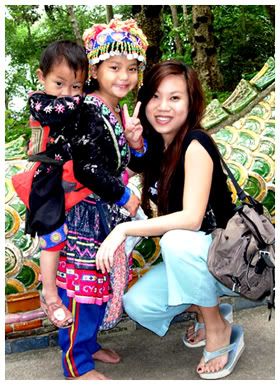 I tried taking a pic of the li' girl who was carrying a young child but she gave me a scowl and said "Take picture, give money!". So bopienz, gave money and took a picture with her. Her black face immediately transformed into a smiley mien plus the V sign..just for the cam..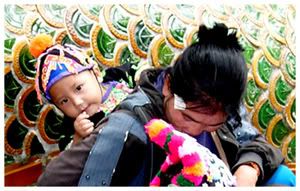 cute baby :)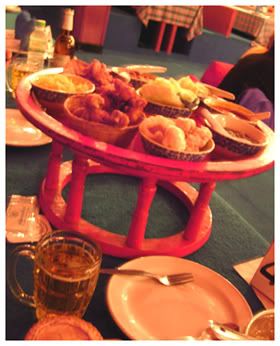 Another touristy thingy to do - Khantoke Dinner Cultural Show Chiangmai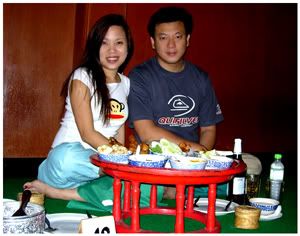 Okay lah..for 240 batt, you get to enjoy Khantoke dinner which is the traditional northern Thai (Lanna) form of dining. The food is served on a wooden pedestal tray, called "Khantoke".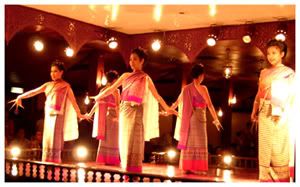 The cultural show which basically is performances of traditional northern Thai dances and music..Not very entertaining actually...could tell that some of the performers were bored..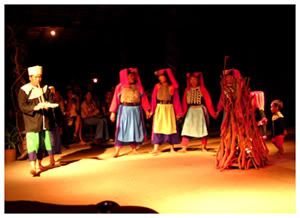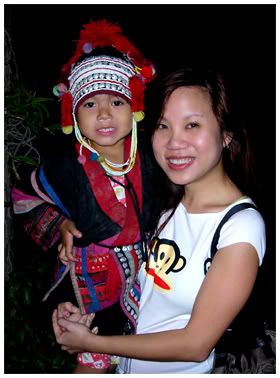 *kaching*