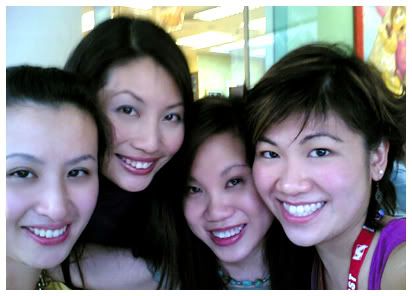 Nah..all too old liao!

From left : Ginger (SPH Mags), Corrine (DoubleA), moi & Cheryl (Singtel)

pic was taken with Cheryl's camera phone. Not bad eh..the quality


Got together with the ex-bunch of colleagues from Mediaworks for lunch. I do miss working with them. It was really a different environment then and all of us worked well together and we had so much fun. Even though we pledged to stay in touch as much as possible (so primary school hor!) after we'd gone our different ways, deep down inside, I knew it was impossible especially when our workload increases. But i guess lunching or dining together once every few months would suffice for now..

Most of those whom I'm close to, who'd gone to Mediacorp have since left.Tough lah, especially at Ch U. I guess the morale is really low and it ain't easy fighting with Ch 5 & 8 for ad money especially since ratings for the channel hasn't been that promising. Well, most of them has moved on to better prospects so I'm glad for them. In retrospect, it was indeed a blessing that I wasn't transferred to Mediacorp after the merger.


Ginger,Moi & Corrine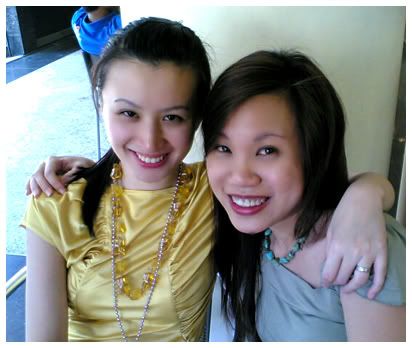 miss my vice kaki the mostest!
fortunately she's with SPH Mag and comes by the main office once in a while :)
************************************************


Spent the last few days scrutinising all 800+++ applicants for The New Face 2005. And I probably have more entries to look at since the closing date is 9 July which is tomorrow.The quality ain't bad so far, I must say! And what have they been feeding the girls? Many of the girls I've shortlisted were 1.65m and above and there's some who are really goodlooking! But I know better than to just rely on the pictures so I would be interesting to seem them all in person during the auditions on the 16th of this month. Gonna be holding it at Onyx@One Fullerton! Seems like the Esplanade area will be jammed packed with people that Saturday since the blogcon's gonna be at DXO and Baybeats in the evening as well!

Gonna be at Orchard Road with last year's New Face finalists for another scouting event tomorrow. Actually, it's really not necessary since we have more than enough entries but we're doing it for publicity purposes so that we can have more editorial writeup on the contest..Gonna have some more saturdays burnt soon..

But man..some of the applicants just don't seem to understand instructions. I was so tempted to post some of the photos received but I'll probably get sued/sacked for doing that so I guess I'd better not. I mean..this is a New Face competition. If anyone is serious in taking part, shouldn't they attempt to send a decent pic of themselves. Some of those we received turned out like -->see below..(me model hor)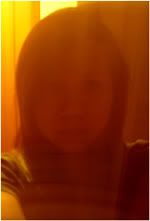 How the fug am i gonna see what one looks like with a pic like this?!!
It's not like i have high-tech csi equipment..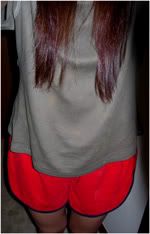 And when the registration form indicates
- full length body shot, this isn't it *arghh*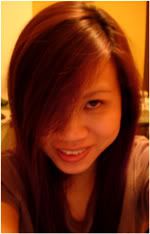 There were just as many entries like this..Alamak! Like pontianak..
hair covering face and all. How to see features?!



There were some booby shots too but nah, ain't gonna show u a sample of my boobs to prove my point..nothing much to flaunt anyway :P

Maybe The New Face promotions should be handled by a guy. He probably will have more fun shortlisting the gals! Seeing so many chio girls is making me depressed :P Now going thru the truly siong part. Having to contact the 200+ plus girls that has been shortlisted for the audition. Manpower shortage@work at the moment. Everyone in the team has a mega project to handle and the intern went on leave *sob*..Probably gonna lose my voice soon.

Actually, my voice has yet to recover ever since I lost it abt 3 weeks ago. Doc said my vocal cords could have been infected and is referring me to an ENT specialist..said may have to operate if that's true. Actually, my voice is really getting lower and coarser now so i sound like a frog..


******************************


Some Aidan pics :)
He's grown so much...still a cheery, happy-go-lucky boy (who didn't miss his parents at all when we were gone *weep*)


At the petshop..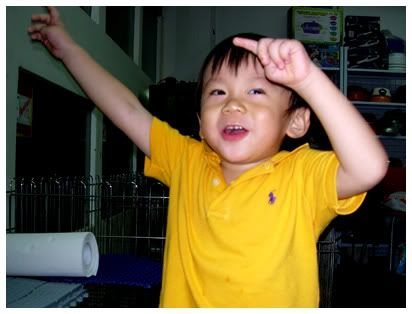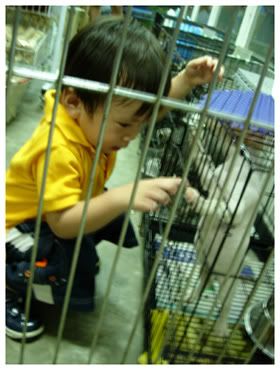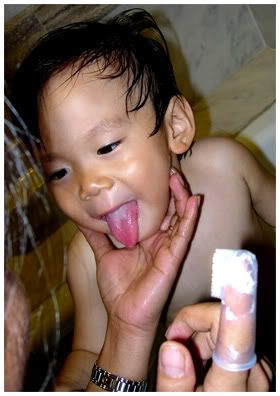 Brushing his tongue/teeth :)