Our good pals, Corrina, Trev, Bibi & Trevor arranged for dinner at Sistini@Holland Village that night to celebrate my birthday. I've always enjoyed the food and ambience there, much more than Michaelangelo which made me wonder why it's so empty compared to the latter. Well, better for us though since a half empty restaurant would mean that the kids wouldn't bother that many pple although that meant that the li' urns squeals would be amplified in that small place.
Yummy food, great pals and with my loved ones..what more can I ask for :)
And thanks to everyone who left a birthday greeting in
my previous entry
. I gotta admit, I love receiving comments on my journal and appreciate pple taking their time to do so. And I'll try if I can to reply to as many as possible. And no, it's not because I want to increase the 'comments stats' on my blog (I heard someone saying that before :P). One of the reasons why I enjoy using livejournal is the comment function (especially in comparison to the ones used in blogspot and xanga). It's more personal especially when the comment is received via email and you can respond directly to the person.
I know some people were kinda worried about the 'tone' I'd used in my birthday entry. Even
my sis
was wondering whether I was having problems with my marriage and was depressed abt my life. Maybe it's just age catching up with me. Told her no lah. Just that I was feeling a li' morose and tired I guess. But it's the truth ain't it..whatever's written in our blogs doesn't always reflect the true nature of our lives. We tend to show what we want people to see which isn't necessarily a bad thing.
Here's my usual explosion of photos :)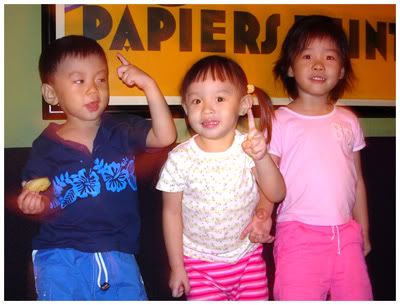 The kiddos having fun at the restaurant :)
Didn't see a single dirty look from any of the customers there *phew*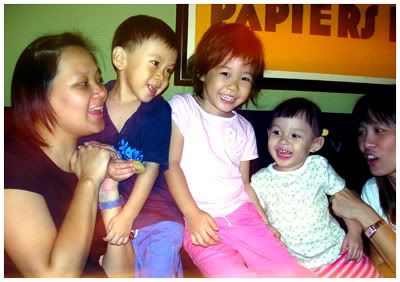 :)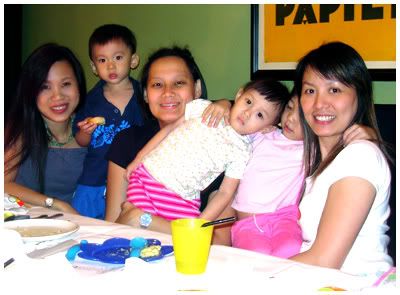 the womenfolk with their brood..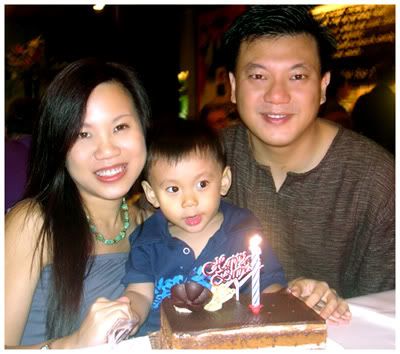 :D~
There's just one big candle coz they didn't want to cause a fire.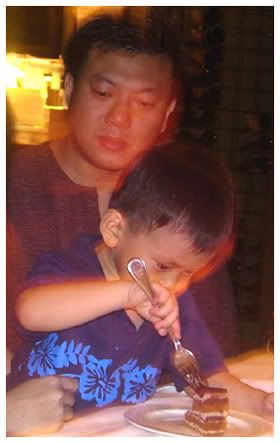 Aidan's fave part (apart from blowing the candle)..eating the cake!
MommiesLadies Nite Out :)
After dinner, I had to rush over to Marriot to join a group of mommies who'd taken 'leave' from their kids and husband that night to celebrate my birthday with me (actually, it was more of a catching up session). Tracey and Mong were in town for a short while before going back to HK and it was rare that we were able to get together.
I know I've said it loads of times but I will say it again. It is through LJ (almost 2 years ago) that I've met this group of moms (some like
bbhome
and
auntyadele
were not able join us that night). In any other normal circumstances, I would never have gotten to know them and I'm really glad that we managed to become/remain friends as a result...and livejournal is the reason why we managed to stay connected, especially through each other's post about our lives. It is however inevitable that amongst the group of moms in
ljmummies
that cliques will form and opinions may differ, and to be honest, not everyone expects all of us to be pally with one another. But, some of us did manage to find good friends who although having different personalities and wavelengths,somehow being able to find some common ground .
I enjoyed myself that night. I think I did because I know none of them will judge me in spite of all my vices (I know I'm not a 'typical' mom and some may castigate me for the lifestyle that I have).. We all could speak frankly and talk about anything we wanted to - be it about our relationship with our husbands, kid(s) or in-laws or just plain gossiping. We were relaxed and comfortable in each other's company.
Again..as usual (yeah, Mong groaned when I whipped out the cam hehe)..pictures!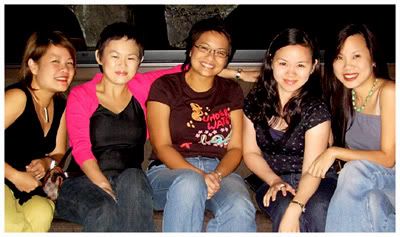 Mong,
Trish,
Jean,
Tracey and moi..
5 mummies..
Can u imagine, btwn the 5 of us,
there are 9 kids!! (husbands not counted ah!)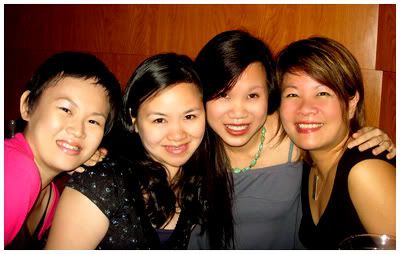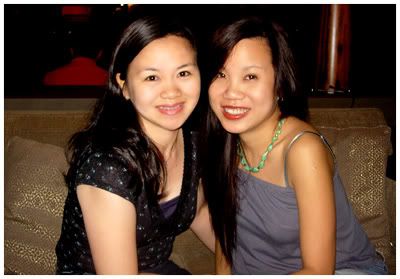 Tracey looks gorgeous eh :)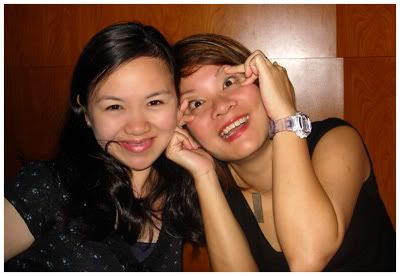 Mong trying to make her eyes bigger without going thru plastic surgery :P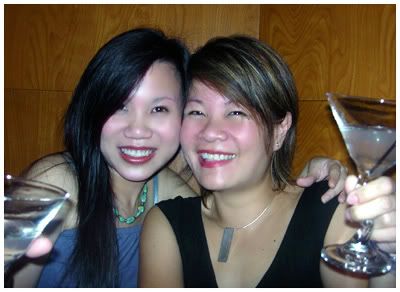 They tried to get me drunk..But not successful lah!
***************************************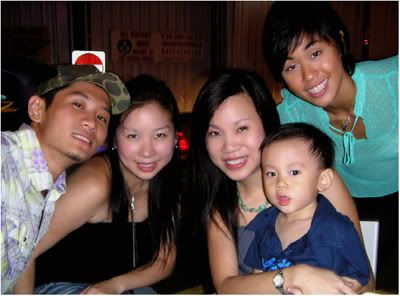 Met with
Sam and

Jaz briefly at HV just before I left for Marriot..
Adele and
Roy (who took this picture) were there too.
The wonders of LJ again.. they are at least 10 years younger, with such different lifestyles from mine. Yet, they are one of my fave people ard in LJ whom I consider as pals. Sam, Jazz and
AJ
literally watched Aidan grow up, seeing him through both his first and second birthdays. I remember being so touched by the present I'd received from them on Aidan's
one year old bday
. Jazz had painstakenly saved the pictures that I'd posted in my journal that year and did a
wonderful montage of them and had it framed up beautifully.
I almost teared when I saw it because it was a truly special gift. And on his second birthday, Sam & Roy
created this
for Aidan.. It ain't the gifts that matter but more of the heart that went into it. Thanks you guys (again).

It's displayed on top of my tv console :)
Oh man..this was never meant to be a golden blog award ceremony posting but it seem to be ending up being that way eh :P..Bah..I'm such a soppy person. There are others (like
despair
+ S/O and
oiseauxbleu
,
burbur
who have been there for me and are people I know I can call upon when I need help or just a companion for dinner). *muaks*
***************************************************
Pics from my drumming practice on Sunday :)
One of my resolution for this year..to be a rock drummergirl ah-mng hehe
Maybe it's mid-life crisis :P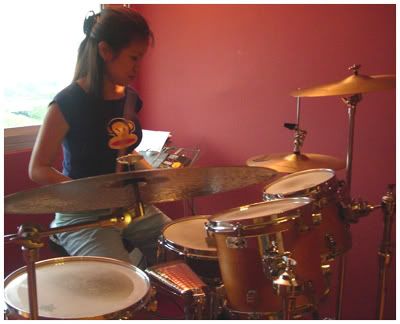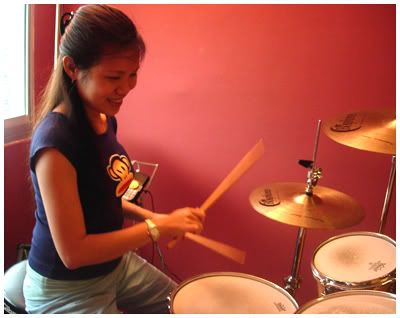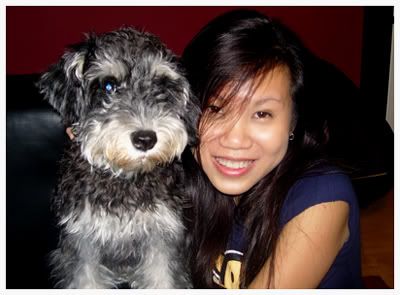 That's Thiera with me :)
Current Mood:

satisfied