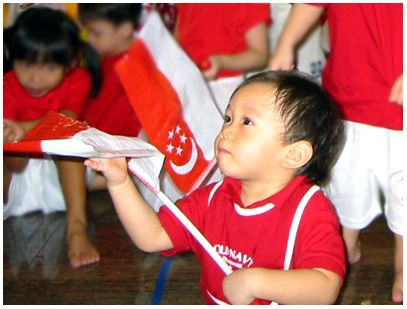 This morning, I'd remembered to dress Aidan in red & white as requested by the school. I've always been quite forgetful abt the various themes that the school had and for the past few occasions (eg, during Ethnic or Lantern Festival Day), I'd forgotten abt the dress code and he was the only bugger in school uniform. Very paiseh man!



The above pic was taken one year ago, during the school's National Day celebration. He's grown so much in just one year..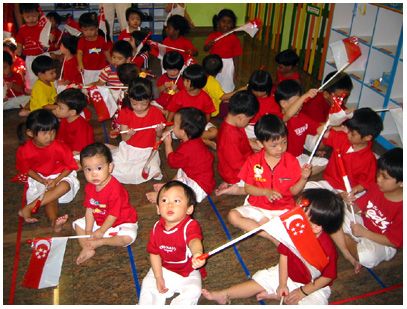 Where's Waldo??
*********************************************


Have been clearing my leave so I managed to get some rest time. It also offered me a glimpse of what happens at home after Aidan comes back from school.

Dad-in-law who is retired, helps us to ferry Aidan home from his playschool every weekday afternoon. Because he sees Aidan so often, the li' one is very attached to him. When Aidan reaches home, Nenita my helper will give him a bowl of ready cut fruits and first thing Aidan does is to offer his grandpa some of it. After that, Aidan will tell his grandpa "draw draw!" and he'll then run to the room to get his beloved 'The Incredibles' box which contains his precious crayons and color pencils. It seems that every weekday afternoon, dad-in-law will spend some time teaching Aidan how to write and read and the li' one enjoys it so much that he looks forward to these lessons. It makes me happy seeing them sharing such moments together.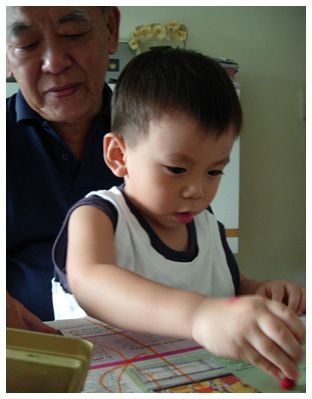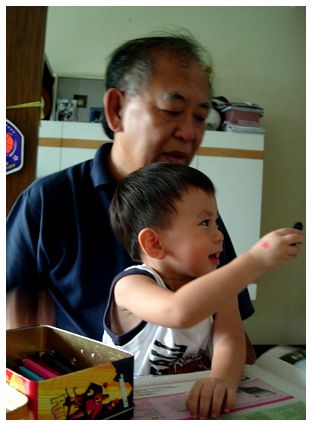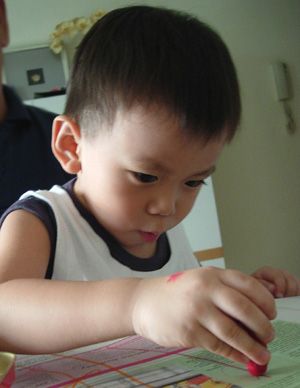 Here's a videoclip of them :)
Mom-in-law took leave too so she happened to be ard that day.
********************************


Work's still just as hectic even though GSS is over...Been busy with the New Face photoshoots and some other ad hoc promotions/events..manageable though. Last week was the dreaded appraisal period. I never could do self-appraisals well. I find it so tough to write glowing reviews of myself ..Most of the time, i tend to be more critical. But honestly, I have made some mistakes in my job, mainly because I'm quite a careless person. My boss has been really nice so far..I'd originally thought he would have marked me down quite a bit in his review of me but he was fair..and he'd acknowledged some of the work I've done especially in the bigger projects. The team heads who were in charge of those projects had given him positive reviews of my work and he'd included that in his comments too so I'm glad. I do know that I have to learn to be more calm during my events (I tend to become quite gancheong) and also try to manage my time better..



Some other activities I was involved in this week..

With Taufik @ Berita Harian Achiever of the Year event..
This is one of the more boringserious events..thank gawd for distractions like this :P


With my colleagues, Agnes and Huey Jiuan :)



Was at the launch of the Razer's brand new Copperhead gaming mouse (which has a 2000dpi laser sensor, 32KB of on-mouse memory, and an optional adjustable weight system [fwah]). Razer announced their sponsorship of the World Cyber Games 2005 there too.

Was invited there by an old pal whom I've lost touch with till he found my blog somehow via tomorrow.sg. Mr Tan Min-Liang, if you happen to be reading this, I don't care! You promised me one of ze copperhead! Your PR guys only allowed one mouse per company and that was given to my colleague from editorial *bleah*..


That's Ian, the tech guru from TNP trying out the mouse.
Check out his blog (yes, SPH journalists do have blogs too).
He got 2 cute li' kids who fortunately don't resemble him :P