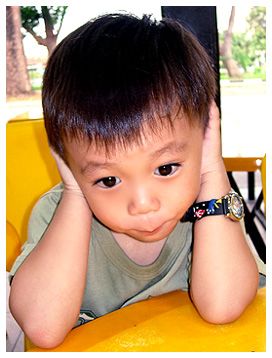 Aidan looking distraught when he found out Macy has zhao sai-ed
..(like real hor)..



Lately, Aidan gets frightened by loud sounds rather easily. This only started after that time when we were at the Esplanade and he was perturbed by the planes that were flying during the NDP parade rehearsals.Nowadays, he'll cover his ears even to the sound of loud traffic. Not sure whether we should be alarmed by this development or that it is just a phase..hmm.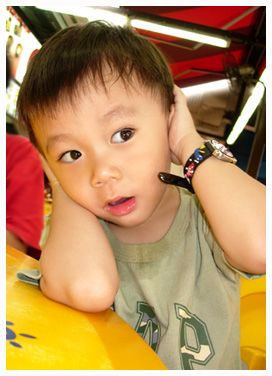 his hair seems to be getting browner..

*******************************


Been so gawd damn busy at work! As the New Face centrespreads were mainly shot outdoors, I had to run about more than usual. But it was fun especially since it was my first time assisting in a fashion shoot. Am working with Keith Sazali, whose works have been featured in many of our local magazines and he's doing lotsa stuff in Australia too. The photogs from TNP were Ishak (who's an award winning photographer) and Chee Siong. They were really a fun bunch to work with..and also very professional. They could be quite demanding on the girls though, most of whom do not have modelling experience.
Joan, who's now part of the TNP photog team was also at some of the shoots too :)


Here's the behind the scene pics which I'd taken at the shoots.
to my right : Keith, my left : Chee Siong

***************************


Was at the Dim Sum Dollies gala on Thursday Nite. Kheng Hua called to enquire whether I was going to the after show drinks@Aria. Told her I was planning to go from home since it started at 11pm. When she'd realised that I didn't have tiks to the show that night (I'd given my Cat 1 tickets to management :P), she quickly arranged to have 2 tickets reserved for me.. Really nice of her for doing so. Only problem was getting a 'date' that last minute (it was abt 4.30pm then) as most of the peeps I knew who would enjoy the show had either watched it or will be watching it with me next Tuesday. Hub was too busy at work..In the end,
Adrienna, who managed to find another buyer for her ticket (she was supposed to watch this Sat) went with me..

I enjoyed the show :) My expectations were lowered already since I've read some blog reviews of it.. Kheng Hua told me that after the first few nights, they quickly made changes to the musical. It ran for abt 3 hours long for the first night and one of the first thing they did was to tighten the script so the show's abt 2 hours long now. Yes, it definitely didn't match up to last year's Revenge of the DSD and parts of the show felt too draggy especially the first half of it. But the pace picked up after the intermission. Pam's solo segment in "Shoot Me in the Head" was the best imo... hilarious and rather unexpected. Other parts I liked were the "Bollywood segment", the Zhang Ziyi/Lucy Liu's duel and Selena's Merlion..was wondering for a while why she was carrying a spitoon till..(heh!). Man..Hossan is really a scene stealer..Just couldn't stop giggling whenever he appeared!

I know some people were complaining about the product placements in the 'Prize is Right' segment. I didn't have any problems with it at all. Thought it was done with more finesse and definitely less tackier than in the PCK musical.. It isn't that easy getting sponsorship for such shows in the first place and most of the time, local stage productions hardly recoup their money. Sponsors' expectations & demands are much more nowadays too and one has to think of interesting and out-of-the box ideas to cater to them. Not easy lah.

Will be watching it again this Tuesday :)

Met up with my cousin, Terry at Harry's before the show..He was there with John, Selena's husband. Terry & John have attended almost all the shows..not surprising since my cousie's going out with Pam.
Adrienna commented that they were like the Dim Sum Dollies 'husbands' club :) So supportive of their other half :)


moi with Terry..


Pam who's still in her DSD makeup..
Gah..I look so fat!
***************************
Some pics from last weekend..
We had a chalet at Laguna Golf & Country Club!