Managed to turn a working day into a 'family' gathering - sorta! Had to help out at the Health & You exhibition at Suntec, organised by Straits Times. Was instructed to be there for briefing at 7.30am(!) on Sat morning & was freaking pissed when the briefing was cancelled.. Could have done with an extra hour of sleep.

Since parts of the activities involved kids, decided to ask hubby to bring Aidan there later in the morning and Corina also brought Chloe along. Was quite a good idea since the kids had loads of fun!


@Health & You Exhibition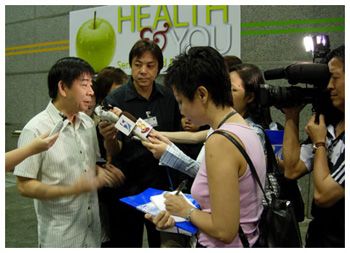 Health Minister Khaw Boon Wan was the GOH at the event.
He was making some announcement on CPF/Medishield which you probably read in the papers today

.


We had a real f**ked-up MC who got the GOH's surname wrong. He pronounced Khaw as Cow (he must have been sent by the folks at Sammyboy)!. He proceeded to mess up the name further by calling him "Kaw Boo Wa" in his horrid, accented english. Stupid MC went on to screw up some of the other VIPs name (eg. Mark O'Dell became Mark O'Daniel) sheesh. My colleague who's the project manager for this event was so angry especially since up to then, everything was smooth-sailing and this idiot managed to undo all the hardwork because this is what people will end up remembering..

Anyway, I learnt something new from this event - what a 'doorstopper' meant. Before the GOH arrived, one of his staff came to me and said
"Minister will be doing a doorstopper after his tour of the exhibition booth. Can you ensure that the music will be lowered?!"

I said yes of coz..and when she'd left, I quickly checked with my colleague what a 'doorstopper' was, and she had no idea too. But i could roughly guessed that the minister was intending to do make some kinda last minute announcement to the media and my boss later confirmed that it meant something like that - sorta like a news break. He said he also only knew what it meant that day too. Heh!

Back to the kids activities..
Nestle had a breakfast activity for the kids and they'd laid out picnic mats for kids who wanted to have some of their cereal. I was evil..i went to the buffet that was meant for the VIPs and sapo some of the food and brought them over to the picnic mat..Could see the other kids eyeing our food while they only had plain cereal :P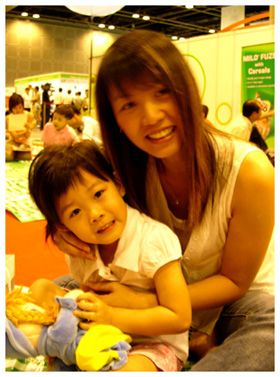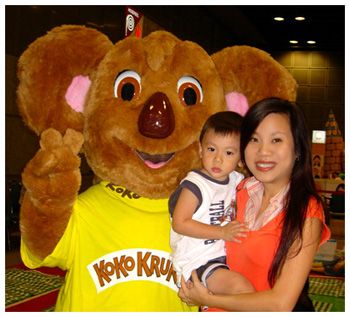 With ze Koko Krunch mascot..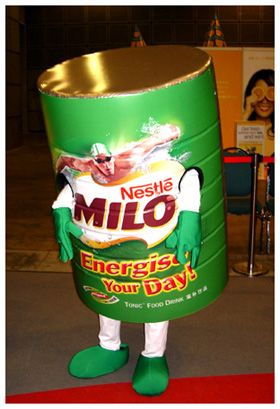 Poor Milo had no business..All the kids were so scared of her and
some even burst into tears when she approached them..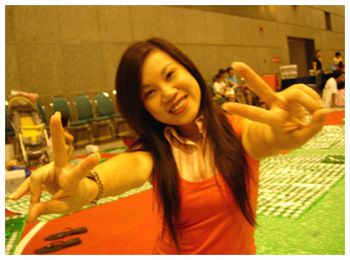 Aidan took this pic of me!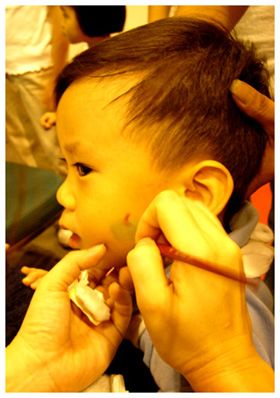 Face painting!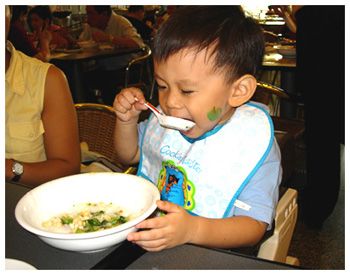 Aidan was famished and he actually ate 3 adult-size bowls of porridge for lunch.
(that's 2 extra bowls more than what i had!)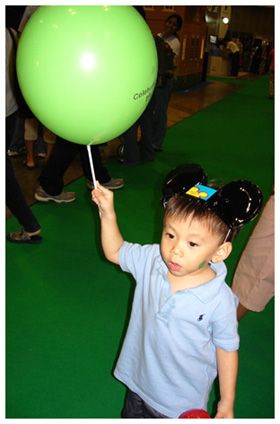 We then visited the 'more happening' Starhub exhibition that was next door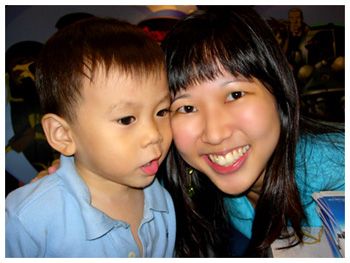 Saw
Andrea
at the AXN - Animax booth :)
Andrea, paiseh abt asking for the li' mascot toys..i'm such a typical S'porean..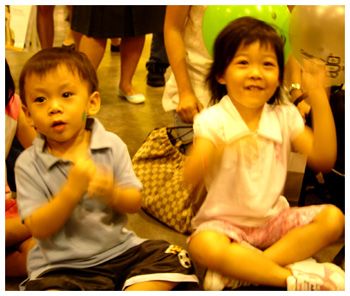 back to the Health & You Exhbition where they had story-telling for kids..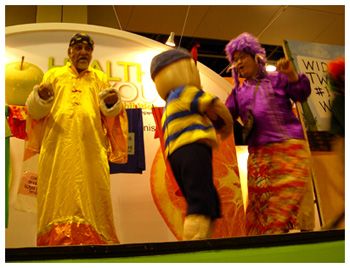 some men in drag on stage :p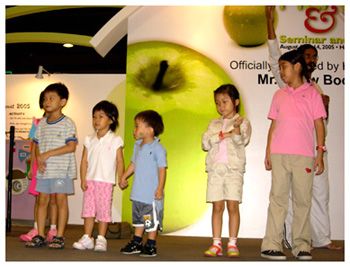 next up was something that Aidan enjoyed..
Yoga for kids!He was the youngest one to take part in it..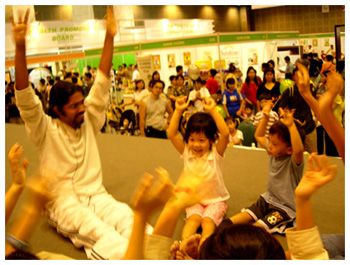 Yoga master instructing the kids~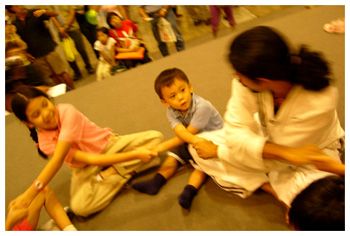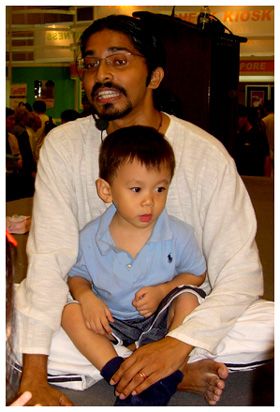 The yoga master later plonked Aidan on his lap and the li' bugger was fine with it..

*************************************


Later in the afternoon, had a New Face event for Silkpro, one of the sponsors.. Felt like a mother hen having to 'lead' these young girls around.. But it was fun and the girls were really sporting.

Man..I was at Suntec from 7.30 am to 5.30pm that day.. Been working on so many Saturdays already..ok, shouldn't complain so much..

More pics
here
**************************************

I've always considered Faye to be one of the best Chinese singer..loved her etheral, soothing vocals and devil-may-care attitude towards the press plus her wacky sense of fashion..But man..this is one fugly wedding dress I must say..

Check out the neckline and sleeves..don't they resemble those paper cut-out designs or those paper dollie..And the hair accessories and jewellery..kinda old fashioned ain't it..

Edit : Turned out that this pic of the couple in wedded bliss is photoshopped. Some wiseguy prob from the HK or TW press, had cut n pasted their faces into a pic of a cheena bridal couple. No wonder it looks so obiang!! Hmm, i wonder whether the folks at TNP knew when they decided to use this photo for their article..


**************************************


Most people know where I work since I'm quite open about it. Some people had asked me why the media seems to be so against bloggers especially since (cept for Digital Life's Melissa Lwee I guess) most of the writeups tend to be so negative.

To be honest, I have no freaking idea. I work closely with some of the folks at TNP and actually, many of them do have blogs of their own. I I don't think it's jealousy as some claimed. I read some critiques that said that the writers disses these blogs because a) they are envious that they can't write as well as the bloggers [duh!] b) the press is getting a tad fearful since blogs are becoming more popular than the print media..

I mean..come on lah. Why do they need to be when their articles are read by the masses daily (Xiaxue, one of tthe most read local bloggers gets 22,000 unique hits daily compared to the say TNP, which readership is about 500,000 daily) [then again, she has a weekly column in TNP..].

I can only think that they write abt them because it's a current 'fad' [as a newsworthy item] for the moment and people seem to be interested in reading abt them, might as well milk it dry till pple lose interest. Good example would be the NKF debacle. It was quite funny actually..When we saw all the pages devoted to NKF in ST, we were all wondering how TNP would cover it..and not surprisingly, there were 5 Full Page Full Color stories..and then that night, WanBao managed to beat them all by devoting 8 pages of stories on it. You can say that it is a mini-competition but then again, they know what sells the papers I guess and true enough, copy sales for all papers increased during that week.

So, best way to sell papers..make it as scandalous and negative as positive. [Most] people ain't interested in reading abt boring/intellectual stuff anyway. Digital Life can afford to do so since it's so niche.

What irked me at times are the egos of some bloggers though. I remember when some blogs had some 'breaking news', it included a boast that their news is 'faster' than the print media..wtf.

Anyway, working at SPH doesn't necessarily mean we (the marketing side) have a big advantage in getting writeups. For some of my promotions, the writer can call me abt 10 times in a span of 4 hours (up to like 11.30pm at night) so that she can get her facts straight and I thought that would mean that the article will definitely run only to be disappointed the next day. Basket..why waste our time then when the story will be killed. We were asked to arrange face to face interviews with our clients and the latter spend much of their time providing as much info as possible only to be told later that they won't be any article (even though it's already been written).. Another great example was when a sponsored series on telco was sold to one of the big players only to have the article waxing lyrical on the competitor even though the writer was aware who the sponsor was..Really can vomit blood at times. And who's left to deal with the clients? Not them for sure..grrr!

It's easier with the 'smaller' papers like TNP and the Chinese papers where the writers are quite marketing driven. In fact, I enjoy working with the folks at TNP :)

Read Theresa's (a former editor of Female & Elle and a current columinist of Mind Your Body) take on the 'Media vs Bloggers'....interesting since she's a former insider. Theresa's actually
my sis's former classmate at CJC.

Do visit her WMD (Women Makes a Difference) site and find out how you can help fight child sex trade..All proceeds go to Unifem..Do support it as it is definitely for a good cause.


i gotta admit, i haven't bought the tees yet...yeah, i'm such a Nato..(no action, talk only). Would definitely do so soon once i get my lazy ass down to the shops. Wish she'd made it easier by allowing pple to purchase them online using credit card instead of having to download a form and sending the purchase order & cheque via mail.