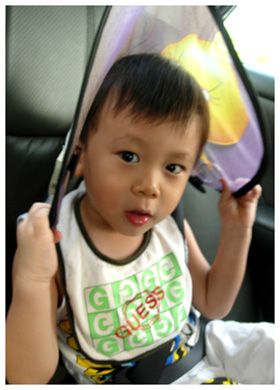 We were on our way to the hospital to visit
Jinny, who had just given birth. While in the car, Aidan requested for the window sun shade so I handed it over to him. He then unfolded it, twisted it abit, placed it over his head, turned to me and squealed "Mummy, see! Hat!"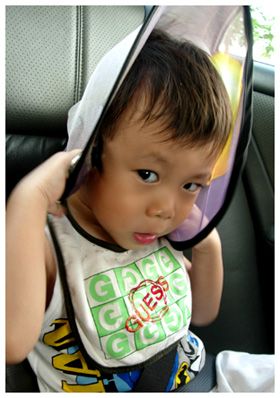 Li' bo peep~



I hope I haven't been making Aidan seem like a brat. He really isn't. He is a sweet and good-natured boy and he's usually quite well-behaved. Even as a newborne, he was such a easy baby to care for, sleeping through the night at 2 months old..Hm, actually, he slept alot when he was a baby..hence i didn't have that much to do as a sahm, which was probably why I blogged alot then. He's always been a sociable kid, doesn't have much problems with strangers (which can be worrying at times 'coz he'll adopt you if you offer him sweets), very independent and isn't very clingy at all..That's why many people had said that he takes after me more than hubby. God is fair. He may look like hubby but he has my personality :D~!

We never have any problems with him in the car, even when he was a baby. He doesn't mind sitting in his child car-seat and in fact, he usually scampers into it enthusiastically and will demand that we buckle him up prompto. Today, while we were in my in-law's car, he sat behind with me as we didn't install the baby carseat. And he still demanded to be buckled up. Actually, he first pointed to my seat-belt and instructed me to belt up first! Wah..fierce man!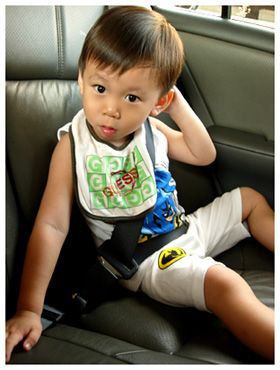 He'd actually gwai gwai sat buckled up throughout the journey :)Hmm..he has grown quite a bit now. Guess it's about time he graduates to a booster seat :)

And since young, he's been such a great eater. He wallops up his milk like there's no tomorrow and I had no problem introducing solids to him too! Most parents are worried that their kid isn't eating enough. I worry that he eats too much! And he still isn't slowing down at this age..But thankfully, he's such an active boy and I guess his metabolic rate is quite high so he doesn't put on much weight.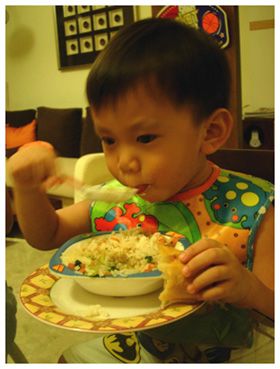 Aidan having his dinner this evening..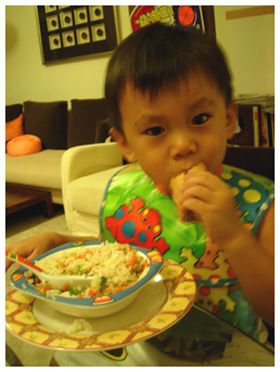 Guess how many spring rolls he had on top of his bowl of rice...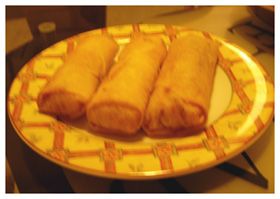 and they weren't teeny-weeny spring rolls hor!



His speech & understanding of words has improved too. I have to give credit to dad-in-law, who's been giving him 'writing test' and reading him his favourite books every afternoon. He's able to identify all the alphabets & numbers now..Dad teaches him in an interesting way..by making him read out the number plates of cars at our carpark and the signages when he brings Aidan out for walks.

Yeah..got rapped by
Jean for lamenting that Aidan's rather slow in his speech development. I know I shouldn't have harped on it that much before..and I must not compare him with other kids. He is developing well at his own pace & time and I have to learn to just let him enjoy his childhood and not be such a worry-mommy! Gotta constantly remind myself!


*********************************************


And here's the new baby on LJ :) Kristen looks like Gabriel when he was a baby, doesn't she? Congratulations
Jinny!!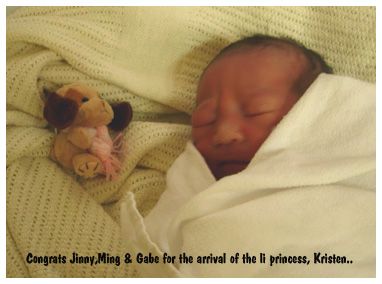 Lotsa entries in the last few days as I was on leave. Today's my last day so I'm going back to work tomorrow! Had been able to rest and spend more time with the li' one, which was good. Oh well, back to the grind i guess...