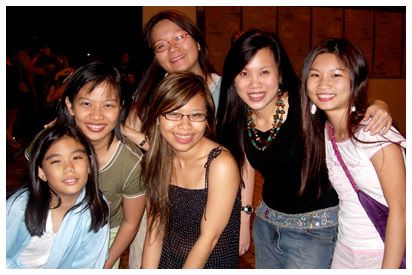 With
auntyadele
and Megan,
moxielass
, Linda and Laine.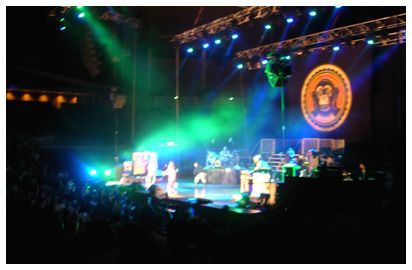 blur pics of BEP..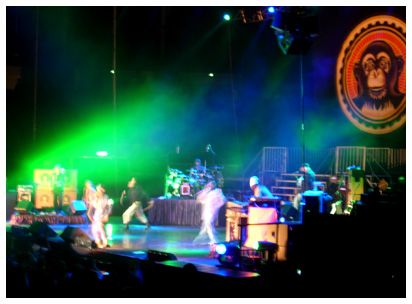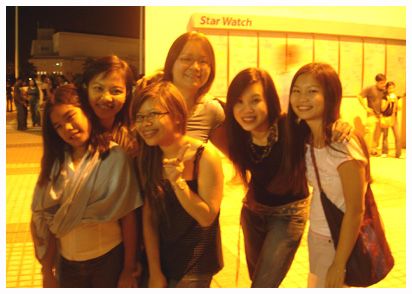 Another group pic..hmm, where did the men go?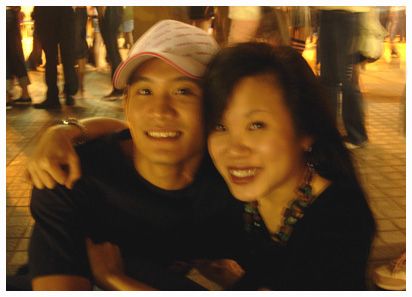 With darling
ikepod
..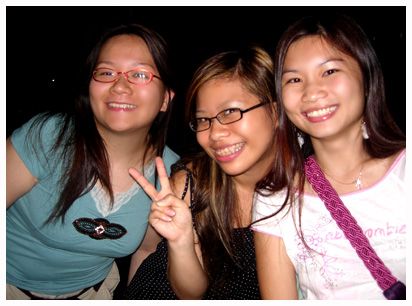 3 siao chabors :P


Black Eyed Peas concert yesterday was fab. Felt a li' out of place (translate - OLD) initially, especially since the stadium was swarmed with many young folks especially loud, nubile, hyperactive bouncy girls...And it's been a while since we (hub & I) attended a concert of this sort.

Gotta admit..I ain't exactly a BEP fan and I probably know just 2 or 3 of their songs due to the frequent airplay on radio..But when the music started and Fergie & gang began to sing, my creaky bones were forgotten and we danced and sang throughout the entire performance..At the end of it all, we felt young again. Feels a li' like old times when hub & I were dating..We should do this more often!

One of the best part of the concert was when the audience was asked to flip open their mobile phones and wave it in the air. The effect was beautiful and it was such a brilliant idea..


Here's a video capture of it..It's a big file though
A short clip of the performance here
**********************************


With the New Face grand finals just around the corner, there's loads of work to be done..Am glad that it's gonna be over soon too but it's been a great learning experience doing such an event.

Denise Keller was helping the girls with their deportment and catwalk during the first day of rehearsal. She's so gorgeous and has no airs at all. Am glad that she's agreed to be the MC for the final event. Convinced my boss to have Electrico as the guest band too. Any one wants tickets for the show let me know eh. I see what I can do :)



As usual, I took the opportunity to take some pics..


Denise instructing the girls about the type of shoes to wear for catwalk..


Denise discussing abt the girls with Daniel Boey..


Daniel is the fashion show producer for the event..


That's Geoff, one of the team head from display sales who's also the Chairman of TNP New Face event. Imagine, he's been i/c of this event for 12 years in a row..Quite a fun chap to work with too.

More pics here.