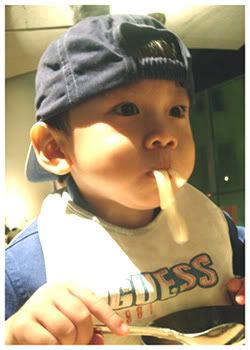 More pics of Aidan eating as usual! Taken at Linda's birthday celebration at Sun with Moon@Wheelock Place.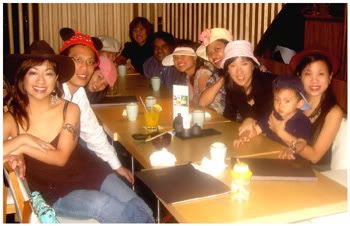 It was a hat party..I wore Aidan's cowboy hat (Woody's hat from his Toy Story outfit) since I didn't have any :P Similarly,
troubadour42 wore his daughter's Erin Minnie Mouse hat *grin*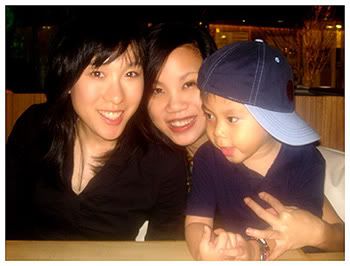 With
crysta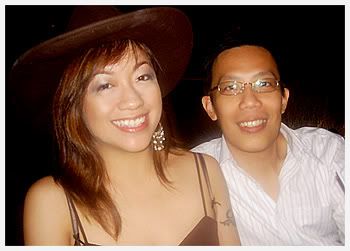 The lovely 42ers couple :)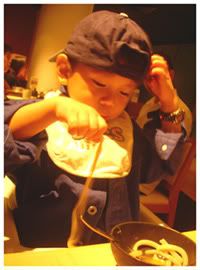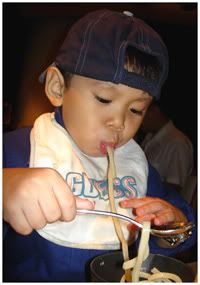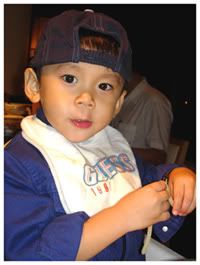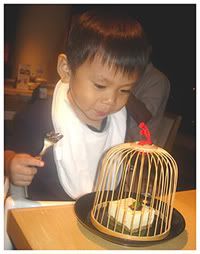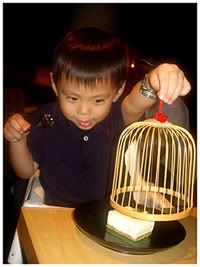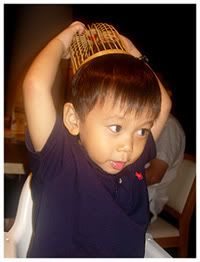 **************************


Had sort of a 'family' gathering at my sis's restaurant, Cafe Banh Mi on Thursday when my uncle & cousins decided to try out the food there. So far, her joint has gotten some positive food reviews from Urban & Business Times. Wee Teck from The New Paper and some of his colleagues from the other pubs will be going down next week to try out the food too and that will hopefully lead to more fab reviews. If any of you guys are working around Raffles Place/China Square area, do go check out her cafe. Must support lah!

Some other online reviews I found :)
Timeout : a free supplement in Vietnam Investment Review
Juzz.com
Photos of Cafe Banh Mi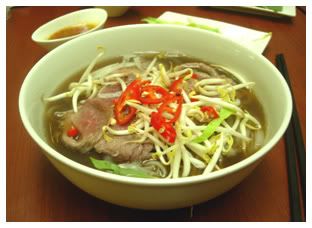 The pho was good! Initially, sis wanted to focus more on the Vietnamese sandwiches but she soon realised that Singaporeans are a pho-crazy bunch. Do try it if you happen to go to her cafe :)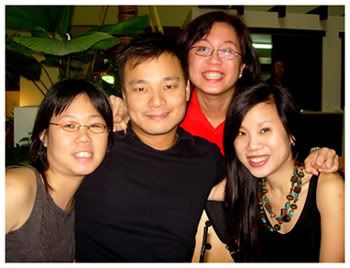 With my cousins, Karen and Terence..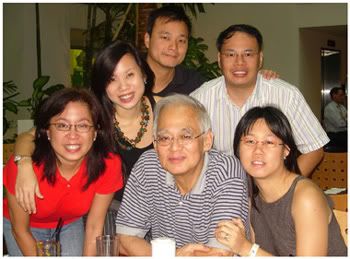 That's Uncle Woo Seng, Terence's dad and Roy (next to Terence), who's my nephew..The family is really huge so I've given up figuring whose kid is whose..Still waiting for Terence to do up the family tree so that I have more of a clue next time..
*************************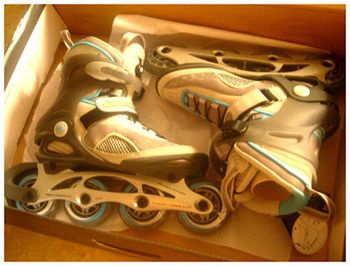 Got myself a new pair of blades - The K2 Kinetic 8.0 :D~!
Am amazed at how comfortable it is..They call it the 'Softboot' design and it wraps the foot really snugly and it is much lighter too. Quite a change from the bulky, heavy blades I had before..The bearings are a not the same too, supposedly rated better than the Abecs. Can definitely feel the difference when I'm blading...much smoother and with more spin. *shioks*



Tested it out immediately!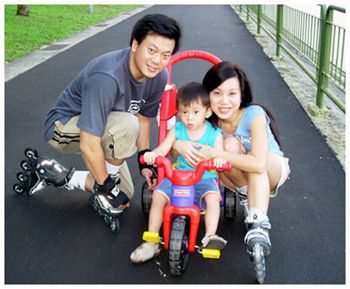 Hub got himself a new pair too. Actually, it was his idea to get ourselves some new equipments. I liked the design & color of his model but they only had the black in Men sizes *bleah*. The women's pair was some ugly blue shade. Yecks! He didn't understand why I was so into the 'aethestics' of the blades. Comfort and performance were the most important factors, he said. *Sigh* the man just don't geddit..!




Anyone going for the Samsung Inline Skating event at Padang on 9 Oct? Would be an interesting change in location..blading from City Hall to the Supreme Court & Parliament House. Loads of activities apparently ranging from the inline skating challenge, caricaturists, balloon sculpturists, jugglers, stilt walkers, finger licking food and Hip-Hop Skating Dance..wah!

There is a recreational segment for the non-competitors too. But darn, the rules dicates that it is mandatory that all skaters wear proper helmets and wrist/hand protection throughout the Challenge. Alamak, I hate wearing helmets (but i probably will insist Aidan wears one when I start teaching him how to blade!)