The first night of rehearsals at Takashimaya..
some of the girls came in their school uniform!


It's been a crazy week! Spent the whole week attending to the preparation for the big night - The New Paper New Face grand finals which is taking place tonight at 7pm!I'd actually just came back from Takashimaya where the girls were rehearsing for the show. They finished at about 12 midnight but I had to stay on longer due to the car display setup.



Rehearsals started late because Shu Uemura had a show on and it ended abt 9pm. 2 of the girls are having their exams later in the morning and another's boyfriend going out of town that night and she was supposed to send him off..But no choice! The show had to be perfect and Daniel Boey, who's the fashion show choreographer made sure they had all their routine down pat..Even the dancers and professional male models were not spared as they faced the wrath of Daniel if they got their steps wrong! He is such a perfectionist and it does reflect in the end result. From the rehearsals, you can tell that it's gonna be a great show! And we have Denise Keller as MC and Electrico will be playing too..

I still don't know who will win even though I've been with the girls at all the rehearsals and seen them improving day by day..It's quite fun being their mother hen.. At times, I do really feel like their mommy, having to discipline them although my boss says I'm too lenient :P.Most of them are 20 and below..so young and full of life!

It's really been an interesting experience working on this event. Can't believe how fast time flies..So cliche I know but it does seem like auditions only took place recently and it's the grand finals already! My boss said to me that I've basically covered 2 of the biggest & more siong event this year with GSS and New Face so working on any other promo after this should be a breeze. Well, I guess I can thank my weightloss to these hectic projects!

Gotta be back at Takashimaya at 7am later..Yeah, I should be sleeping now..sure gonna be quite sotong tomorrow! Gonna be a busy day for sure..am glad it's gonna be over soon so that I can finally rest.



Taken just a few hrs ago..

The male models & dancers were included in the rehearsals..

Eye candy~~
That's Mark Chay, the swimmer in front..
Daniel, giving instructions to the girls/models/dancers..
Here's a trailer of the event :)
And as usual, all photos can be seen here
Some pics with the girls after their fitting session!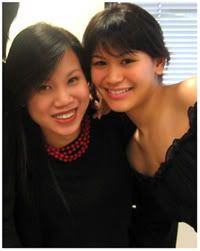 with the very bubbly Cassandra...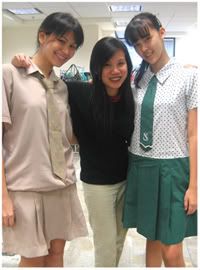 Cass & Sophie who came in their uniform. Sophie is the youngest at 15!
Alamak..im so katik!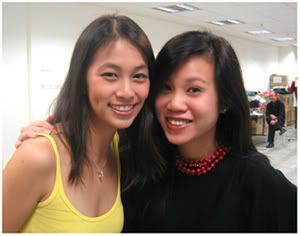 That's Lynn who has the sweetest dimpled smile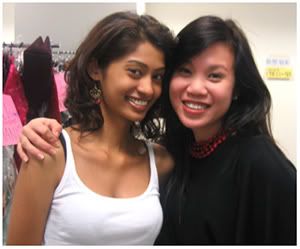 Thana..who's really sexy!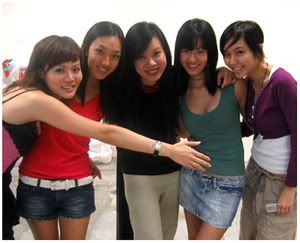 with Dympna, Pie Ling, Gwen & Conelia..

*********************************


The downside of it all..I barely had much time with Aidan. Hubby was outstationed since Monday [timing was really bad] and the boy had to spend his evenings with Nenita since I've been coming home after 10pm almost every night. She told me that he kept singing "Where is mommy? Where is mommy"..But he seems to understand as he said to Nenita "Mommy where? Mommy work work?"

And yesterday..he suddenly developed high fever..about 39 degrees! Fortunately, his fever subsided after he was given some meds..He's still a li' feverish now but behavior wise, he's okay but just gotta monitor him. I think it can be quite worrying during this period with the dengue scare.

Times like this makes me feel very guilty...I know I can choose to be a sahm if I want to. Hubby earns enough to feed all 3 of us (though he may have to pray for an increment soon by the rate Aidan's eating)..But having gone thru 18 months of being a stay-home mom, I honestly don't think I'm cut out to be one. Yes, it is great to be with my child, being able to guide him through his formative years. But I find myself getting bored & restless easily...also started to let myself go and my self-esteem plummeted.. I guess I just need to be be active/busy. I hope Aidan understands that as he grows older and wonder why I cant be home with him more..

Will have to make it up to the boy after the event is over...