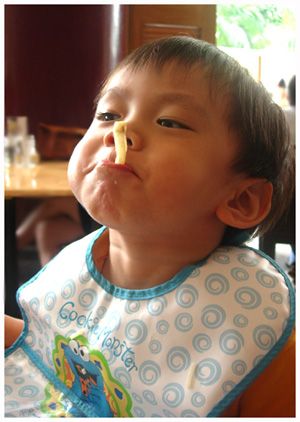 This afternoon while having lunch at a crowded, noisy joint, Aidan stopped midway while eating and suddenly yelled out what sounded like"F**k You!". Both hubby and I were dazed for a while..we looked at each other and queried at the same time "Did he really say what I heard he said?!".. And so we tried to make Aidan repeat himself but in vain. He had this mirthy grin on his face and was giggling away *face palm*.

Gawd..I hope he didn't pick it up from me... If anyone's guilty, it has gotta be me 'cos hubby isn't the sort to swear (well, only when he's driving though). But I don't recall cussing in front of him especially using that phrase! Gotta be really careful with my language around him. Let's hope there won't be any repeat performance. Thankfully the place with really noisy or else the other customers would be wondering what kinda kid we have [and the type of parents we are :P] *awk*!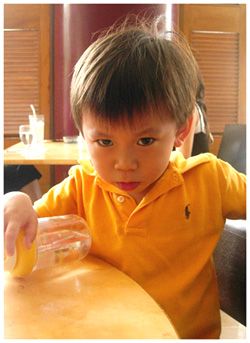 this was how he looked when the waiter took away his plate of fries..
he was sooooo..pissed! didn't cry though *phew*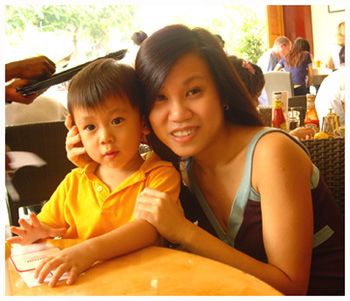 Was supposed to gave gone for the Samsung Inline Blading thing at Padang this morning but I woke up late (at 9am)...didn't even hear the alarm clock ring. Guess I was too tired!
****************************************
***
Some photos taken last Saturday at the Children's Day Carnival@Expo..
We were there quite early..abt 11am so the place was quite empty then..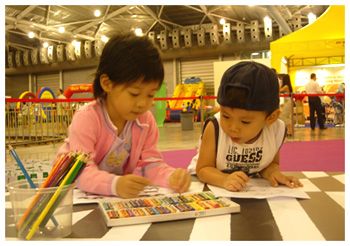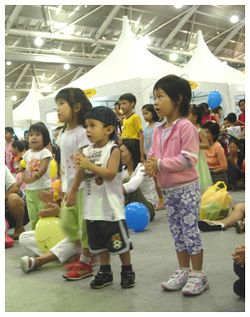 Watching some stage activity..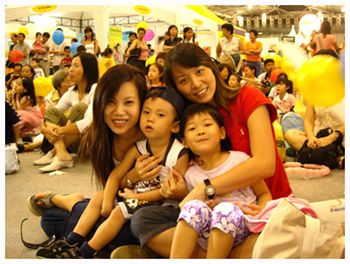 ****************************************

***


Had to help out with a tea ceremony for my bro and sis-in-law last week. It was kinda strange because Stephen & Jen have been married for more than 6 years and are having their first kid soon (in abt 1 week's time). But they've not gone through a traditional chinese wedding yet though. Not sure why it never took place..seems like they were just too busy to organise it and then after that, they simply forgotten abt it..We learnt later from Stephen that his in-laws had always felt unfair for Jen because she never had a 'proper' wedding. But it was too late to organise anything big scale..Furthermore, dad just passed away and according to mom, we had to do it before the one month anniversary of his passing as the next few months after that were supposed to be the mourning period.

So, I was tasked with the duty of preparing the items..First was the dowry. Heh..diamonds are always the best! I know Jen wouldn't want the traditional yellow gold so I got her a diamond set consisting of a necklace, earrings and bracelet. Then I had to enlist the help of hubby's parents. Mom insisted that the person carrying the items to Jen's parents place had to be a neutral party (would be good if it was from a happily married couple she said)..Thankfully, my in-laws were understanding and agreed to help us. They even helped me buy the mandarin oranges and a nice basket to place them in it..Plus a nice big angpow courtesy of my mom ..and we were done. Yeah, not very grand i know..no suckling pig or any big items but too rushed lah.


Okay..all set.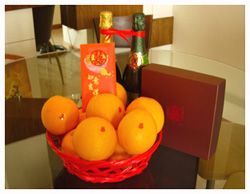 basket of mandarins *check*, diamond set *check*,
couple of champagne *check* and big angpow *check*..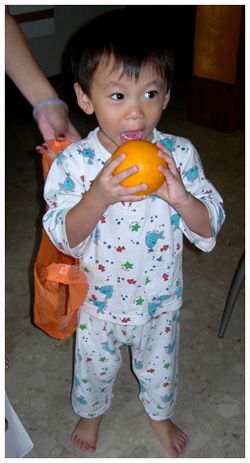 We realised one of the mandarins was missing..
Alamak!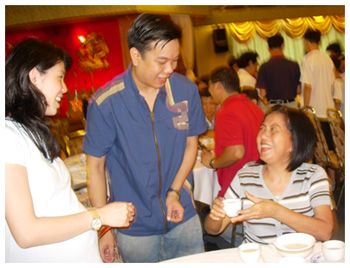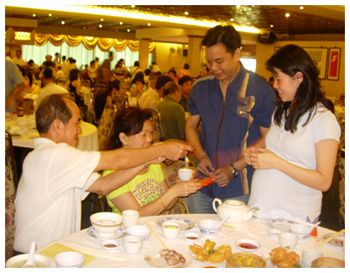 Yeah..we had to do the tea-serving at a dimsum restaurant..
a li' strange I know but at least the parents were satisfied (i hope)..