you can compare the cover to that of the photo taken
here


Okay...Presslines is out and arghhh! I was the only one looking like I was climbing out of the monitor. Mega sabo *bleah*..The rest of them had 'normal' poses! My friend at SPH Mags emailed me .."Wah..Sadako on the cover!" *&^%$@%^&(*(!

Was teased unmercilessly by my colleagues when they saw the feature. My mug was in three pages including the cover! Didn't know they were gonna blow up such a big photo of me with Aidan!

There were a few who came to me and said "So..you blog ah?!"(some asked it in a suspicious tone ..maybe they think I'd been blogging abt them :P)..in which I couldn't answer in any other way but "Yah! I do"! Several were like "Wah! You dare to reveal your age to the whole world!" Well, I've never did had any qualms about revealing my age. No use pretending to be some spring chicken! And of course there were some who went "I didn't know you had a kid. In fact, I didn't realised you were married!". Hmm.....(!) And one of my colleague requested that I help her set up a livejournal account so that she can start blogging soon which made my day :)

The whole article was about "how the blogging phenonmenon has taken the world by storm" - Yeah..i took this whole sentence from the headline as you can see from the article. Interestingly, they only asked the head of newsdesks on what they feel about journalists blogging and not the head of HR so they seem to be more worried that about that particular group of employees. I guess they are worried that as a writer for a publication, the general public may still regard the blogger as an extension of that particular print media. Of course some of those interviewed had asked that the company should provide clearer guidelines on what is acceptable on blogging..though I'm not sure whether this will work. I can forsee that in order to safeguard the company, HR will probably enlist legal's help and come up with a lengthy guideline on the dos and don'ts and in the long run, employees may simply choose to write under a pseudonym and stay anonymous to prevent more trouble. Hmm, not sure whether what I'm writing here is against company policy so I should stop now :P


**************************************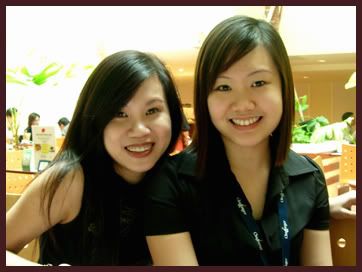 Moi & Pei Fen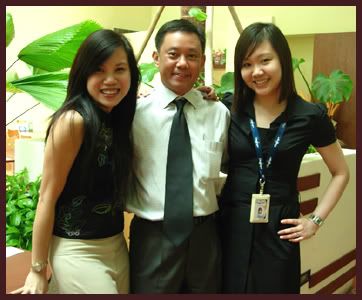 the rose amongst the *coff*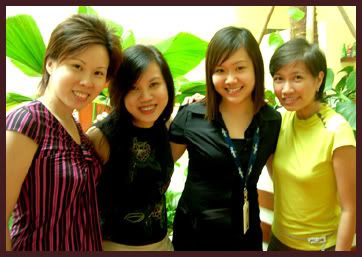 With my colleagues, Huey Jiuan & Tarisa..



Had lunch with my 'client'
squarenails at Cafe Banh Mi and my colleague Don who's her account manager came along too. My kakis from the promo dept joined us since I wanted them to try out the food at my sis's cafe.

Had a hilarious time because of that livewire of a woman. She was so animated especially when she speaks - at the speed of a bullet train (if you think my talking speed is fast, she's x10 times faster than me)..and she cusses even more than me! My kinda gal! My colleagues were guffawing away when she was regaling us about her traumatic experience of being stuck in the lift at her building on her way to meet us. We all agreed that the maintenance guy was probably more traumatised after she was done with him:P

And woman, you really really shouldn't have!!! I'm so paiseh now!

Can you believe it..a few days after I'd bought the iPod Nano, I received a package from her..It was a USB power adapter with a note attached "For use with your new Nano - charge anywhere". It was unsigned but I knew it was from her . Upon knowing how badly scratched my iPod nano was, that chabor sent me a nano condom skin so that it can be better protected in the future..And during lunch, she asked me casually where I placed my nano when I blade..and I told her I'd simply stuffed it into my pocket (well, it hasn't dropped out yet :P) ..And when she realised I'd been doing the careless thing by wrapping the headphones ard my nano, she sent over Sumajin smartwrap stereo headphone cord together with a Nano Limegreen armband (aka handiplast)! Woman..you are too generous lah! What if you dad realises the items missing from the shop?? Next time i won't tell reveal anything about my nano anymore! Like that die lah! Gotta give you a huge angpow for your wedding! Owe you too much liao. Tell you lah, just buy a few more ads from SPH..am sure Don will be very grateful *grin*..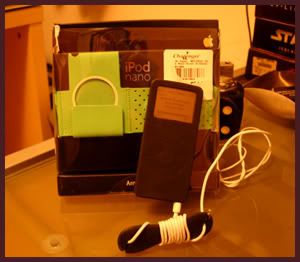 blackie and her accessories..courtesy of
squarenails
Thanks dear *muakz*