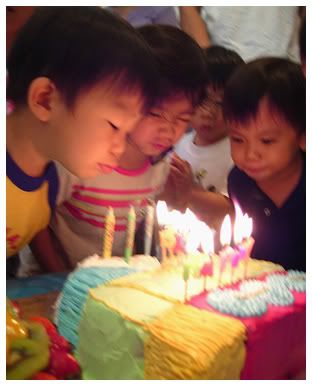 The cake was specially baked by
bbhome June for Ryan :)



It's the beginning of the kiddos birthdays season.It will usually start in October..with the first of the many birthday parties to attend for the year. Gonna be so broke *sob*~!!

It was
bbhome's Ryan and
jinsiew Gabriel's 3 year old birthday party yesterday exactly at the same place where we celebrated their 2 year old birthdays! But it was rather timely for me as it was a chance to catch up with the other moms, many of whom I've not met up with for quite a while since I became too caught up with work.



So many cute kids & babies~!!
Gordan,
June & Birthday Boy #1, Ryan

jinsiew
, baby Kristen, Ming &
Birthday Boy #2, Gabriel
Birthday boys, Gabriel & Ryan enjoying their chocolate..
Regina &
Ethan
helping to blow out the candles..
Yee Ju
with baby Javis..
Baby Jarrett
..
Li' Regina
laurapoon
's Caleb in his fave corner..
at play..
With a glowing
ashleyneo
Ashley
who's 5 months preggy & June..
Jessica
smallbully
was there too..
Pretty in Pink :)
Group Pic~

All Photos Here



Have sorta made up my mind. I'm definitely so not gonna throw a big party for Aidan when he turns 3 .I know I said the same thing last year and didn't abide by it so this year, I'll better make sure I keep to my resolution!

Gotta admit..His first year birthday party was my idea. I was the one who wanted a big bash & I did enjoy myself though Aidan slept through most of it :P Last year, hmm..I guess I just took the easy way out and collaborated with Rachel on our sons' birthday and it ended up being a huge party too & Aidan had a ball of a time that day. Actually, now's the time where our kids have become more self-aware and I'm sure he knows his birthday is coming soon too. Fortunately, he's not as vocal as June's Ryan and probably won't demand for a party .. Yet seeing enjoying himself so much today makes me feel kinda guilty if I don't...*argh*..I do tend to spoil him so~ Alamak,wavering already..

Oh well, maybe I'll do a bbq instead or just hold it at some foodjoint this year so I won't have such a headache planning for it!


flipover,Trish, sorry I couldn't go for Ethan's birthday party. Parties clash lah! I'll see you tomorrow for dinner eh!
***************************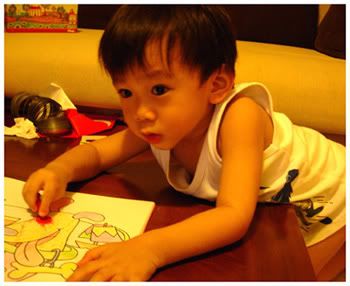 When Aidan does his coloring, he loves to use red for eyes. Blood red! He simply refuses to accept the black or brown crayons that we offered him. The final effect is a li' scary actually. I shouldn't be worried, right? :P