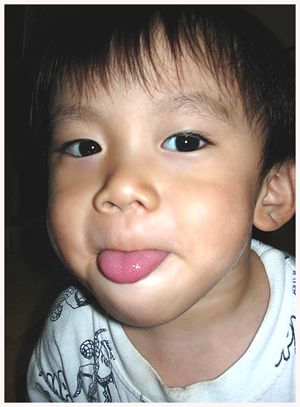 Yesterday night, while tucking Aidan into bed, I heard a loud "poot" sound and the li' bugger looked at me and giggled. "Was that you who farted?", I asked..

He nodded ..and then he started muttering "fart fart fart..puck puck puck..f**k f**k f**k!". He must have seen my horrified expression and was bemused by it and continued to utter that dreaded word repeatedly!! Gawd..my worst fears have come true. That incident wasn't a fluke..

And what do you think was the first thing he said to me this morning when I greeted him..*sob*

Gah! Hope he didn't repeat those words in school or he'll be the first boy ever to be expelled from playschool!

But his speech has improved so much and I am much relieved by it. He has (finally) started on the inquisitive phase where he'll be questioning me nonstop "What is this? Why is that? Where is this/that?", he'll query.and I'm still not tired of him asking me all these questions simply because I'm just so glad he's talking coherently now.

Sometimes, he'll purposely ask me questions which he knows the answers to. For example..he'll point to the bunch of bananas and ask "What is this?".and I'll deliberately reply "I don't know. What do you think it is?" He'll proudly answer "It's yellow bananas!"

Can't wait to see what else will comes out of his mouth (well, cept for the vulgarities)..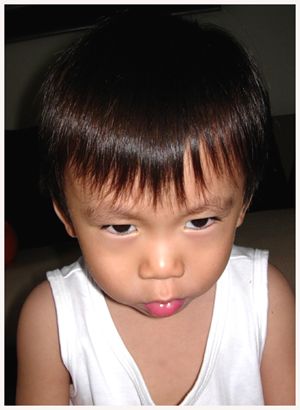 Aidan's mega TL look..Like paikia siah!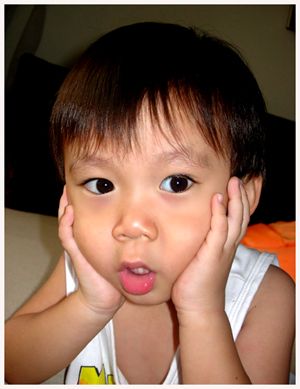 When will Macy be back? :D~
********************************


Nothing much going on at work since most of my big projects are over ..kinda relaxing. Hubby isn't able to clear leave as it's his turn to be swamped with work so my plans for a long holiday doesn't seem to be materializing *sigh*

Usually, for trade events/functions, us promo people would usually be asked to help out as receptionist/ushers/flowervases :P Okay lah..quite sian-nang..just sit there, ask for namecards and show them in..Sometimes, I'll double as a photographer since most pple know I always carry my digicam with me (not that I'm qualified to be one)..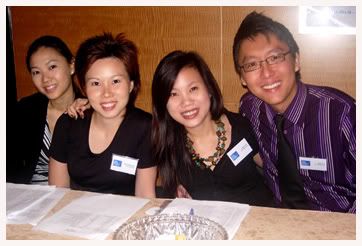 With Janice, Huey Jiuan and Willy..
at the reception table at the TNP Trade Luncheon



Digital Life turned 1 few days ago! Actually, the magazine is older than that..it started out as Computer Times 6 years ago in Oct 20 1999 but it was revamped as Digital Life last year so that's how it became young again. There's a Digital Life charity auction of the latest IT product and gizmos going on (it ends today at 11.59pm) where the proceeds of the sale will be going to ST School Pocket Money Fund. Some folks had actually bidded an amount above the retail value..Go ahead and check it out and do your part for charity if you are already planning to buy any of the listed items..there are still some items that's below the suggested retail prices.

Anyway, we had a bash to celebrate it's 'birthday' at Highwood Wine Cellar. The event, in the words of
squarenails had "lots of wine and cheese and singing SPH people"..We were entertained by some of the heads (including my snr manager) who took to the stage...Hm..actually, i think they were better musicians/guitarists than singers though..(hope my boss doesn't read this :P)

Heh..now that most pple know abt my blogging ways, I actually tell them when I'm taking the pictures that it's for my blog! hiaks~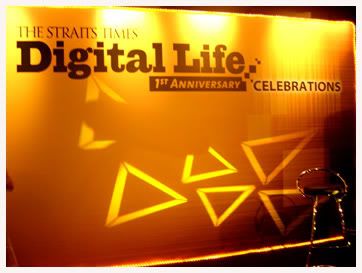 the stage backdrop..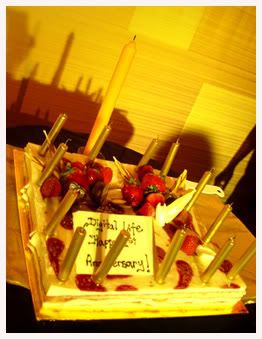 ze birthday cake!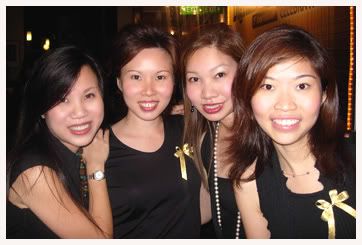 The promo chicks~
with Huey Jiuan,Grace & Agnes..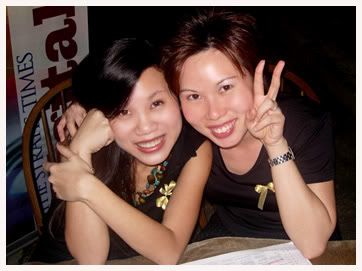 Both of us trying to act cute
(we were bored being glorified receptionist lah)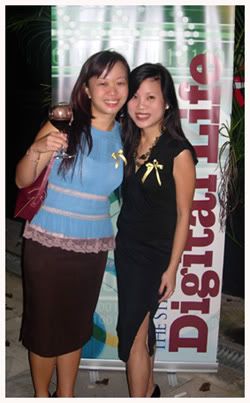 With Lian Sze..one of the account managers under the IT team.

squarenails came really late as she was rushing from the 'Meet
Tracey gathering" with the other ljmommies..
Met
rollybolly there too although she disappeared before I could catch up with her..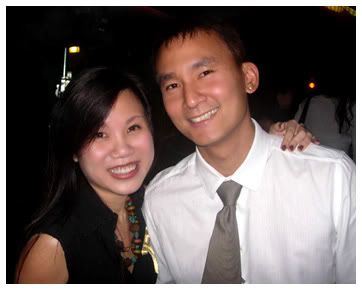 That's Fai..an old classmate from uni whom I've not met for almost 10 years.
He didn't seemed to have aged..bleah.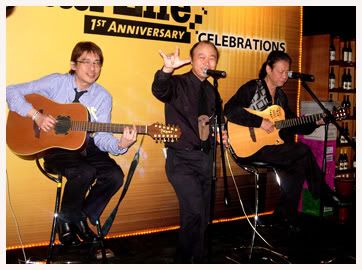 'live entertainment' on stage..
That's Tom & Geoff, the 2 unit heads in action..the guy on the right is the real musician for the night whose limelight got snatched..
******************************


We saw a place that we liked alot during our househunting last weekend ! It's 999 years..huge - abt 1700 sq feet (lotsa room for Aidan to run around). It's a split level apartment with a nice balcony from an old condo development but the place itself is done up pretty well (the owner spent 100k on renovations). Have made an offer for it already..but we'd offered $50k less than the price they've quoted. Wish us luck!