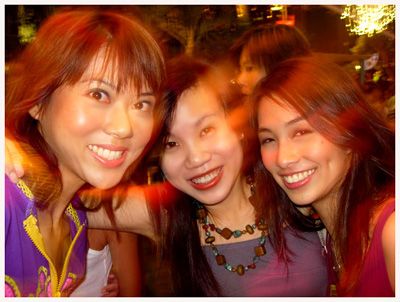 With my 'daughters', Jeanette & Lynn ( TNP New Face Girls)


Was down at Zouk yesterday..nah, not to gelek but to support my client's event plus I was asked to rope in some of The New Face girls as models for the Asian Xcursion Party's fashion show. People who don't know me well may think that I'm a frequent clubber when in fact I'm like this do-do bird when it comes to pubbing. Yeah, Zouk has undergone a revamp but don't ask me what has changed. I can't even recall what it originally looked like.. Last time I'd been to Zouk was erm..when I did the scouting event there for New Face and I only entered Zouk to pee! Hubby who'd joined me there yesterday said he felt like this ah-pek 'cause we were surrounded by folks young enough to be our kids. Gawd..we are getting old!

The girls didn't enjoy themselves much 'coz of a bitchy lady choreographer, an ex-model who was really inexperienced and yet behaved like a diva. She didn't make things easy for them..Pissed quite a few of them off (some of them cried) but all of them still did their job. Felt quite bad for them..

Oh well..some pics to prove that I'd actually went...Bleddy bouncer stopped me from taking more pics during the fashion show!

Some of the BMX flatbladers & Bboys showing off their skills on stage..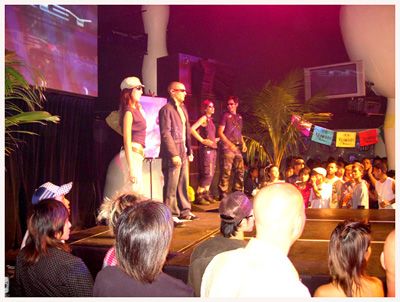 That's some of the New Face girls with male models..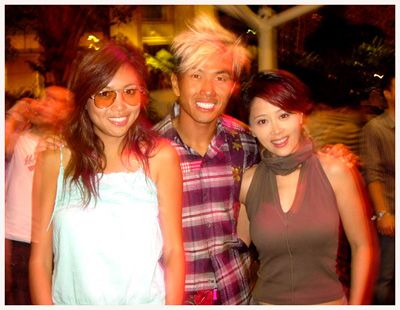 Some TVB artistes were ard to support their friends who are representing Hong Kong in the wakeboarding challenge
That's
Cutie Mui on the left
and
Sherming Yiu
on the right.
The guy in the middle with very white teeth told me he was a singer
but erm..he doesnt look familiar..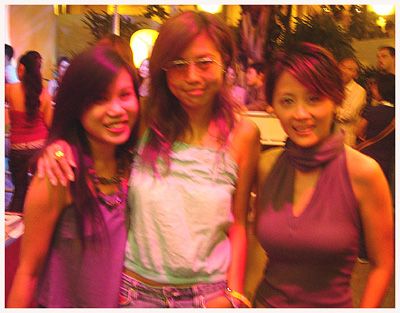 bleah..the pic they took for me turned out so blur!
With Eri from TNP, Lynn and Jeanette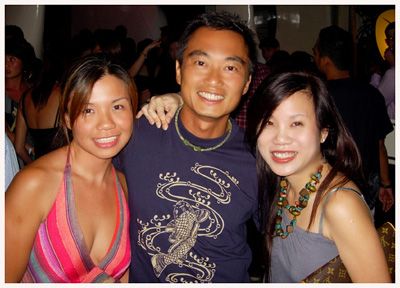 Met Stephen (with his gf), a pal whom I've not met for close to 8 years!
Maybe I should club more. I keep meeting old friends at such places..
With one of the wakeboarders from Korea..



Headed down to the Marina Promenade this afternoon to check out the Asian Xcursion Tournament. The New Paper is the official print media for this event which explains why I'm involved. There wasn't a big crowd probably because it'd drizzled in the morning. Lotsa activities going on today and tomorrow - the 2005 Asian Wakeboard Pro Tour, where the region's top riders will compete for the Asian champion title, the 2005 Asian Xcursion Street Tournament which will feature the region's top skateboarders, aggressive inline bladers, BMX flatbladers and Bboys..Was so tempted to join the photojournalist from TNP on the wakeboarders' boat (to better take pics of the wakeboarding action) but I was with the family so I decided against it. So, I ended up with more pics of Aidan instead of the event..


A young boy participating in the aggressive inline blading competition..


Aidan applauding together with the crowd :)


Check out Aidan's funny expression!

Aidan ended up playing with this cute li' japanese boy..
His lagi-cute daddy (who's in the first photo) gave me the go-ahead to take his pics!


Met Clarence, my ex-colleague and
littlepoppet's hubby there too..
To Ritz Carlton for some tea after that..


The Lees~
The Asian Xcursion Flickr photoset here