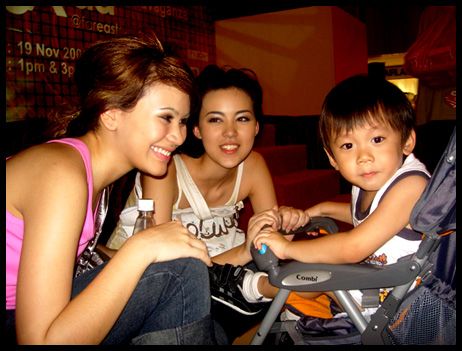 Aidan surrounded by chio bus (Cassandra & Sophie) :P


Some of the New Face girls were selected to do a fashion show on Saturday for the Far East NexFad Extravaganza which was to launch their Fashion Incubator. The clothes showcased were from NAFA and Far East Plaza designers.TNP had a joint promo going on for this event which is why I'm involved . Sophie, the winner of The New Face competition was photographed for the event & promo ad..They even had her photos made into huge banners and had it placed ard the stage area..I think Sophie was kinda taken aback when she saw it. Prior to the event, we'd also invited Pat Mok (who admitted to us gleefully that she used to be a Far East Kid) to help style 2 of the girls for an editorial piece.

Found out that Pat Mok was my junior in JC.."I very low profile one lah" she said. "Bopien..so ugly so no one remembers anyway!" she quipped self-deprecatingly.. We went to two of the boutiques at Far East Plaza and at each stop, we were surrounded by groups of people (a mixture of aunties and young teenagers) oogling at her and muttering quite loudly "Zhen ren bi jiao mei leh! [She looks better in person]"..Which was actually true heh. "I look very ugly on tv meh?" she asked us..We all pretended not to hear her :P After that, there were tons of people clamouring to take pictures with her and she sportingly obliged and chatted with the ah-sohs like they were her good pals. Some of the young boys also approached Shikeen & Li Mei (the New Face girls) and asked to take photos with them.

Pat was totally without airs and was very enthusiastic about her 'styling' duty. She even helped Shikeen put on her shoes. Wee Teck my colleague at TNP (he's the main man for the Guide page) told me she's really like that in person unlike some of the other snotty local celebs. And after the shoot, she asked us when the fashion show would be and that she'll drop by if she wasn't shooting that day. And she did turn up on Saturday :) I know the folks at Far East Plaza was really pleased with the entire promo as a result :)


The TNP story here

@the Fashion Show on Saturday..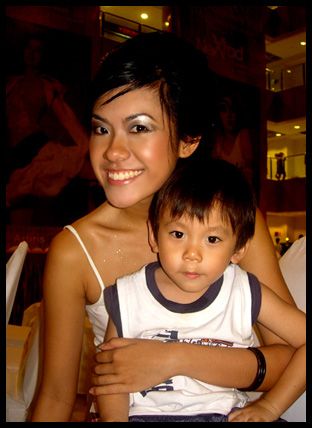 Aidan with Cris, one of the New Face finalist.
The boy damn cheekoh lah..every girl also he likes!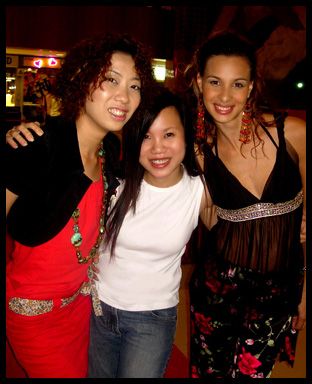 Pat & Wendy Jacobs, who was the MC for the show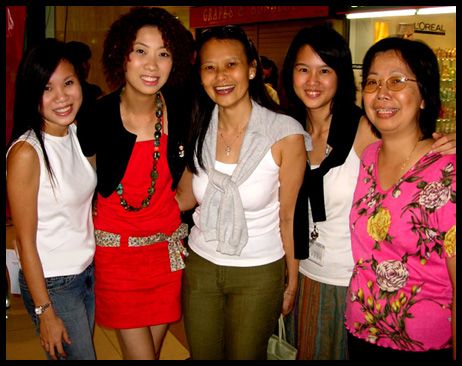 With the folks from Far East Org
The Catwalk..

All Pictures of the event here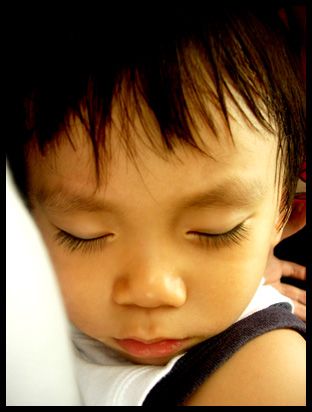 Aidan actually enjoyed the fashion show. It was way past his nap time but he wasn't grouchy at all. He gwai gwai sat there bopping to the music, looking at the girls sashay up and down the stage and clapped along with the audience...But after the show, he couldn't tahan anymore and promptly fell asleep :)


*******************************
Wanted to post these pics earlier..was taken at the zoo last week..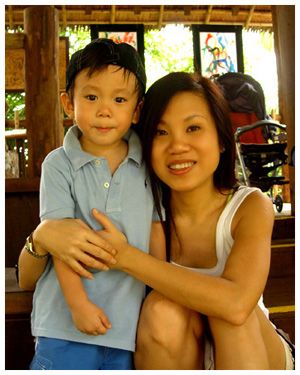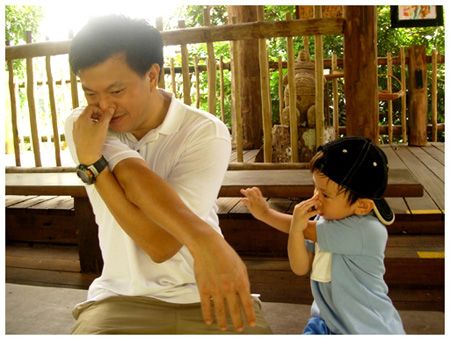 The 2 elephants at the zoo :)


Just some update on househunting front. The Pandan Valley aptment owners and us have finally agreed on a price *yipee* and we should be finalising the deal next week. Hubby wanna bring a fengshui fella to the place first to do a reading. Personally, I'm not a fengshui believer but since we're spending quite abit on this place, I guess hubby just wanna 'play safe'. Hoping that the reading will be positive :P

Hubby is even asking me about how I plan to do up the place hee~ Haven't really thought much abt it coz i didn't wanna count my chickens yet..But will probably be scouring the decor mags for inspiration soon!


*****************************


Just a follow-up here on my previous post on Miss World 2005, in particular Miss Singapore, Shenise Wong. Been reading some positive reviews about her from pageant followers and 'analysts'. It's been a while that a Miss Singapore had been rated quite well but it is a given that she won't be one of the top 15. Firstly, she probably will receive a miserly no. of votes compared to the other Asian countries. Only 2 from each continental zone will enter into the finals via the voting system. China will definitely get one of the spot especially since the pageant is held there (pageant politics) and Phillipines is another shoo-in because the Filipinos all ard the world would definitely be voting like crazy for her. The voting system sucks lah because it can be so easily manipulated plus isn't a beauty pageant supposed to be based on beauty instead of popularity? They should rename it Beauty Idol!

From Rahul's World of Pageants
Miss World 2005 Coverage:
ASIAN PACIFIC GROUP:
China's Ting-Ting Chao is looking great, maybe even better than her predecessors. It would be futile to argue the fact that she will be a semi-finalist in Miss World. The bigger question is whether she is named the continental queen, and who will be that second semi-finalist

Philippines' Carlene Aguilar. Certainly much more aesthetically appealing than last year's representative, she is likely to get voted in.

However, if the contest was really about beauty, there are two girls who will most likely get overlooked altogether due to the nature of pageant politics and 'voting systems: Singapore's Shenise Wong, who has the most internationally appealing face in this group (and maybe even the most stylish, updated look). The other is Sri Lanka's Nadeeka Perera, a tall dusky beauty who reminds us of ex-Miss World Diana Hayden ...and we should not forget Australia's Dennae Brunow. There is always the possibility of her winning Beach Beauty (she is a tall, blonde bombsheel who is simply HOT in any fashion) or Beauty with a Purpose (she has been recognized in Australian media for her projects prior to winning her title).