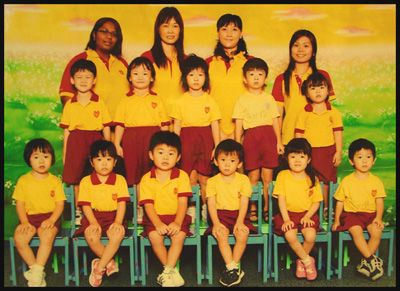 He's seems to be the smallest boy in class but he's also the youngest. What to do - Dec baby :) He's looking so solemn here. I guess it's probably cause the photographer had instructed him to close his mouth [he tends to leave it agape] which explains why he's looking so forlorn. :P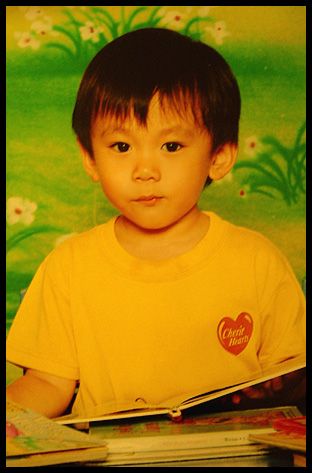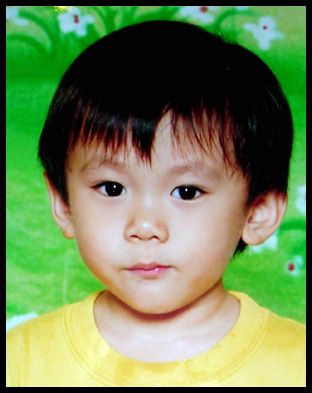 Hmm..he's biting his lips :P
He does look more grown-up eh :) Aidan has shot up quite a bit in the last few months. He measured 96cm at the clinic abt one week ago when about 2 months ago, he was 86cm..Can't imagine that he was a mere babe not that long ago (well, it really doesn't feel like it was 2 plus years ago..)..
*************************************
Just some photos taken last weekend at my ex-colleague's son 1st month!


With Joy and her one month-old boy Marc, Ching Yee and li' Lucas..
I used to be with the programming team at Channel 5 abt 5 years ago and the 3 of us were in charge of acquistions of overseas programmes and programming/scheduling of tv shows for the channel.. For a while, our department used to be 'barren' as none of the married people like us had kids. We'd then attributed it to stress and the numerous late nites at work due to competition with the 'other' tv station.
Ching Yee gave birth to Baby Lucas early this year and Joy's baby Marc arrived last month. 3 of us have boys! Interestingly enough, most of my ex-colleagues at Ch5 conceived after the merger of the tv stations were made known. Guess life was probably more stress-free & relaxed after that :P
Was good to meet up with them though I felt a li' uncomfy especially since most of them there were still with MCS and I was with the 'other' media company. Sometimes, I do miss working there..especially since I love the tv media so much.
The bosses haven't changed much though. The first comment they made upon entering the living room was "Why is the tv on CNA??!!!"..Hiaks! [Someone then immediately switched it to Ch5!] And I don't miss working there that much anymore..:P
****************************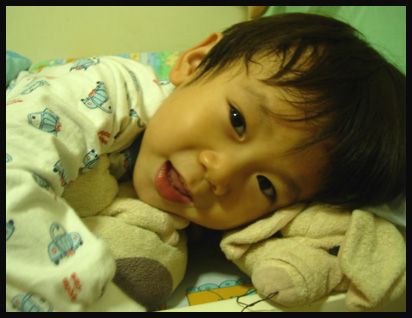 Boy's turning 3 in a few weeks time. Was initially thinking of not doing a party this year. My main concern was the timing. The whole family be heading down to Surabaya next week for
moonberry
's wedding and I thought that it would be rather rushed to have the party that weekend since we'll be back on 16th evening. And the week after is the X'mas weekend so it probably isn't a good time to have a party.
But I changed my mind today and thought what the heck. After checking with Paulaner Bräuhaus to see if they had space to accomodate a party, I decided then to organise it there instead of having it at my condo function room like the past 2 years. Got the idea from Jean
alisonrae
who celebrated
Aly's birthday
there this year. The food ain't bad and I like the ambience there. And thanks to June
bbhome
& Ashley
ashleyneo
for helping me scout for the goodybags. Owe u gals! Should be fun :)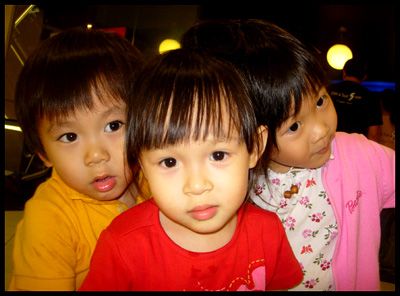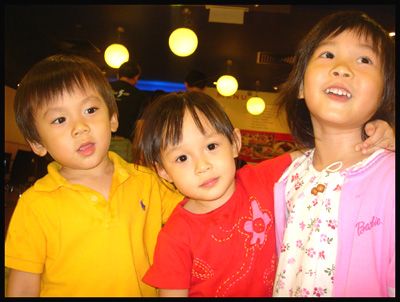 Some pics with his girlfriends, Renee & Chloe :)
Current Mood:

relaxed