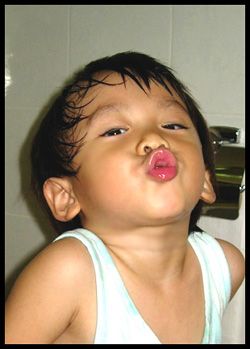 Not sure what Aidan will do to me when he grows up & finds these pics and discovered that I've posted them online....

But but..this is a celebratory post for me [hope I don't jinx it though] and probably only parents of young kiddos out there will understand why. Aidan is finally toilet trained!! Man..it's been so difficult. We'd bought potty training chairs and potty seats but he refused to try them all. The bugger will squirm and whine each time we place him on it..and would simply refuse to do his business there.

This *miracle* occurred on Fri when I'd just came back from work. He was playing in the living room and announced that he wanted to "poot poot". The boy then promptly ran to the loo, took off his underpants, pushed the ikea stool towards the toilet bowl so that he could step onto it and perched himself on the seat and did what he had to! I've never been so delirously happy to see someone poop before!! And to prove that it wasn't a fluke, he did it again yesterday! So now we know... Aidan hates to be coerced (who does?) but left to his own devices, he'll figure it out on his own :P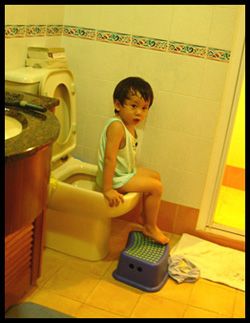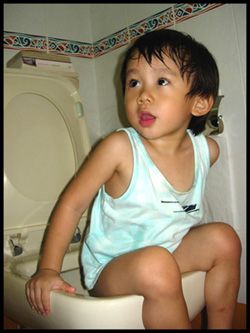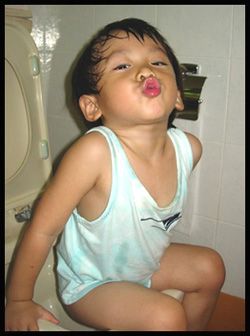 Bugger posing for the cam when he realised I was taking pics of him :P
****************************************
********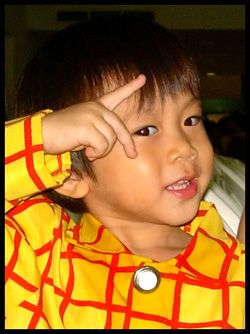 It was his school's year end concert on Saturday where all the kids were involved..The theme was supposed to be the 60s/70s and we were asked to get for our kids costumes for that era. Gotta admit, I didn't try very hard & passed to his teacher the 'Toy Story' top that came with a bright checked shirt, vest and scarf and was told it would suffice.

Was a li' disappointed that he was positioned right behind during his class dance segment. He's such a tiny li' fella and was totally blocked by the taller kids who were in the first 2 rows..Also, they didn't bother to do up his hair or apply any makeup on him whereas all the other kids were nicely done up. I wonder why..Was told that he'd had made a fuss at wardrobe because he refused to wear the vest and scarf simply because he loved his shirt's buttons and kept on showing them off! Maybe he didn't allow them to 'beautify' him too..

Here's a short clip of his segment..Heh..it was kinda hilarious watching all the kids boogie and Aidan seemed to be enjoying himself geleking on stage :)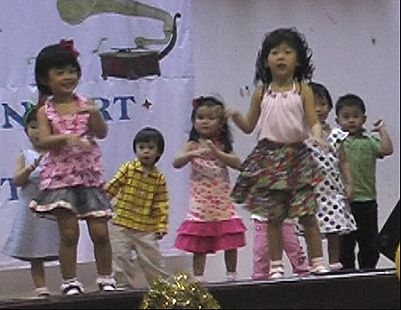 Click on picture for video
Other pics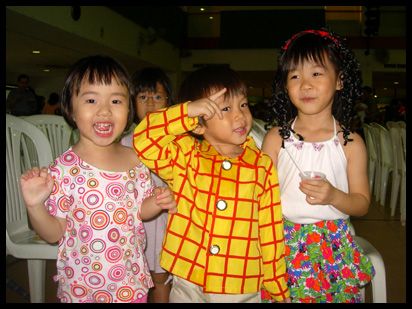 With Alicia & Chloe..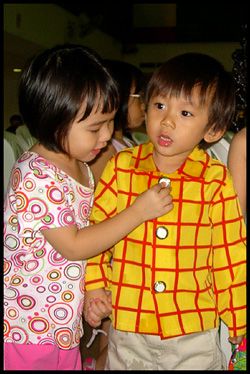 Alicia admiring the buttons on his shirt..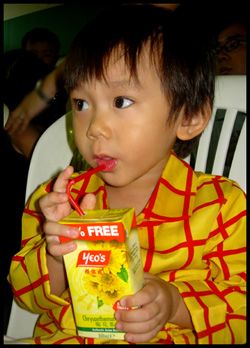 First thing he said to us when he came off-stage was "I want water!"..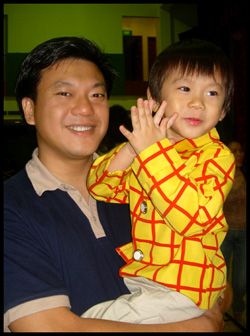 With his proud daddy!
***************************************************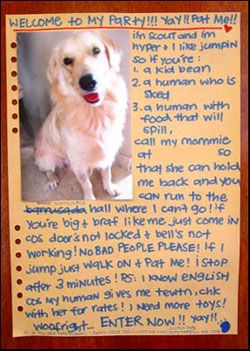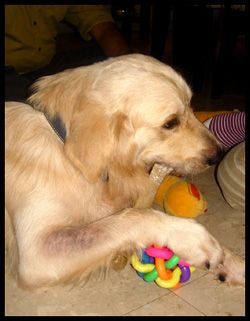 Attended my first ever doggy birthday party on Fri evening! It was
lolitapop's Scout one year old bash..! Scout a gorgeous golden retriever who's well-loved by his mistress! Unfortunately, Aidan was quite scared of him. I guess he still has a fear of big dogs though he's fine with smaller dogs. But it didn't stop him from venturing near Scout although whenever the latter tried to be friendly to him, the boy started panicking!

He had great company as
Adele's kids were around. He especially loved to be with Tasmin and kept on sticking by her side.



Photos taken that day - some taken by Aidan and some by
Nic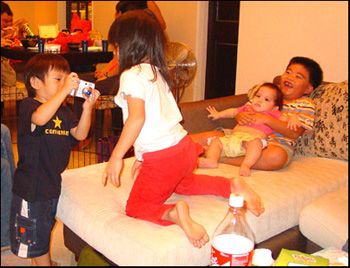 Nic took a pic of Aidan using the camera..
Here's some of his more "successful" attempts - I didn't crop any of them..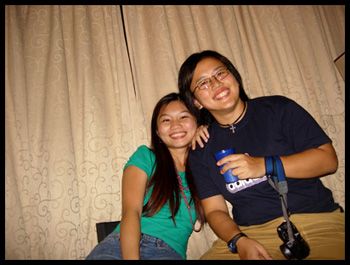 heh..i thought this turned out quite well..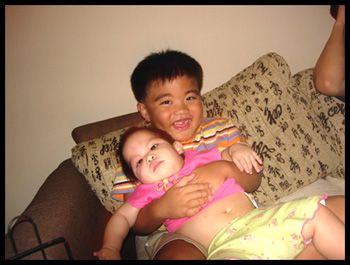 His fluke shot of Adele's Jordan and her li' one, Lauren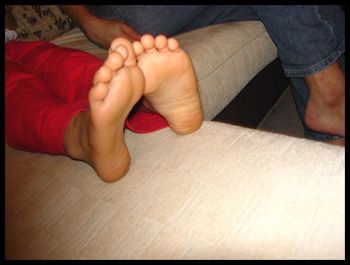 erm..Tasmin's legs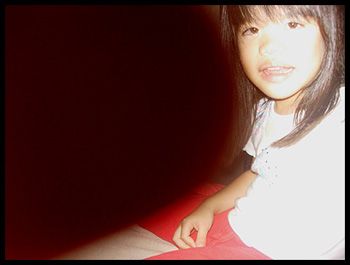 a better (tho overexposed) pic of Tasmin and his finger :P
The rest of his pics were of the sofa and table!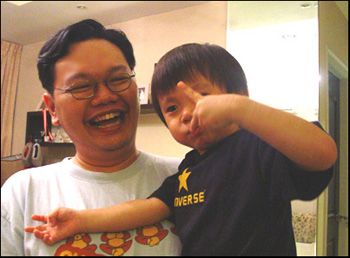 issyleus with Aidan
Someone thought he was Aidan's dad *grin*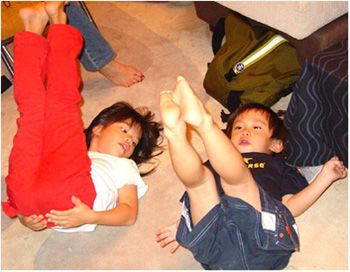 The 2 kiddos playing together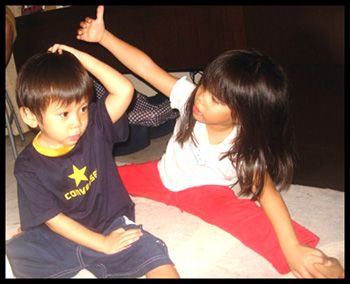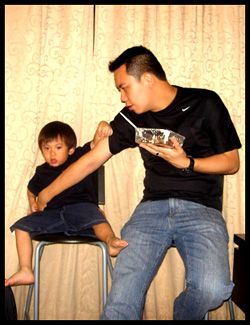 strike a pose~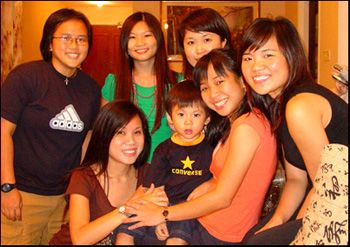 Group pic =)