The annual marketing division party usually takes place at the end of the year but somehow, we weren't able to agree on a date last year so it was held in Jan 06 instead. Was arrowed by my boss to be part of the party committee & and I was with the programmes team which meant we were responsible for conceptualising the stage activities..

And the theme of the party, which should be quite apparent by now..was Back To School..! We didn't have much time to plan for it as most of us were on leave [I was in bangkok during the break:)] In fact, our stage programme was only finalised just one day before the party..

In the end, everything turned out well cept for a bit of murphy's law in action. Someone kicked the power point of the projector and for a scary moment, we'd thought that the projector died on us.. Best part was that almost everyone turned up in uniform. So there were lotsa students and very few teachers/principals :P One thing for sure, the folks at marketing sure knows how to have a jolly good time. The timing was right too. 17 Jan was the day when our bonuses would be banked into our account so everyone was in good spirits. And it's not everyday that one could imbibe & indulge while donning the school uniform, without getting reprimanded!

Kinda missed wearing the blue convent pinafore...sure brings back great memories of school days! Gawd, the last time I wore it before yesterday was 20 freaking years ago!!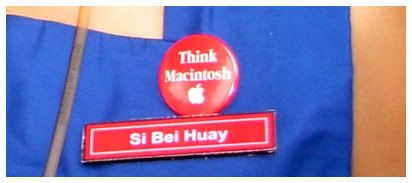 I didn't manage to get a school badge,
had to make do with this badge..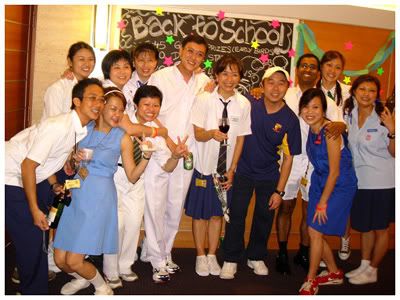 The party committee members~


Our very sporting models for the fashion show..


Sanjay - before..


Sanjay - after , with Shear Lin


Phoebe during her school daze~


That's Phoebe on the top left..


One of our games..Who Wants to be Marketing Division's Brainiest Kid
We got some of the bosses up on stage to play it..


One of the questions asked..check out answer D :P


This question got quite a no. of pple stumped..


Project Newsprint - where the guys had to be styled in newspaper fashion..
(The guy on the right Alan won :) )


The rest of the pics here...