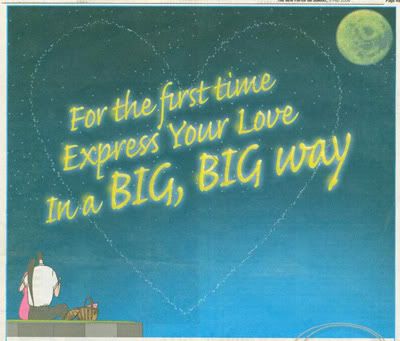 This is an in-house
Valentine's Day event
promo ad
that we'd ran for a couple of days in ST & TNP ...

The online banner ad on Asiaone...

See it?
The ad was done by our own creative guy Adam. Adam is also an award-winning cartoonist who had created many humourous and satire cartoons. When I told him to look at the moon closely, he was flabberghasted and immediately made changes to the ad..! Asked him if he'd created the moon from scratch and whether it was done intentionally. He immediately said no. Told us that it was taken from a file photo from ST and it was supposed to be a real photo of the moon..cept that it was in black/white..He'd simply filled in the colors..
I guess that explains why when we were young, our parents warned us repeatedly not to point at the moon*.... :P
*coz our ears will get bitten off
Current Mood:

weird