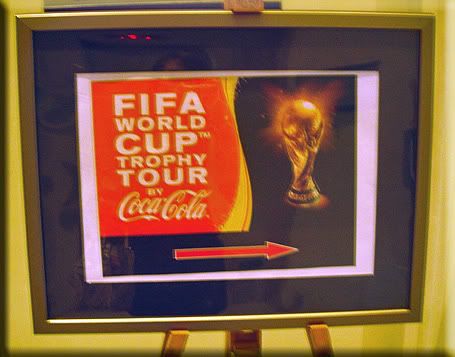 Was invited to an exclusive preview of the Fifa World Cup trophy at the Asian Civilization Museum today. The coveted 'jewel in the crown of world football', an authentic, 18 carat solid-gold trophy was flown into Singapore yesterday by Coco-Cola. Singapore is it's 18th stop (and the first SE Asia stop) in a three month whirlwind tour covering 31 cities and 29 nations.. The trophy would have made it's way to Suntec City by now where it will go on public display at the Suntec Convention Hall on Friday only.

It was apparently the first time that the WC trophy designed by Italian artist Silvio Gazzaniga has gone on tour. The previous Jules Rimet world cup trophy had quite an interesting history having been stolen twice.

I'm not exactly a crazy football fan although I do follow EPL (okay...just Man U~) and World Cup when it comes ard (bopien, I'm a gambler :P) and was wondering what the fuss was about..But man, I am probably a rarity as the 4000+ tickets that was to be given out in a promotion done on TNP was snapped up the first day we'd ran the promo ad. The ad was actually supposed to run for a few more days. At the conference, everyone was eagerly awaiting for the unveiling of the trophy. It was supposed to start at 3.30pm but it was only at abt 5pm when the conference began. We guessed it was because the GOH was late (probably was held up in Parliament). So for abt 1 1/2 hours, we drank copious amount of coca-cola *burp*..

Mr Emmanuel Maradas, Fifa consultant told the press that from this year's world cup onwards, the winning country would no longer get to retain the trophy till the next world cup. The real trophy would be presented to the winner of the Fifa World Cup during the award ceremony but after that, Fifa would regain possession of it and a replica would be given to the winning country.

There was a funny moment when Darryl David, who was the MC jokingly said that this year, the trophy would probably be carried away by David Beckham and John Terry and a few from the crowd snorted (rather loudly).

Alamak..Caught a glimpse of myself on tv..CNA covered the event and I was one of the kiasu people (okay lah, the rest were media photographers, i was the buay paiseh one) taking pics of the trophy :P



Up close & personal (actually, not that close lah) with the Trophy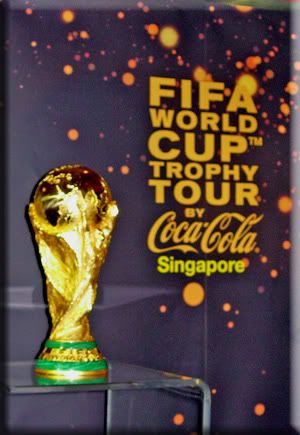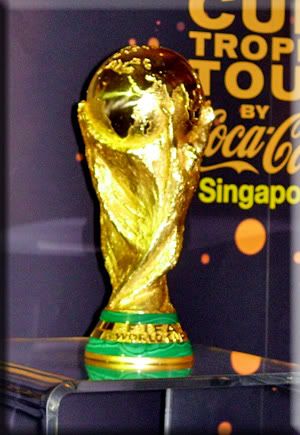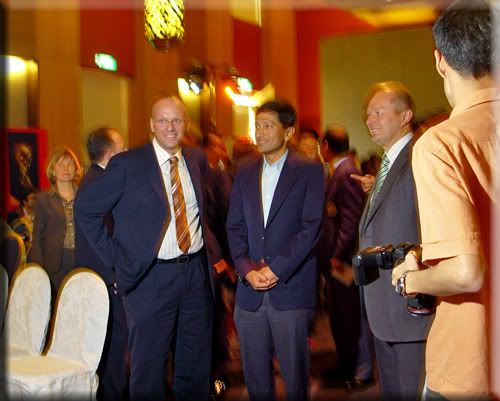 The GOH, Dr Vivian Balakrishnan with some other VIPs
GOH admiring the trophy (alamak, lion on his left)
That's Mr Dirk Veryser, Region Mgr of F&N Coca Cola and Mr Emmanuel Maradas from FIFA on the left.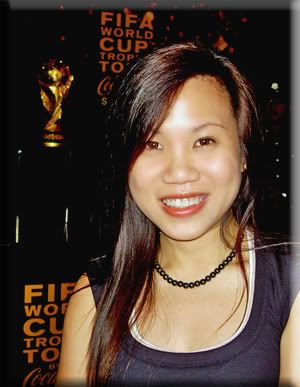 That was the closet I got to the trophy. We had to stand a distance away.
Only the VIPs got to go closer but no one (not even the GOH) was allowed to touch the trophy.