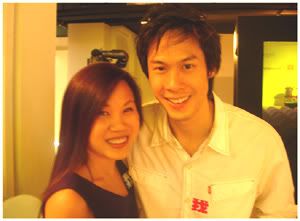 Gah..i look so awful in this pic!


This was taken at the trade launch of MY PAPER 我报 held at The Red Dot Museum today. 我报 is the latest publication by SPH and it is a chinese freesheet that will be debuting on 1st June.

Leslie Kwok, together with 3 other 'celebs' - Wong Li Lin, Arnold Gay & Marilyn (from WKRZ) are representing the demographics [aka : kang-tang people who are somewhat bilingual] that the paper is hoping to attract. You'll be seeing the branding ads in our papers soon. Anyway, I was there to help out with the event and since I was armed with a camera..pictures!

with my gorgeous colleagues : Chew Wee, Janice, Huey Jiuan & Grace..

Actually, I didn't take that many pics coz my cam's battery was dying..There will be another trade event tomorrow for the advertisers (today's event was for agencies) so I'll see if I can take a better pic with Leslie *gleam in eye*.


**********************************



Got this from talkingcock.com
DISTURBING THINGS YOUR MOTHER HAS SAID TO YOU

1. If you don't stop it, I'll take you go market and sell!

2. Your friends are wrong! There's absolutely nothing wrong with breastfeeding you till you're sixteen.

3. Ah Boy ah, can you help me put on my bra?

4. I know what you're actually doing when you lock your room door.

5. What's wrong with taking me to the prom as your date?

6. Ah Boy ah, next time you want to put on my bra, ask me first, can?

7. Can you study harder, not? I don't want to have to do what I just did with your maths teacher again, okay!

8. If you don't keep quiet, I'll send you to join your father at the bottom of the Singapore River!

9. How do I look in this thong?

10. Actually, what's your name, ah?

Hmm..no. 1 sounds familiar. I swear my mom told me that before. Well, Mother's Day is just around the corner..Remember to be nice(r) to your mom!


**************************


And here's part of talkingcock's post election round-up..

Ministry of Education Lowers 'A1' Grade to 66.6 Marks
Following the elections, one of the bold new moves by the Ministry of Education is to lower the 'A1' distinction grade from 75 marks to 66.6 marks.

One of the complaints we kept hearing from citizens was how tough our exam system is and how everything in life depends on our exam results," said Minister of Education Tarzan Shanmugaratnam. Well, the Government is listening to the people, and to ease the pressure on our schoolchildren, we've decided that whoever scores 66.6 marks will be considered to have scored a distinction instead of a mediocre B3 grade like before.

PM Spotted About Town With His Mandate
The Prime Minister has been spotted about town with his mandate.

Said visiting Australian tourist Mr. Desker Rhodes, "Yeah, I saw your PM walking about with his mandate. I thought he'd be with a woman date, but his date looked like a man to me. Strewth, he's serious about liberalizing, ennit, if he's goin' all brokeback."

Gomez No-Show at WP Party
In other news, James Gomez apparently didn't show up at the Workers Party celebrations as he said his invitation card had mysteriously gone missing.