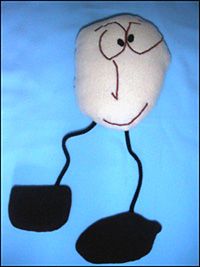 Doesn't this look familiar? If not, look
here!
Lena
actually made a plushie based on Aidan's doodle of his dad...and she's giving it to him so that the boy can present it to his daddy on Father's Day! So sweet eh! Thanks Lena!!
Gawd..I have to admit, it does makes me feel more inadequate talent-wise. I really marvel at how creative some people can be. I'm absolutely hopeless in arts and craft. Can you imagine, when Aidan asked me to draw a rocket ship for him and after I'd done so, he gave me a puzzled look and said
"But mom, that's not a rocket! looks like car!"
. Malu siah! And let's not go into the animals I've drawn. I swear my bear doesn't look like a cat at all even though my boy insist it does. *sigh* I guess that's why I suck at pictionary! Think my hands are only good at 'mor-ing' mahjong tiles!
************************************************
We saw this while shopping for lightings yesterday! Just had to get it for Aidan's room! After discount, we got it for $105 (original price $175). We'd spent a total of $1k at the shop on lightings for the entire apartment which was quite reasonable we thought.
We're kinda behind in our shopping schedule for our new apartment (especially when we'll supposed to move by end of this month *awk). We'd only completed our shopping for lights yesterday..have short-listed a sofa set but we'll probably continue to look around more just to be sure. Actually, our timing is great because it's the Great Singapore Sale now but unfortunately, that meant that the malls are super crowded especially during the weekends.
We finally bought our tv sets..
a Samsung 40R71B and a 32R71B
. One's for the living room and the other's for the master bedroom! Absolutely loved the design - so ultra slim and modern looking. And the PC show was timely (though costly) too. Ended up with a HP Pavilion Media Center PC that comes with a 19 inch LCD monitor with 250 + 160 GB! So the study room can do without the TV since I can watch it on my new PC =). Hub decided on the Fujitsu Lifebook E8210. We already knew what we wanted before we went to the PC show so we made the sales people life super easy. Still gotta try to settle the rest of the items like fridge, dryer etc..probably will take leave during one of the weekdays to do more shopping. Gonna be really dry soon.
Hmm..I think our plans for our apartment to have a resort feel is going awry. Not really our ID's fault..just that we keep changing our minds about the design. So our ID person said it will probably end up looking like a modern resort - whatever that means. Gotta admit, both hub and I ended up disagreeing several times. No major fist fights ..just lots of pouting (from both sides) and manja-ing (same!). Our taste differs quite a bit and deciding on certain items can be quite a tiring process.
Will be updating my purchases and the renovation progress
here
. Hopefully, I should have some new pics of my place soon.
****************************
Some pics with
Tracey
& Claudia and her friends from HK at the High5 concert on Sunday :)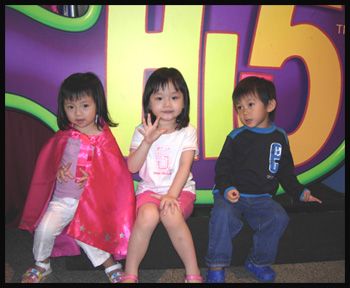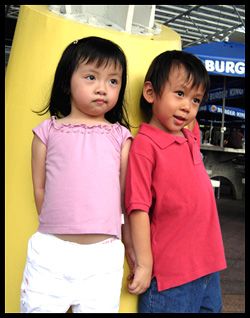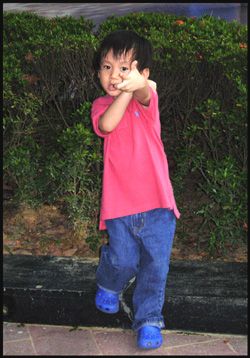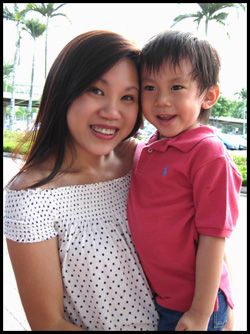 Current Mood:

impressed