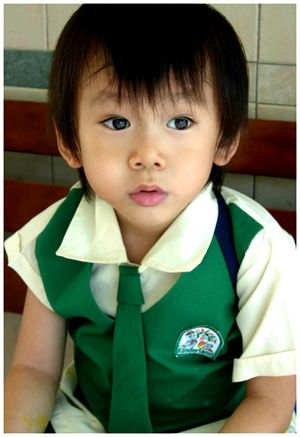 Woke up this morning aching all over and feeling the 'chills'.. Just couldn't haul myself out of bed so I called in sick. Doc gave me 2 days MC and told me to rest at home. I guess its due to those late-nites of watching of the World Cup matches coupled with those long hours at work and the past month of non-stop activity while moving house. There seemed to be some viral infection making its rounds too..

So since I was home, I decided to pick the boy up from school. Usually, one of us will send him to school and Nenita brings him home. We chose to send the boy to Kinderland which is located within the condominium compounds - just opposite our apartment block (about 80 metres away). So convenient! Aidan loves his school uniform. He is so fascinated by the tie especially since his daddy also wears a tie to work! And he enjoys going to school too. He had absolutely no problems adjusting to the new environment. Most mornings, he'll rush to our bed and hurry us to wake up so that we can bring him to school. But whenever we asked him how was school, he doesn't reveal much about what was taught or his schoolmates/teachers..but he'll regale us with detailed info on what he'd eaten for lunch that day.. Gawd..all this boy thinks of is eating and playing!

But man, the cost of childcare in the West area is exorbitant compared to North-East (Hougang). I paid only $485 for a full day session in his previous school but now, his fees is about $600 for half a day. And that seemed to be the standard rates for schools around this area! Expensive man!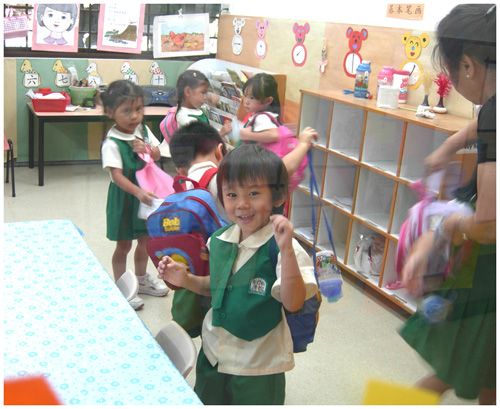 I was peering thru the glass window outside of his classroom and the boy saw me and his face broke into a big smile..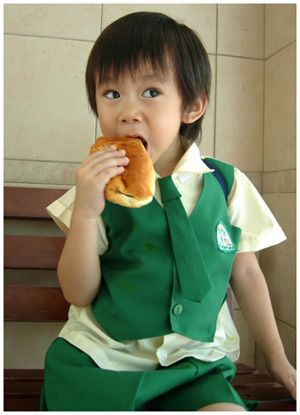 having his fave hotdog bread..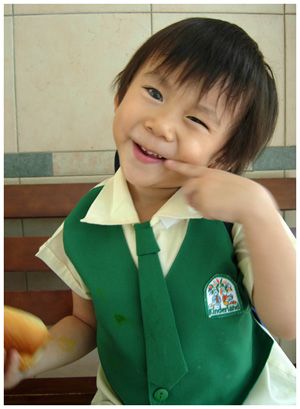 giving me his best Dr Evil expression!
(that's when I asked him to give me a smile for the camera *sigh*)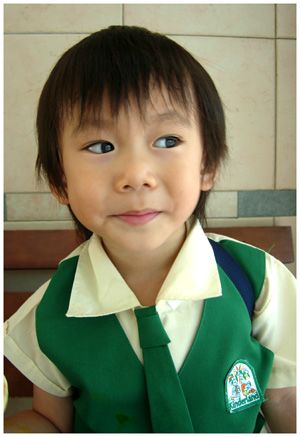 so cheeky...



Hmm..few days ago, hubby was commenting to me "I think Aidan should have a sibling!"
Oh-oh.......