Yes, this was what Miss Singapore Universe, Carol Cheong wore during the Presentation Show at the MSU pageant. The contestants were supposed to wear the evening gown of their choice.

Here's what the other asian contestants wore..Hmm, seems like our Miss Singapore was the only one who received wrong info on the dress code.

Miss Japan
Miss China
Miss Malaysia
Miss Thailand
That's her outfit during the national costume segment..argh, I don't know man, this just doesn't do it for me! Who designs these outfits??? And who the heck chooses these costumes for her?
I lurveee Japan's samurai inspired outfit!
Well, thankfully, she will be wearing this (I hope) in the actual pageant in just a few hours time..
okay, i understand she wore the black one instead :P
She looks quite good in swimsuits and her casual wear though!
*all pics from MSU website



Saw this critique by another blogger abt Miss Singapore's fashion sense . And I quote- "No, Miss Singapore (Carol Yim-foon Cheong). This is the evening GOWN competition, not the evening SLUT competition."


***************************************


Since we are on the topic of 'beauties', check out more behind the scenes vodcast of TNP New Face 06 here. They are still trying to finish editing the footages from the auditions so there's probably 1 or 2 more of that and then they will show off some behind the scenes action for the girls' photography sessions. I think it's great that AsiaOne initiated this..at least it makes the contest more interesting by having a 'moving visual' element to it instead of just showing the girls in the TNP centrespreads.

Here's my pics of 'behind the scenes' (not all taken by me :P) ..I don't exactly have pics of all the girls since i cant be at the photoshoots all the time.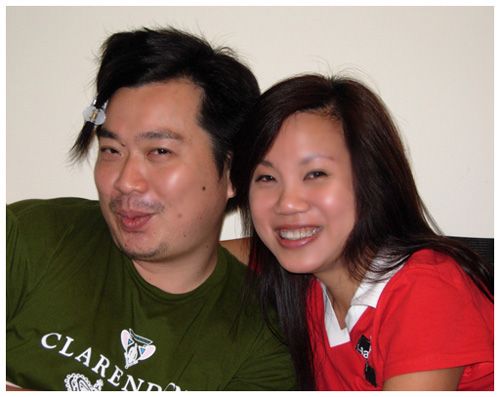 With
weeteck who's the editorial guy i/c of the contest this year.
Oh, he'd also pledged his hair in support of CCF so please, do donate generously too!


With Nargis, Terrence (he's our stylist this year) and CJ