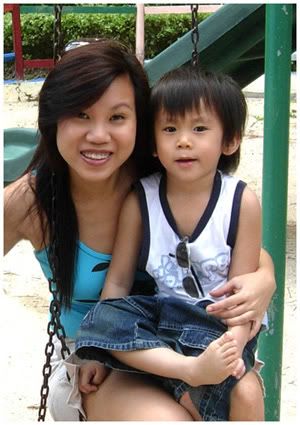 The short holiday at Batam last weekend was fine I guess (everyone kept asking us why the heck we chose Batam - erm, coz I've never been there).. But hubby was down with a bug so he was a grouch for the first 2 days. Aidan too had a cough and runny-nose but that didn't stop him from enjoying himself. Best part for me, was probably the cheap massages..it did help destress and revitalise my body. So my dear hub's suggestion for this holiday was a good idea. Thanks to those who'd smsed/emailed me birthday greetings..feels nice to be remembered even when I wasn't in town..Man, can't believe I'm 37 already *sobsob*



So now I'll bore you with my holiday pics!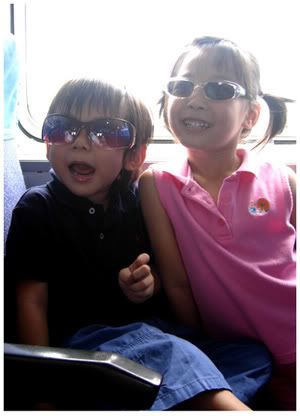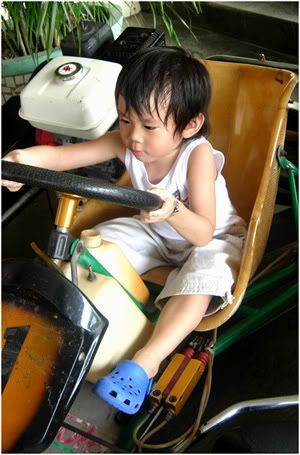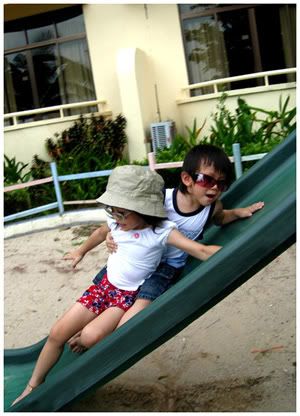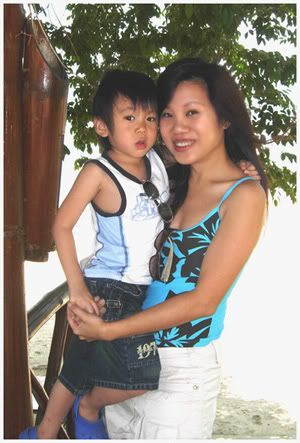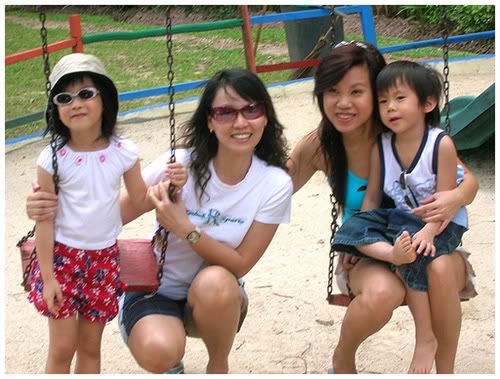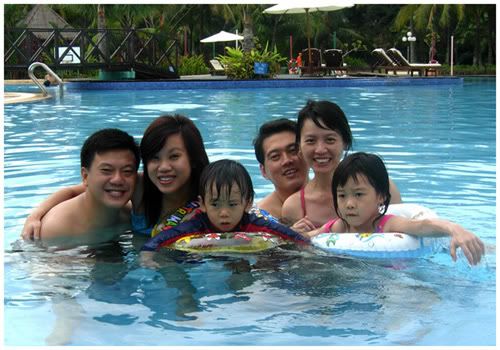 ********************************



Gah..I wasn't gonna write anything about this but I really have nothing much to update this week so what the heck!

Guess some of you had read the article on our Miss Singapore's evening wear in TNP. It originated from my blog because one of the ed from the paper chanced upon my entry and thought it would make a good article..I didn't even know about it till I flipped open the paper on Monday..didn't help that they actually printed out my blog's url which had my fullname in it. I had colleagues asking me whether I was *that* blogger who complained abt the dress..



I think some people just don't get it including Class 95'sFD who scolded those in the blogsphere for not supporting our 'local talent'. Come on! It's not like we were intentionally attacking our local lass here . In fact, I (and so did the paper) even acknowledged that she looked good (TNP said stunning!) in her swimwear..and there were some media photos of her in some MSU events which I thought she looked fab. It was that awful evening wear and the questionable national costume that I had an issue with. Miss Singapore's defense? I think she had no choice but to defend the evening dress (though I could be wrong since everyone's taste differs :P) or risk offending her gown sponsor and the local organiser. But did she and Mr Pang realised that the criticisms didn't come from Singaporeans alone and that there were bloggers outside of Singapore following the pageant who thought her dress was totally wrong too..one of them being that blog I linked to, which had the "not the evening slut competition" line. The dress was also criticised in forum sites like Twop, where majority of the posters are Americans. They were probably not from LA I guess..And talk about irony...I actually saw a pageant blog that praised the red dress created by Frederick Lee and even placed it amongst the top ten beautiful dress of the pageants.

Interestingly, Genecia, who was the 2nd runner-up at Miss Singapore Universe also wrote a li' about what she felt abt the gown here (not in her entry but in the comment section). She will be representing Singapore in the Miss International pageant in Japan/China later in the year.

Okay lah, enough of MSU..but can I still write about pageants right :P ? Guess most of you know that I'm an 'avid' follower of pageants, especially when our own local queens are taking part in it.. I will scour the net for info because the our media always seem to focus on Miss Universe and ignore the others..Actually, Singaporeans haven't fared that badly on the pageant front. Just recently, Ssunita Laximi Rai won 4th runner-up in Miss Tourism Queen (she was actually one of the finalists in Miss Singapore Universe)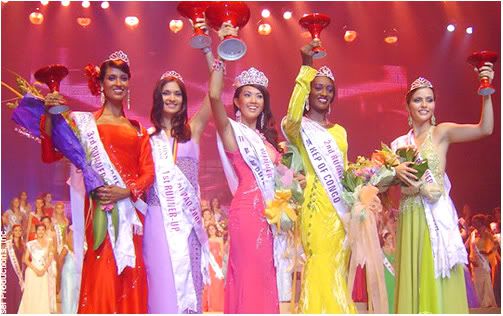 And I definitely don't follow pageants just to criticise our queens. I know I ain't no beauty and even with my heels on, I'm shorter than most girls..but that's probably explains why I enjoy watching tall, slim ladies sassaying around. In fact, I thought last year's Miss World representative from S'pore, Shenise Wong was not bad! She may not have gotten into the finals but I thought she performed well enough to make Singapore proud. She received positive reviews from pageant followers and the photographers seemed to love her as there were many pics of her at the pageant to be found. Her dress sense was fabulous and her taste in fashion was even praised by pageant critics. And I feel they chose a good rep for Singapore this year for the Miss World Pageant too- Colleen Franscisa. She is gorgeous! She will be representing Singapore in the Miss World pageant in Warsaw, Poland, on 30 Sept. 2006.

Btw, both Colleen & Genecia were also TNP New Face girls!


she's stunning, isn't she?


There's one pageant which I'd always thought that more could be done with it :- Miss Chinatown Singapore. Yeah, it is cheena sounding but the fact is that the winner will represent Singapore in the Miss Chinese International Pageant in Hong Kong. It is an annual pageant organised by TVB and the contestants must be a Chinese representing a city or country. The reason why this pageant should be better marketed is because the winners do stand a chance to enter into the entertainment industry in Hong Kong..Actresses like Bernice Liu and Linda Chung (both from Vancouver) , Melissa Ng (San Fran), Michelle Ye (NY), Angela Tong (Montreal) and even Malaysia's Angie Cheung & Vivien Yeo had their big break when they were invited to join TVB after of their successful showing at the pageant. Christy Chung was also 'discovered' through this international pageant [Okay, I guess only those who follows TVB dramas like I do will know who these actresses are). In Malaysia, the pageant is organised by Astro and is deemed as the most watched and glamourous beauty pageants there. Yet in Singapore, it is merely a 'side-show' with the finals usually held at Neptune Court and without much media fanfare. I think I do know why the tv stations refuses to be associated with the pageant but I can't say it or else i will be sued :P But I just think that it's such a waste because our Singapore chinese girls would probably have more success at such a pageant compared to the international ones :P

Man, I have too much time on my hand :P (actually, I'm on MC today :P). I have lost my voice completely *arghh*!!