Yeah, haven't been updating this blog for a while. Even ahbang demanded to know why I haven't wrote for almost 3 weeks (he thinks I may be depressed :P). I guess its a case of ennui setting in...Haven't exactly been that busy at work either. I'm strange this way. I prefer to be really busy instead of having not much to do. But I do feel a tad guilty for neglecting my blog though..

The boy had a bad case of asthmatic cough during the national day period..It started off with a mild phlegmy cough. I think I was the one who passed him the bug. After a week of taking his usual cough meds, he showed no signs of improvement. In fact, he'd gotten worse and began coughing spasmodically and wheezing quite badly. He seemed to be out of breathe at times too. We brought him back to the doctor who said he needed the nebuliser. My brother Junior had earlier helped me purchase a nebuliser machine so it came in really useful.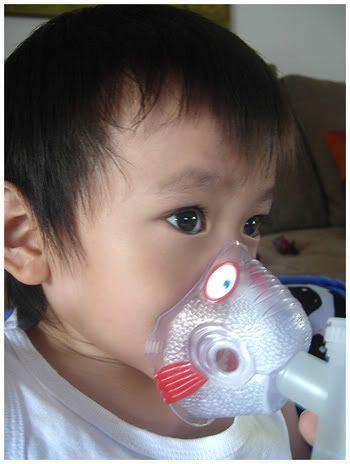 Just hoping that it won't develop into serious asthma..*fingers crossed,* He's been falling ill quite frequently..

Was thinking that it could be a good idea for him to start learning how to swim since it helps to strengthen his lungs. Will probably engage one of the swimming instructor at our condo. Am sure Aidan will enjoy the sessions since he loves water so much. We've been using the condo's pool quite regularly since he got well. There's a little cafe just next to the pool which makes really delicious chicken wings and so we've been having our lunches there too after our swim. Kinda nice way to relax and enjoy our weekends..

****************************************

**********


The centrespreads for the New Face finalists have started 2 weekends. Like
weeteck, I was so disappointed when the bikini pics were not approved even though the concept and styling was presented and given the go-ahead much earlier on. So the New Face girls will remain covered-up.. I kinda understand that they rather the girls look sweet and chaste *coff* since this has always been the direction since the start of the New Face contest but I thought the bikini pics were rather tasteful and well-taken..Oh well~

The feedback we've received for the centrespreads have been rather positive..most have commented that the styling and layout were way better than last year and our girls this year was a prettier batch. I shall not judge :) Last year's girls were great and I got along very well with them. Hopefully, it wil be the same for this year..I can't wait for rehearsals to start to see how their progress. This year's show will be interesting since Subaru had taken on the main presentership. Daniel Boey's idea is to design the stage runway like a 'road' and the concept for the catwalk would be like a road trip.


You see this Subaru overall (as modelled by Nargis)
- they are worn by their mechanics..
The idea is to customise it so that it will turn out looking like this


and worn by the 20 girls during one of their catwalk sequence..cool eh!
Some pictures taken at Subaru's R1/R2 Carnival on Saturday..


A big hit at the carnival was this photo-taking booth. The photographer who was really skillful in photoshop was able to do magic with the pictures (eg. create a really small waist and bigger boobs at super-fast speed - something i don't know how to do with photoshop- must learn!!)

This lady, one of subaru's client asked whether she could take a picture with our girls and requested to wear one of the tees too.

and voila..check out the after pic!
Some of the girls :)
with Janet and LiYing.
A few have commented that Li Ying looks a li' like
Dawn Yeoh
,
the one who played the blind girl at one of Mediacorp's chinese drama (who incidentally was an ex-NewFace girl too)
With Velda and
Peggy
As you can see, most of the girls have to stoop down quite a bit when they are taking pics with me *sob*..
My photoset on TNP New Face 06 here
and
the vodcast can be seen here
***************************************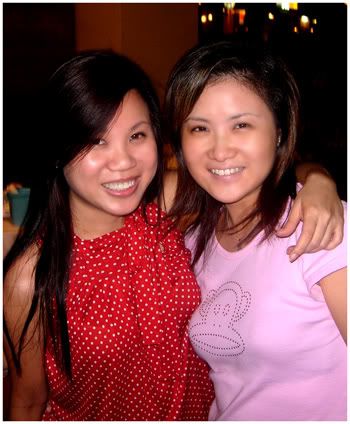 Woman!!! Wanted to call you before you left for your flight but I fell asleep! Enjoy yourself in States and keep in touch eh! Yes, I'll get a skype phone soon :P