Yeah....i know, i know! Haven't updated for quite a while! Been fairly busy at work and weekends were packed with activities too. The New Paper Grand Final is just around the corner..next Fri 13 Oct at Takashimaya! Can't wait for this to be over. Am so looking forward to a good, long break!

We were at Natas Fair last week and signed up for a 7D tour package to Osaka/Tokyo with a 2 days extension..Aidan will be joining us so we'll be bringing Nenita along! Can tell that Nenita's over the moon too :P Gonna be my first time in Japan actually (if you don't count those times I stopped over at Narita airport)!



The 20 finalists..here's their voting ad!


grp pic..


At Radio 91.3 with Joe, Petrina, Suzanne & Hubert..


The girls in their subaru customised outfits.


Aidan with Ning, Ziza, Janet and Tanya


Belle (TNP writer) with the girls and moi..


with Desiree, Ann, Li Ying & Ziza


with Gwendolyn,CJ & Emileen


with Marcus, Daniel, Jerome & Louis


The stage layout!
All TNP New Face pics here!



And here's the first draft of the video we're doing to show what the girls have been up to throughout the competition..



And more New Face Vodcast here


*************************


Aidan is good (gotta add this since some have asked)!. About 2 weeks back, he seemed to be having an eye infection so we brought him to the doc but he was diagnosed with sinus instead. His nose was so blocked that it affected his eyes so he was prescribed with antibiotics. We managed to make him finish it by mixing it with Ribena. Aidan loves pink meds and hates the ones that are white in color (because they are usually bitter).

Hmm..I never knew kids suffered from sinus! Hope it doesn't happen often like moi's. My nose always gets really stuffy at night and early in the morn!But he's well now..still active and hyper..still so lovable and affectionate (to me) :)



Here's some pics I'd meant to post a while back...of Aidan...
With
terminalcase42 and
troubadour43's Erin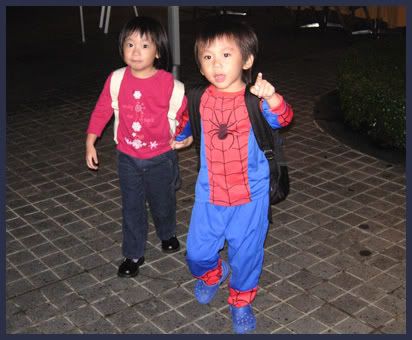 And Jean's Alison :)