This was taken at Subaru Hub yesterday afternoon where the girls were helping out with the Subaru Charity Car Wash..Each car washed by the girls cost $10 and the money donated to Viva Foundation for Children with Cancer. I dropped by quite late, at about 3.45pm, as I was at a colleague's house celebrating Deepavali earlier on.



Pics from TNP..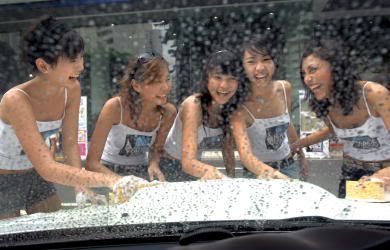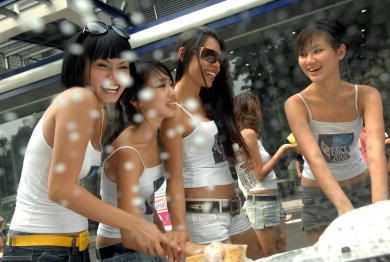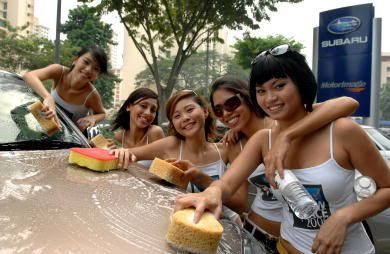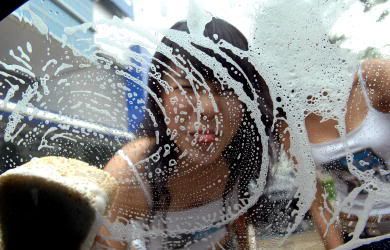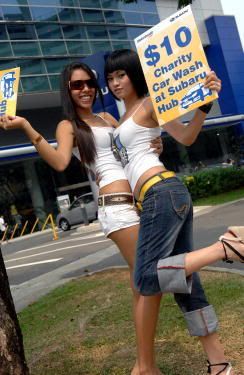 By then, the girls had washed over 30+ cars (they started at 2pm) and were tired..But the minute they saw me with Aidan, they squealed and rushed over and manja-ed him =)..So cute lah! The boy was initially quite grouchy because he wanted a transformer toy (the kids at my colleague's place were playing with cars that could turn into robots, whereas the car he brought along was ..erm, simply a toy car). But he perked up big time when the girls gave him so much attention. Super buaya man!



see lah, with the girls alone, he poses so nicely..when i join in, he becomes restless *arghh*


the boy saw this poster of Pie Ling with the car and declared.."I can do that too!"


when one of the girls told him he was using the wrong hand, he promptly switched the car to his other hand..
aiyoh, so posey!


Nargis mentioned in an ST Post-NewFace event article that she longed for a strawberry icecream cake after dieting for sooo long
A rep from Haagen Daaz read about it and called us saying they would like to give her a treat..
When I told Nargis about it, she said she would rather share the cake with the rest of the girls so this was the best opportunity to so =)


With Nargis, the winner of TNP New Face 06!


Emileen & Aidan taking turns to feed each other..heh..


yeah, my son was busy stuffing his mouth with strawberries while the pic was taken *sigh*


Emileen & Peggy helping Aidan to fly~~



Girls, if you happen to be reading this, thanks for helping out with this event even though the contest is over! I really appreciate it *muaks*!!


****************************************


Not sure if anyone read Jeanmarie's column in The New Paper yesterday about an upcoming variety show on Ch5 where a certain local young female blogger would be going under the knife (she's getting a nosejob to be exact) in one of the episodes.. I'm sure that particular episode is bound to attract tons of eyeballs and will get many tongues wagging too. Based on JM's description, I was pretty sure I knew who the blogger was but I still texted JM and got my suspicion confirmed. Apparently, not only is she gonna be a guinea pig, she's also the host of the show together with Rosalyn from Power 98..

What do I think? Honestly, I'm envious as hell. Heh. I've been wanting a nosejob since like forever but I've been too chicken to do it..plus hubby doesn't approve of cosmetic surgery *sigh*. I wonder if he'll change his mind if i tell him I want bigger boobs instead :P And I'm almost double her age! She's like 20 (i think) this year and has many 'fans' who would be clamouring to see how she looks post-surgery. I'm sure her detractors will probably criticise her for doing so..guess mainly because of the message she will be sending to her young readers/supporters. Wanna be more beautiful - plastic surgery is the way to go! But I guess this shouldn't be a surprise as she's been already teaching her readers' how to beautify themselves by using tons of makeup, false lashes,hair extensions etc etc..so plastic surgery is just the next step.

And who will be the surgeon doing her nosejob..apparently it's Dr Martin Huang, one of the best rhinoplasty surgeon in Singapore. Trust me..I know. Even though I'll probably never do it, I've done tons of research on plastic surgery (I've even posted in
plastic_surgery to see how I would look with a higher nose bridge :P) . His rates are exorbitant though. I heard that he charges about $7k to $10k for that procedure. Wow..I'm sure he's sponsoring her nose in return for the publicity he would be getting .. can't be that Ch5 will be paying for it?!.

Will I watch? Definitely! And I can't wait to see how the other bloggers will react to her transformation =P